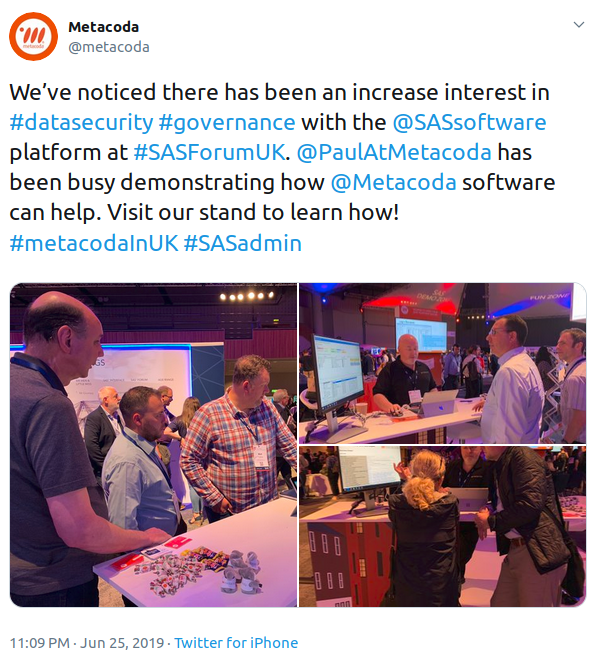 "How much time does Metacoda save you per week?"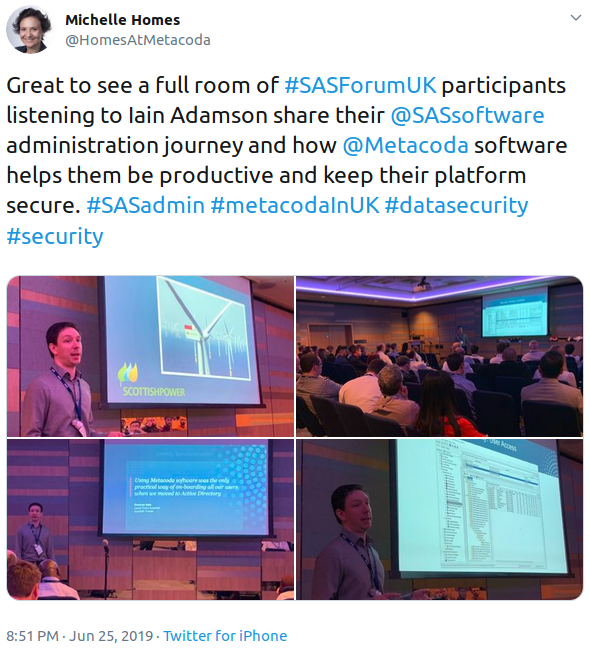 This question was asked of Iain Adamson from ScottishPower following his presentation, "From cottage industry to critical system! How Metacoda software enables productivity as your SAS platform becomes business critical", which he presented with Michelle Homes from Metacoda at SAS Forum UK on 25th June.
Iain's response – "while the time varies, it can be a few hours a day" – certainly seemed to impress the audience. (Not such a surprise for us though, given that we've been helping SAS administrators to be more productive since 2007 🙂)
Many thanks to Iain and his manager, Duncan Bain, for enthusiastically sharing their Metacoda software journey, and highlighting a few of their favourite tools:
Metacoda Password Encoder – Easily creates encoded/encrypted passwords without requiring access to a SAS coding interface. This helps to ensure there are no plain text passwords in the production environment.
Metacoda ACT Reviewer – Allows admins to quickly see the Access Control Templates, how they've been defined, where they have been applied, and how they may have been protected. Warning indicators identify potential issues where deviations from recommended practices have occurred.
Metacoda Identity Sync – ScottishPower believe the Metacoda Identity Sync Plug-in was the only practical way for them to on-board their users to the SAS platform with their Active Directory profiles.
Metacoda User Reviewer – Provides a comprehensive, whole-of-server view of a selected user. Being able to see the identity hierarchy in a tree view is very helpful and saves time.
Metacoda Identity Permissions Explorer – With just a few clicks, generate a report of what a user has access to. ScottishPower was able to review its effective permissions across multiple objects (folders, libraries, stored processes, reports etc), and be confident that their SAS metadata security model was as expected.
To find out more about how Metacoda can help a growing business, you can see the full presentation here.