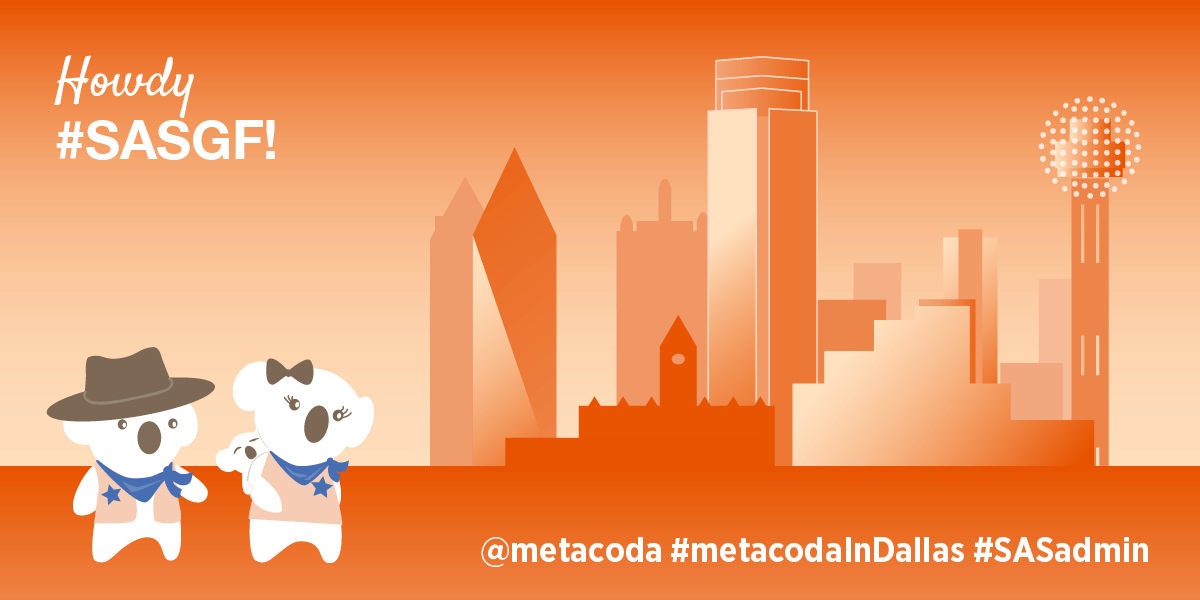 As we've noted before, the SAS administrator's role can be cherished, admired, forgotten, loathed or even ignored – sometimes all in the course of a single day!
However, there is one thing that remains constant: the success of SAS Analytics relies on how well the platform performs.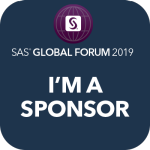 So, let's be grateful to all the SAS admins out there – when our SAS analytics stop working, the SAS admins certainly don't!
One of the things we love most about SAS Global Forum (SASGF) is the way it brings together the SAS admins and wider community to learn, share and connect so everyone can keep their SAS platforms running smoothly.
Hope to see you all at SASGF in Dallas!
Cheers,
Michelle
Read more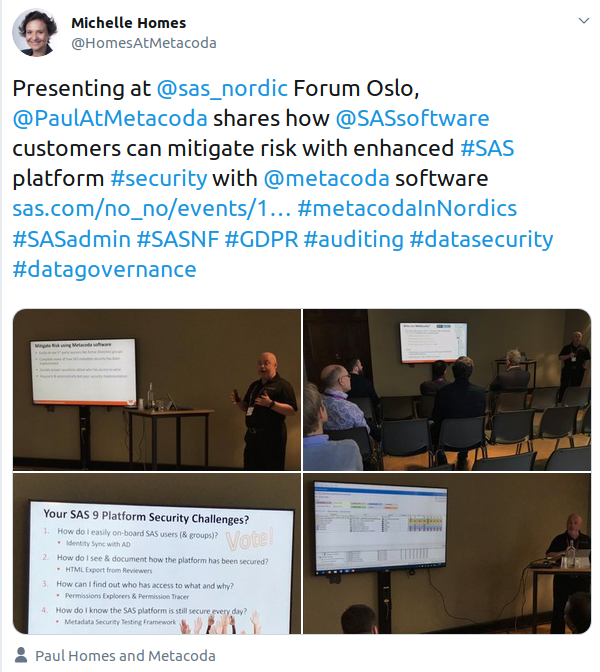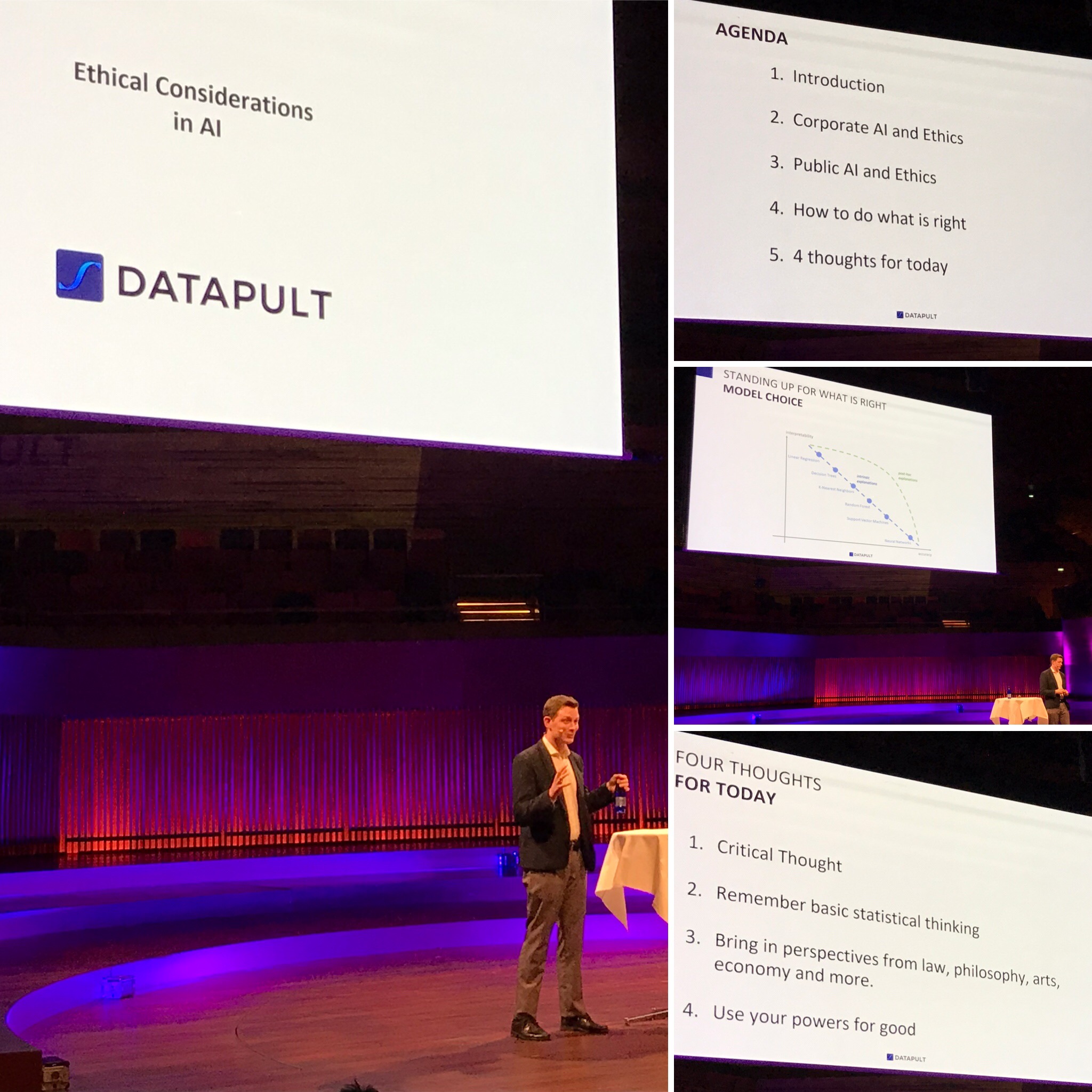 Thanks SAS Nordic Forums for sharing your inspiration, information, community and cool curiosity!
With too many highlights to mention, you certainly fulfilled the theme of 'Be Curious'.
From the Nordic Hackathon competition in February, through to the jury and attendee voting at the forums, and the wonderful Data Science Escape Room at each event, it's no surprise the SAS Nordic community is growing and thriving.
The keynote speakers, including Jacob Knobel and Stefan Hyttfors, particularly embraced curiosity in the way they shared their stories.
Beginning with an anecdote about what his son did for work during his university break, Stefan's humorous and entrepreneurial tale used past advances in technology, to prompt us to think about the future.
He then left us pondering the question of ethics and technology with the suggestion that… rather than fearing artificial intelligence, we should fear human intelligence.
As Albert Einstein famously said, "The important thing is not to stop questioning. Curiosity has its own reason for existing."
Note: The good news is that all the fabulous presentations from the SAS Nordic Forums are now available to download at the SAS Nordic Community site.
Community. Co-operation. Collaboration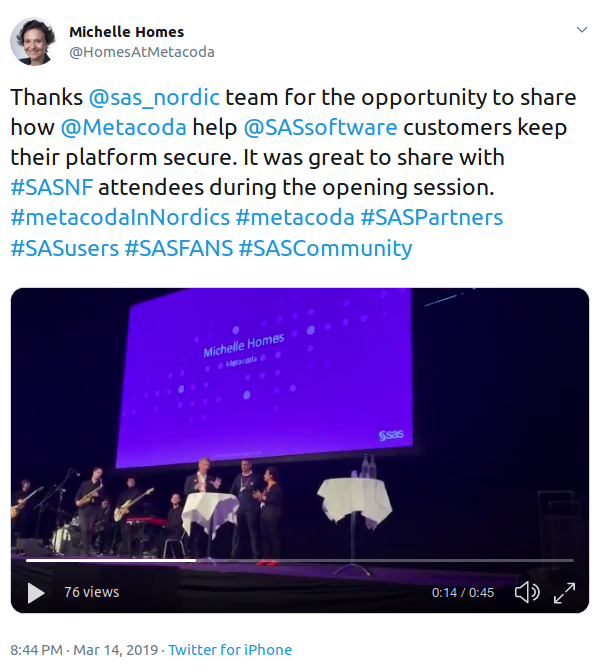 Whenever we attend a SAS event, we like to connect as much as possible to make the most of the community, cooperation and collaboration.
In addition to sponsoring the events and meeting up with new and old friends, Metacoda enjoyed a few other fun roles…
Read more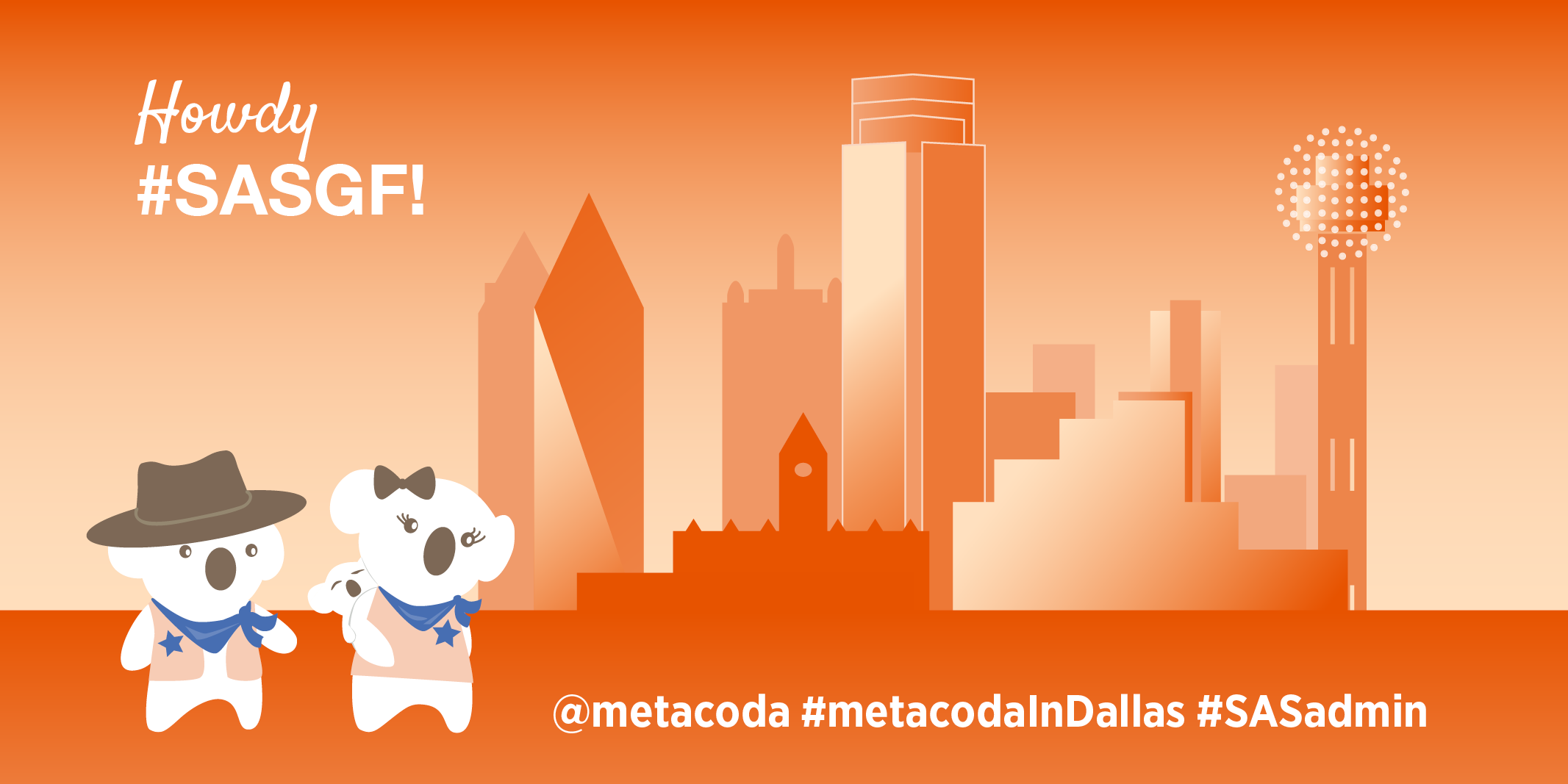 The Metacoda koalas are so excited about the upcoming SAS Global Forum 2019 in Dallas that they've dressed up for the occasion!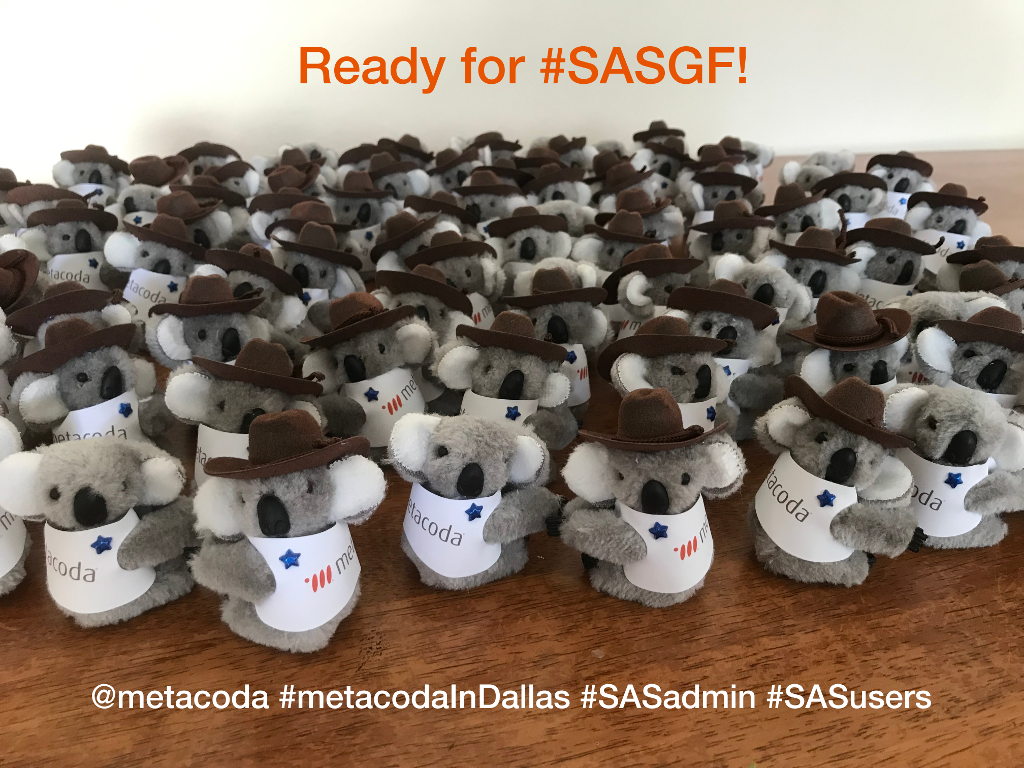 To embrace 'The Lone Star State' – as Texas is known – the koalas are donning brown cowboy hats and a blue star on their jackets.
The blue star is also well known as the beloved logo of the Dallas Cowboys football team, where it represents the team's calm composed approach, extraordinary sportsmanship, excellence and grace… all great traits that the koalas are keen to promote in the SAS community!
Why attend SASGF?
According to MaryAnne DePesquo, SAS Global Forum (SASGF) 2019 Conference Chair in her 3 things you need to know about SAS Global Forum 2019 blog post, "I don't think there is a better environment than the SAS Global Forum conference to learn, meet people and explore your career path in the SAS community."
While technology may have changed a lot since the SAS community first gathered together at SAS.ONE in 1976, the aim remains the same. As per its mission statement, SAS Global Forum champions the needs of SAS users worldwide to help them learn, connect and grow. Read more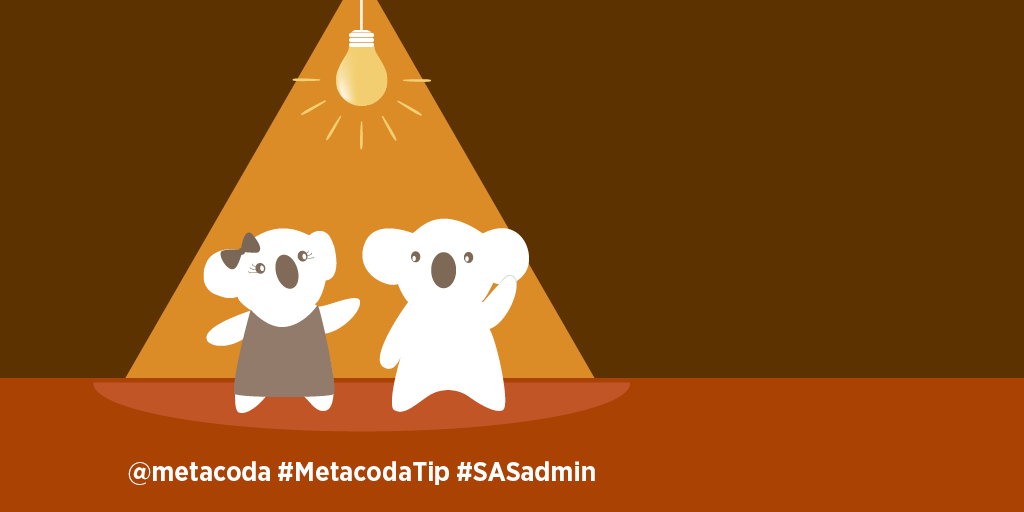 Metacoda Plug-ins 6.1 is now available and has several improvements including two new plug-ins that may be of interest to existing and potential Metacoda customers.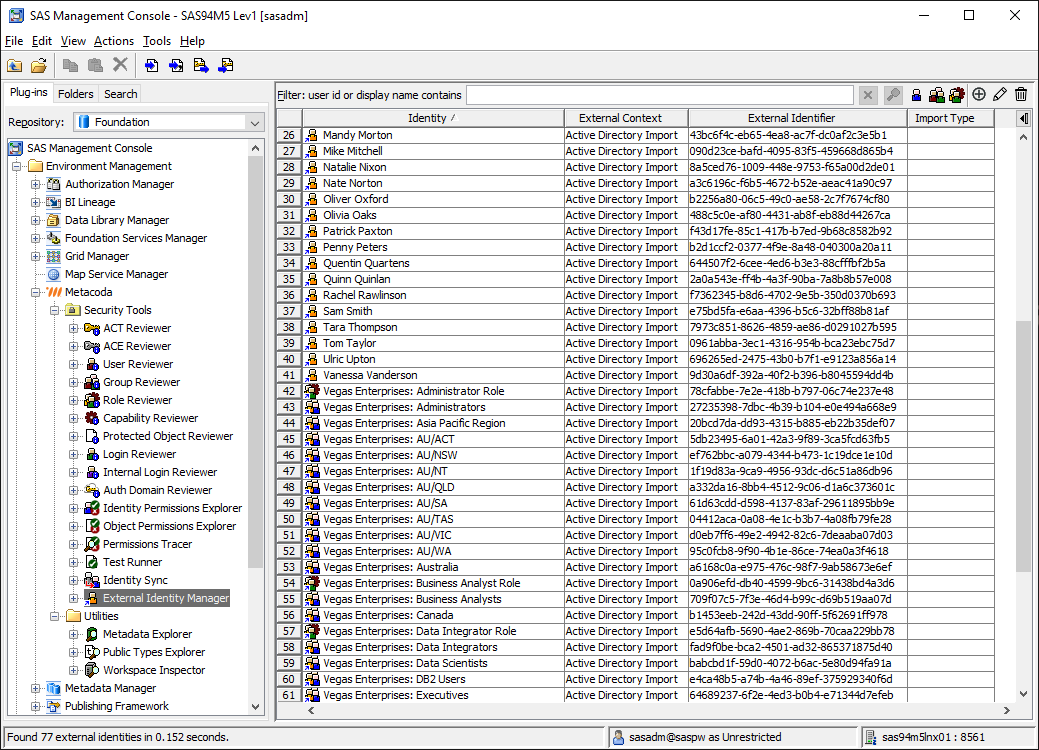 The main improvements in Metacoda Plug-ins version 6.1 include:
New Auth Domain Reviewer plug-in: a new plug-in for reviewing, documenting, and testing the use of Authentication Domains in SAS metadata.
New External Identity Manager plug-in: a new plug-in to assist with identity synchronization between SAS and Microsoft Active Directory (and other LDAP servers).
New Key Export feature in the Identity Sync plug-in: provides the ability to export a CSV file containing a variety of external identity keys (e.g. objectGUID, objectSid, sAMAccountName, distinguishedName) for all discovered external identities.
Numerous enhancements to the Identity Sync plug-in with report extracts, options.
New Metadata Security Testing Framework tests have been added:
<RequireFoundationRepositoryACT/>: a new recommended practice test to verify the Foundation repository has a Repository ACT.
<AllowNoDirectFoundationRepositoryACTUsage/>: a new recommended practice test to verify the Foundation Repository ACT has not been directly applied to any metadata objects (it is indirectly applied to all metadata objects at the top of their object inheritance paths).
<AuthDomains/>: new implementation tests as exported by the new Auth Domain Reviewer plug-in.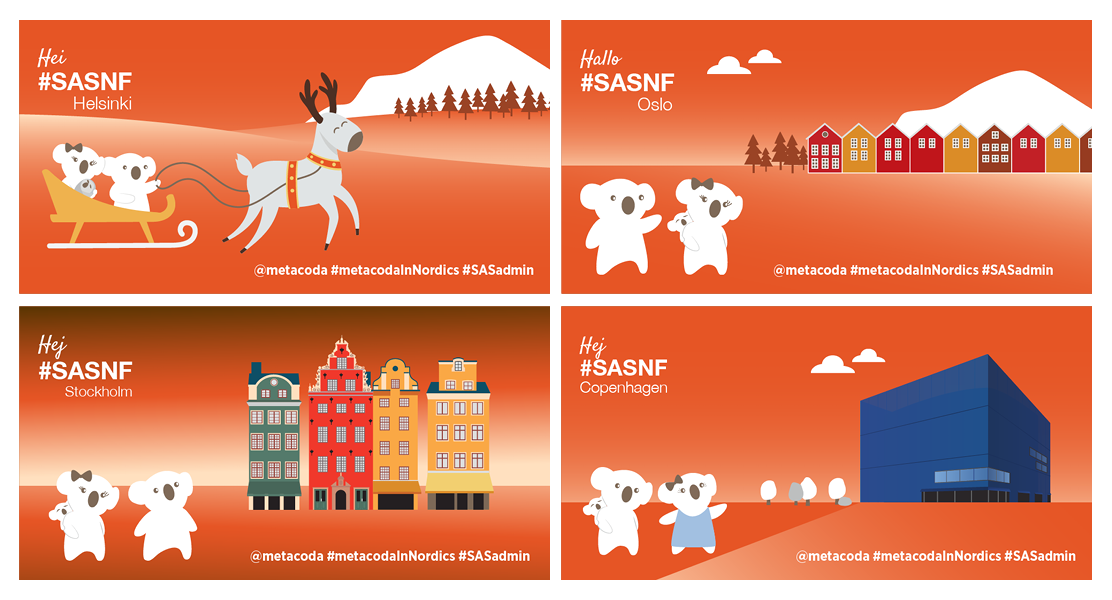 If you're a fan of curiosity, you're bound to be a fan of SAS FANS (Four Associations of Nordic SAS users).
SAS FANS are known for hosting inspiring and educational events. Having presented at an Oslo FANS meeting a few years ago (see 12th Oktober 2015), Metacoda has experienced the high level of enthusiasm, connectedness and support within the SAS Nordic community.
We'll soon be heading north again to attend and sponsor the SAS Nordic Forums (#SASNF) – how could we possibly resist with the enticing theme of 'Be Curious'!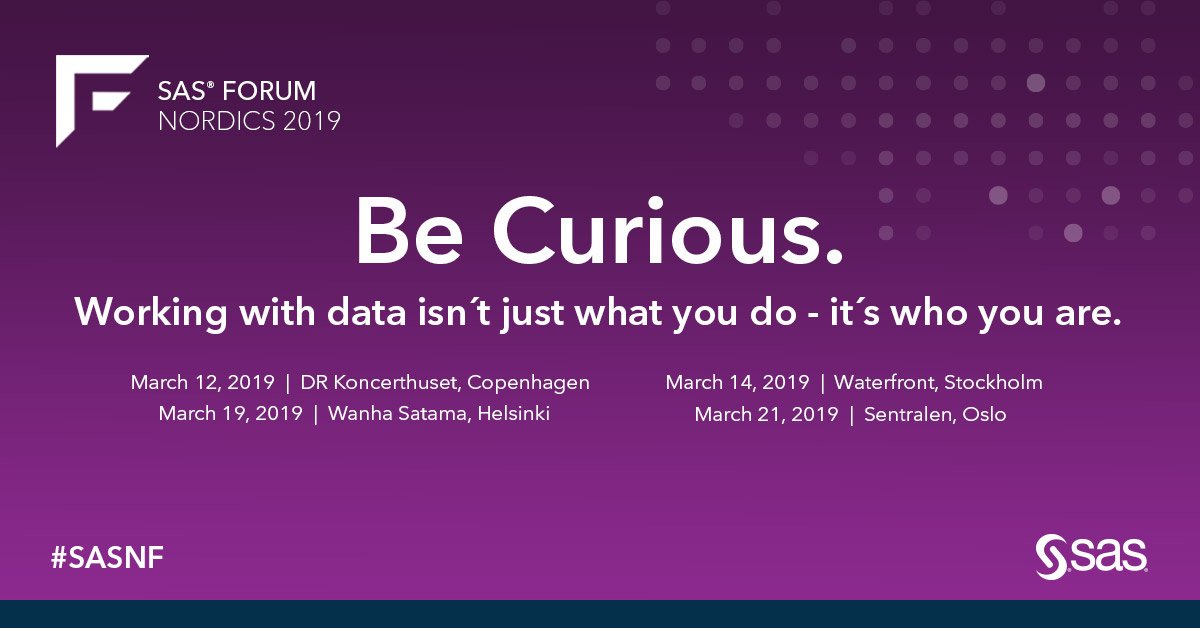 So, if you're curious about how our products can help you, visit us at our stand at one of the following events: