Here in the Southern Hemisphere, welcoming September also means welcoming Spring; a time of flourishing change and new birth.
Change is certainly something that we've seen plenty of in recent years, with COVID-19 altering (and in some cases completely transforming) the way we live, work, and interact with our communities.
Over the years, Metacoda has always embraced in-person global SAS events. We thrived on the opportunity to collaborate with partners, connect with customers, absorb from experts, and gain insights into new technology. The Metacoda koalas also welcomed these occasions to find new homes too! 😉
We'll miss the myriad benefits of in-person events but now we need to engage with the global SAS community in new ways. As we mentioned in our Ch Ch Changes blog post in March, the SAS website reminds us that, "Although the name and structure of our events may be changing, one thing remains constant: SAS' commitment to our user community."
Introducing… SAS Explore
Offering information galore, the free virtual technology conference, SAS Explore, will be transmitted across the globe at three regional events 🗺️ in September:
Americas September 27-29 (ET)
Asia Pacific September 28-29 (IST)
EMEA September 28-30 (CET).
As Shadi Shahin, SAS VP of Product Strategy, shares in the Your analytics, your way blog post, SAS Explore will give attendees the opportunity to see SAS technology firsthand, and dive into SAS analytics, data management, AI/ML and intelligent decision capabilities. Explore the wealth of sessions and free training on offer, and start planning how you can organize your learning during the event.
(Note: SAS Global Forum fans, will be pleased to see that the familiar and popular General Sessions and Keynotes are still there!)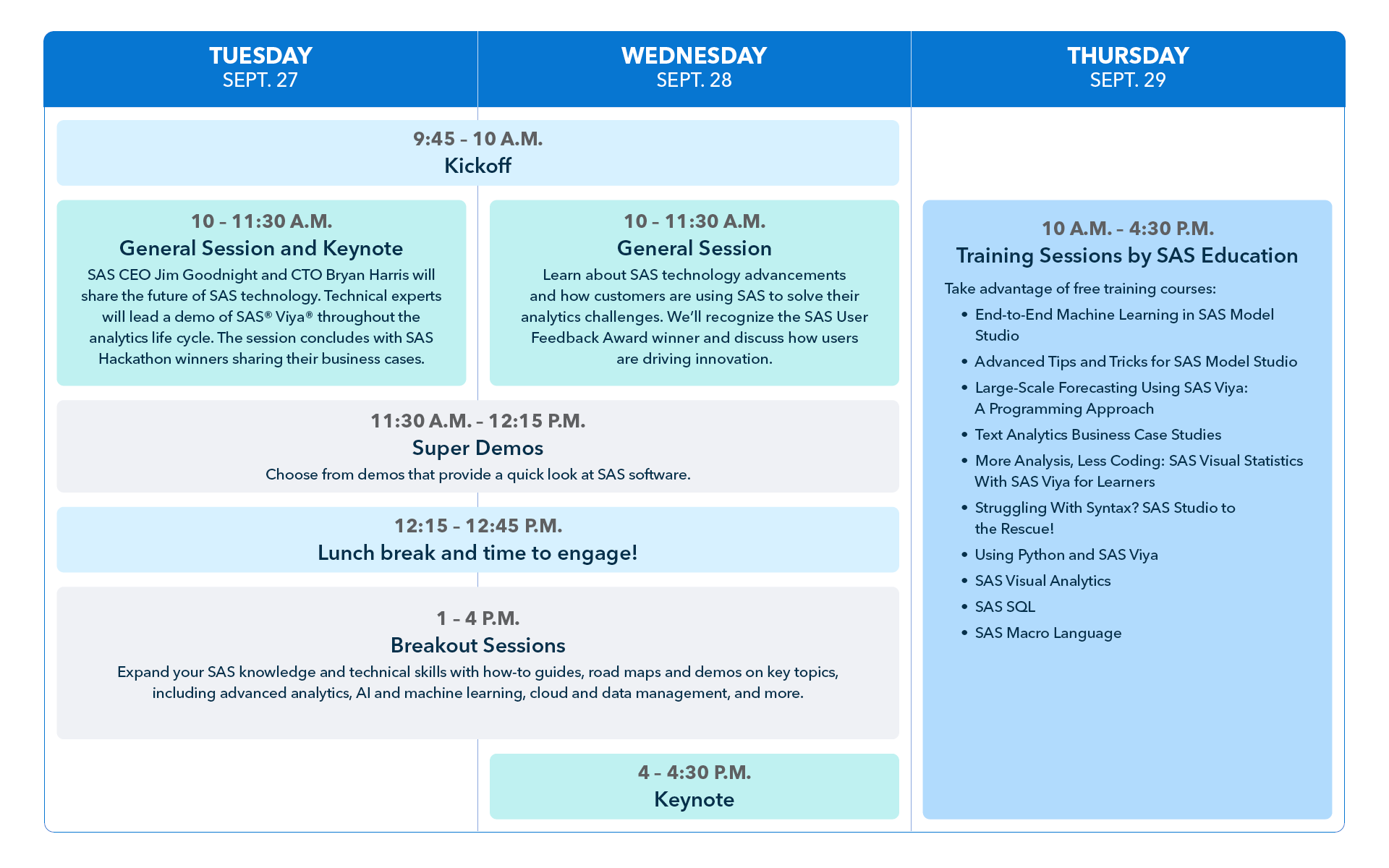 ---
SAS Bowl XXIII Trivia – September 7
To get warmed up for SAS Explore, make sure you join the next SAS Bowl XXIII trivia event on September 7, 10am ET. The topics will include the upcoming global events as well as highlights from global events of the past.
Join in the learning, fun, collaboration, and laughs. I'm looking forward to text chatting with you there, and fingers crossed there'll be a traditional Roman numerals question too – thanks Joe Furbee! 😊

In the lead up to SAS Explore, you can also connect, engage and ask questions with the SAS community by joining the SAS Explore Hub in SAS Communities. Hope to see you there!
As people in the Southern Hemisphere are warming to Spring and the Northern Hemisphere approaches Fall (Autumn), it's time for us ALL to SAS Explore! 🙌🍃🍂🌐