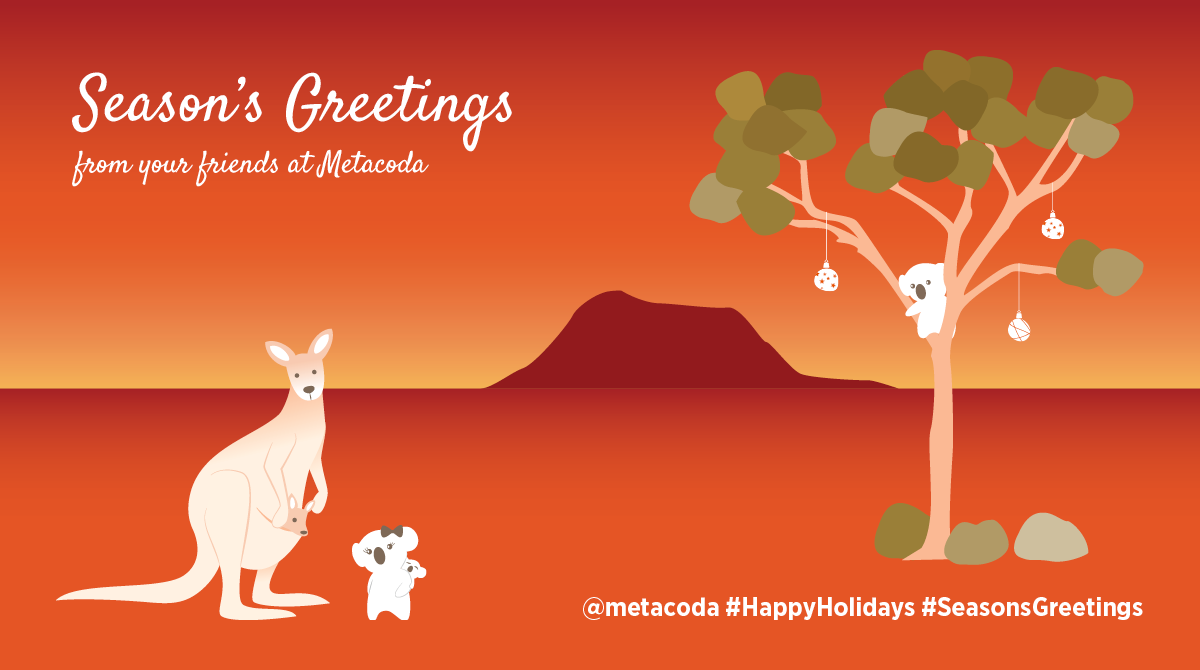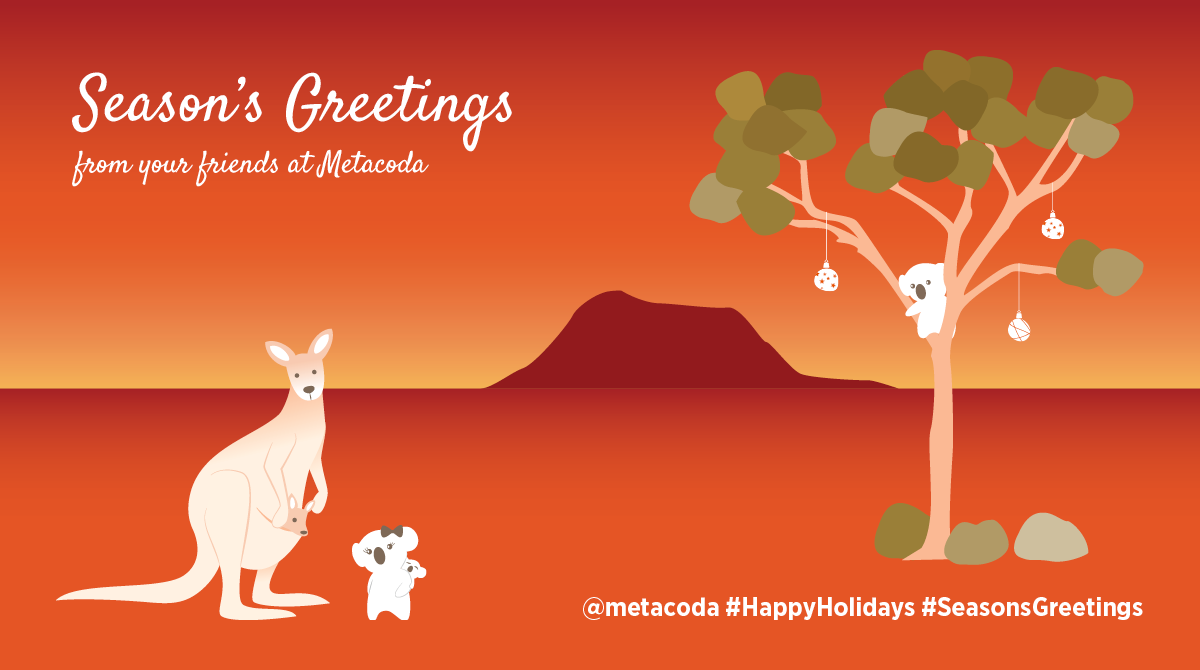 As you've probably gathered, we love connecting with the SAS community, especially our Metacoda customers!
If you haven't already, please take a few moments to fill in our survey about your plans with SAS® Viya® and how Metacoda can help meet your needs.
So far, common survey themes include securing the SAS platform, and the value that Metacoda provides. So if you haven't yet experienced Metacoda software, consider giving yourself the gift of a free trial after the holiday season.
Greetings to all and happy new year from the Metacoda team! We look forward to helping to make sure that 2020 brings you the confidence of a secure SAS platform.
Cheers,
Michelle
Read more

Don't you just love finding that special tool that makes your life easier?
In the early 2000's we found ourselves performing repetitive manual tasks to find metadata in our consulting work supporting SAS customers. We discovered there was a broad demand amongst other SAS platform administrators for improved access to metadata, and it would be mutually beneficial for the SAS community for us to become a SAS partner.
So in 2007, Metacoda was established as a SAS partner and we started work on developing Metacoda Plug-ins for the SAS 9 platform.
Since then, Metacoda has expanded around the world and we've continued to develop new software features to meet the needs of SAS customers. With the release of SAS Viya, we can see there are further opportunities to provide value-added tools on the SAS Viya platform. To assist us with our future product planning, please spend a few minutes to share your feedback, experiences and thoughts in a Metacoda Survey about your SAS Viya plans.
Many thanks in advance!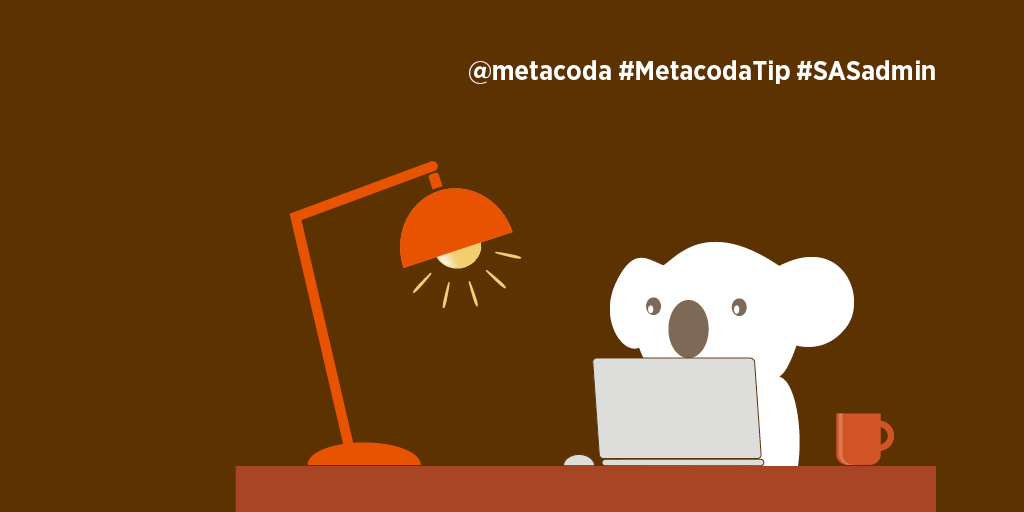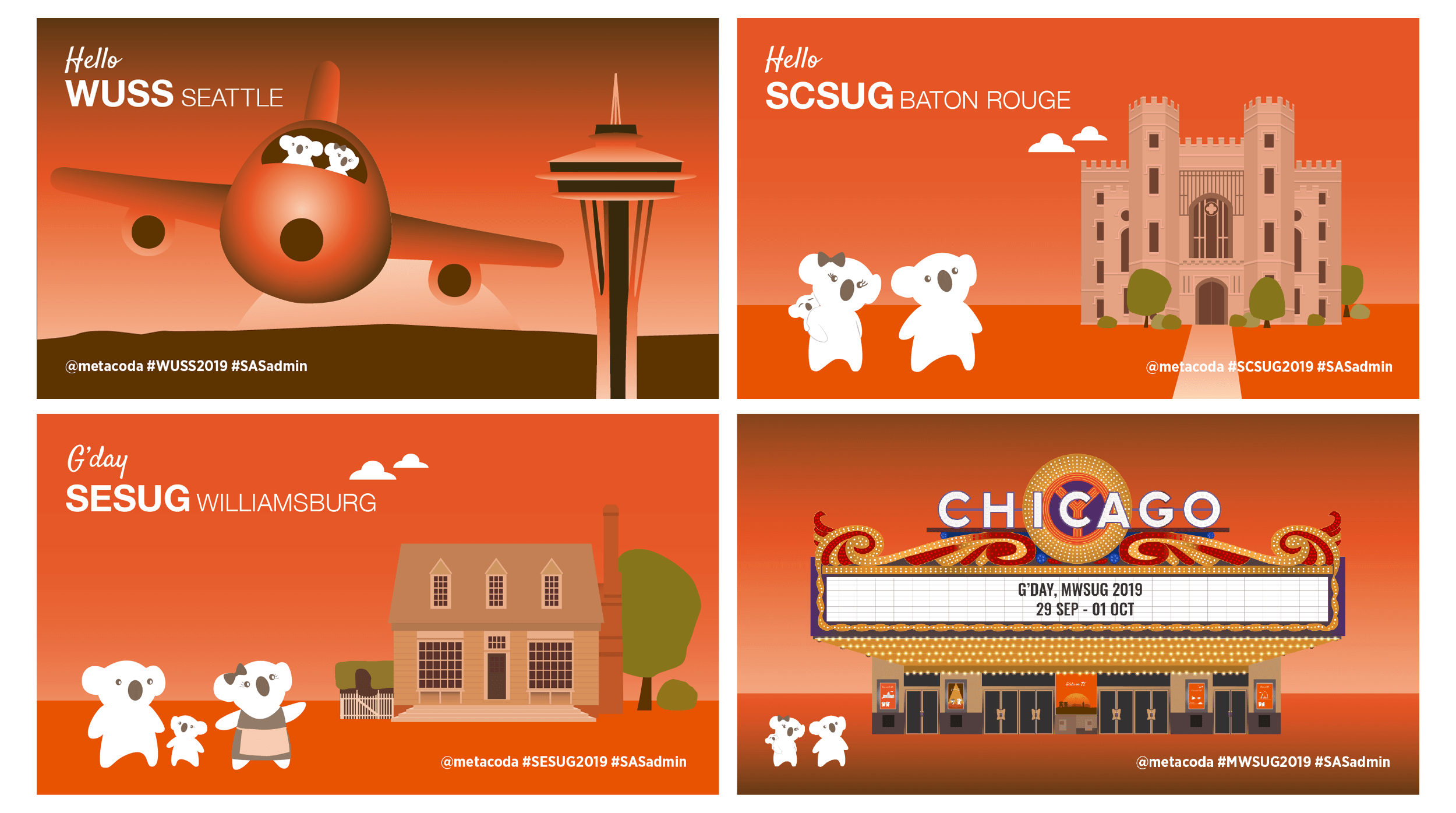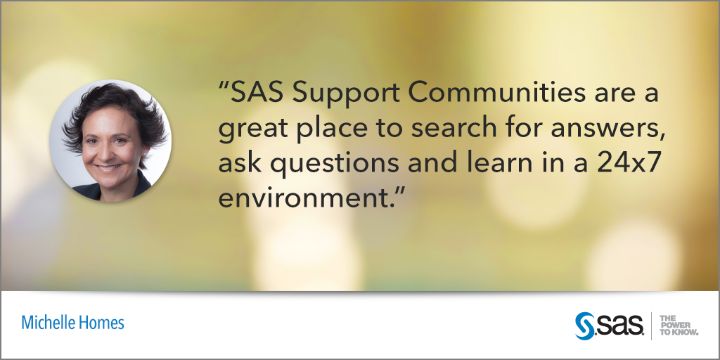 In any community things tend to run most smoothly when each of us finds a role that best suits our strengths and preferences.
For me – as someone who loves socializing and connecting – my role in the SAS community has evolved into what some have referred to as a 'cheerleader'.
Fortunately this is a role I relish, and I'm so grateful to those who recognize and support me for doing what comes naturally!
I'm also grateful to SAS users around the world who are doing their bit to nurture our wonderfully connected SAS community. The gratitude and support that we give each other is part of the glue that keeps this community so robust.
Another important part of the glue is the many events that help us to meet, share and grow. We're big fans of SAS events and SAS User Groups and encourage everyone to join in however you can. (Find a group here)
When it comes to the in-person events – which are still so important in this digital age – the recent SAS US Regional Conferences were a highlight on the US SAS calendar.

While I wasn't able to attend, I was so glad to be able to support the events as a SAS community advocate and sponsor, and to be represented by our furry friends, the Metacoda Koalas. (Meeting people IRL – in real life – is certainly where human connections happen, but tweets like this are the next best thing for feeling connected!) Read more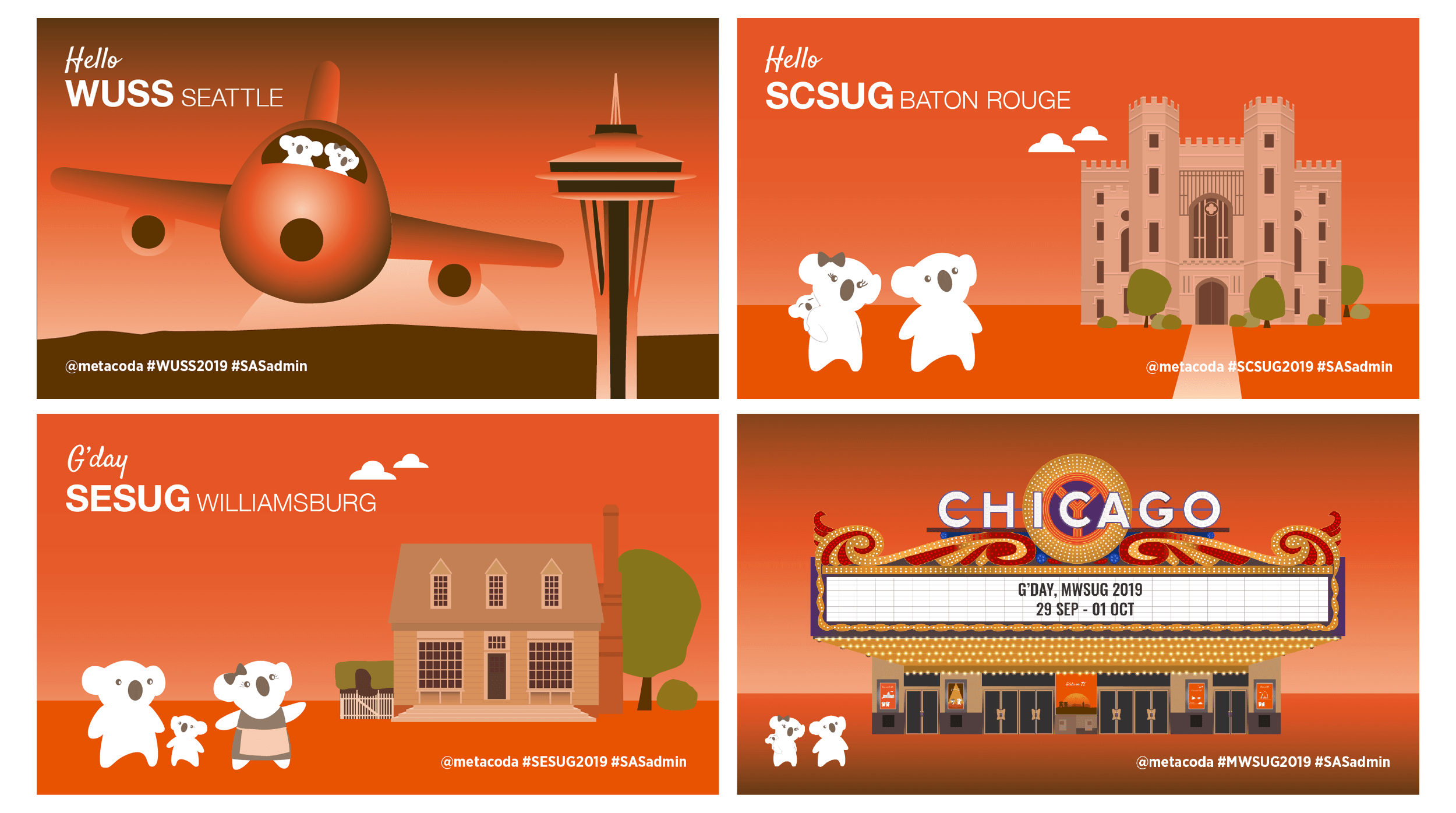 We love feedback and – like most people – we're particularly encouraged by positive feedback.
So when we recently asked customers about the benefits of using Metacoda software, we were thrilled to hear these top responses:
Comprehensive metadata visibility, fast
Excellent partnership relationship with a trusted SAS partner
Improved security
Enhanced metadata security governance and user access management
100% value for money
These sentiments were re-enforced at SAS Forum UK in June, when Iain Adamson from ScottishPower told the audience that Metacoda software can save him a few hours a day.
We welcome you to take a look at our new Enhanced Metadata Visibility flyer based on the above feedback, and let us know what you think.
Cheers,
Michelle
---
Imagine saving a few hours a day in your SAS admin work!
Click to watch the #SASForumUK 2019 Metacoda koala video…


Read more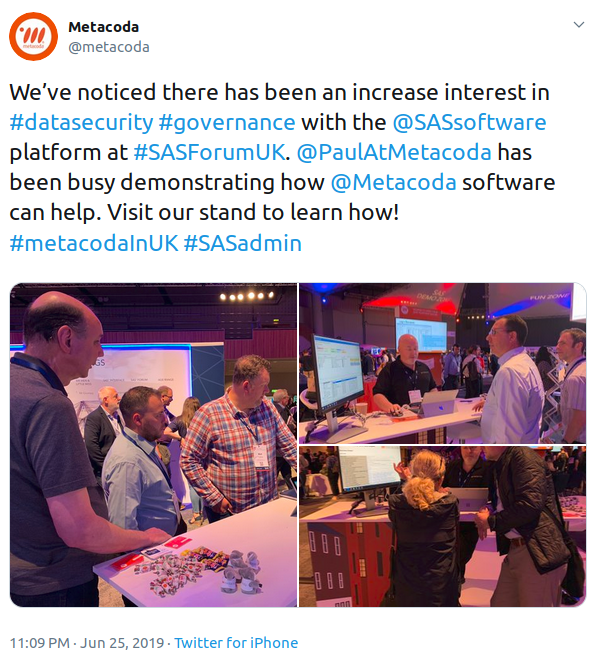 "How much time does Metacoda save you per week?"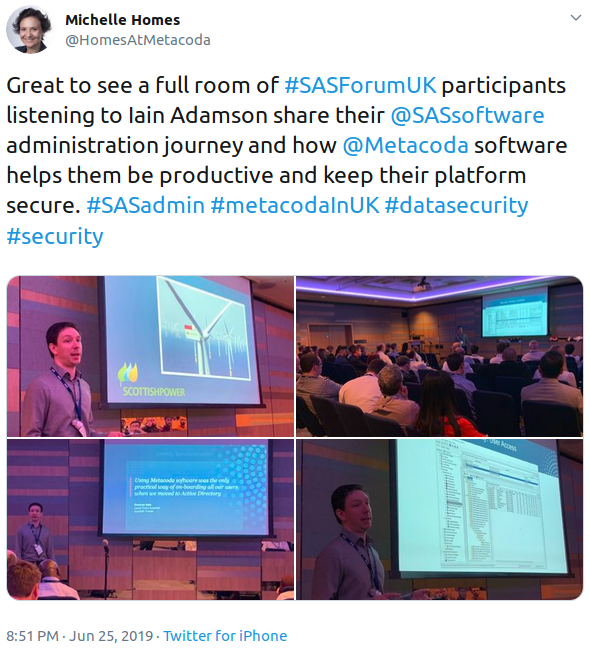 This question was asked of Iain Adamson from ScottishPower following his presentation, "From cottage industry to critical system! How Metacoda software enables productivity as your SAS platform becomes business critical", which he presented with Michelle Homes from Metacoda at SAS Forum UK on 25th June.
Iain's response – "while the time varies, it can be a few hours a day" – certainly seemed to impress the audience. (Not such a surprise for us though, given that we've been helping SAS administrators to be more productive since 2007 🙂)
Many thanks to Iain and his manager, Duncan Bain, for enthusiastically sharing their Metacoda software journey, and highlighting a few of their favourite tools:
Metacoda Password Encoder – Easily creates encoded/encrypted passwords without requiring access to a SAS coding interface. This helps to ensure there are no plain text passwords in the production environment.
Metacoda ACT Reviewer – Allows admins to quickly see the Access Control Templates, how they've been defined, where they have been applied, and how they may have been protected. Warning indicators identify potential issues where deviations from recommended practices have occurred.
Metacoda Identity Sync – ScottishPower believe the Metacoda Identity Sync Plug-in was the only practical way for them to on-board their users to the SAS platform with their Active Directory profiles.
Metacoda User Reviewer – Provides a comprehensive, whole-of-server view of a selected user. Being able to see the identity hierarchy in a tree view is very helpful and saves time.
Metacoda Identity Permissions Explorer – With just a few clicks, generate a report of what a user has access to. ScottishPower was able to review its effective permissions across multiple objects (folders, libraries, stored processes, reports etc), and be confident that their SAS metadata security model was as expected.
To find out more about how Metacoda can help a growing business, you can see the full presentation here.