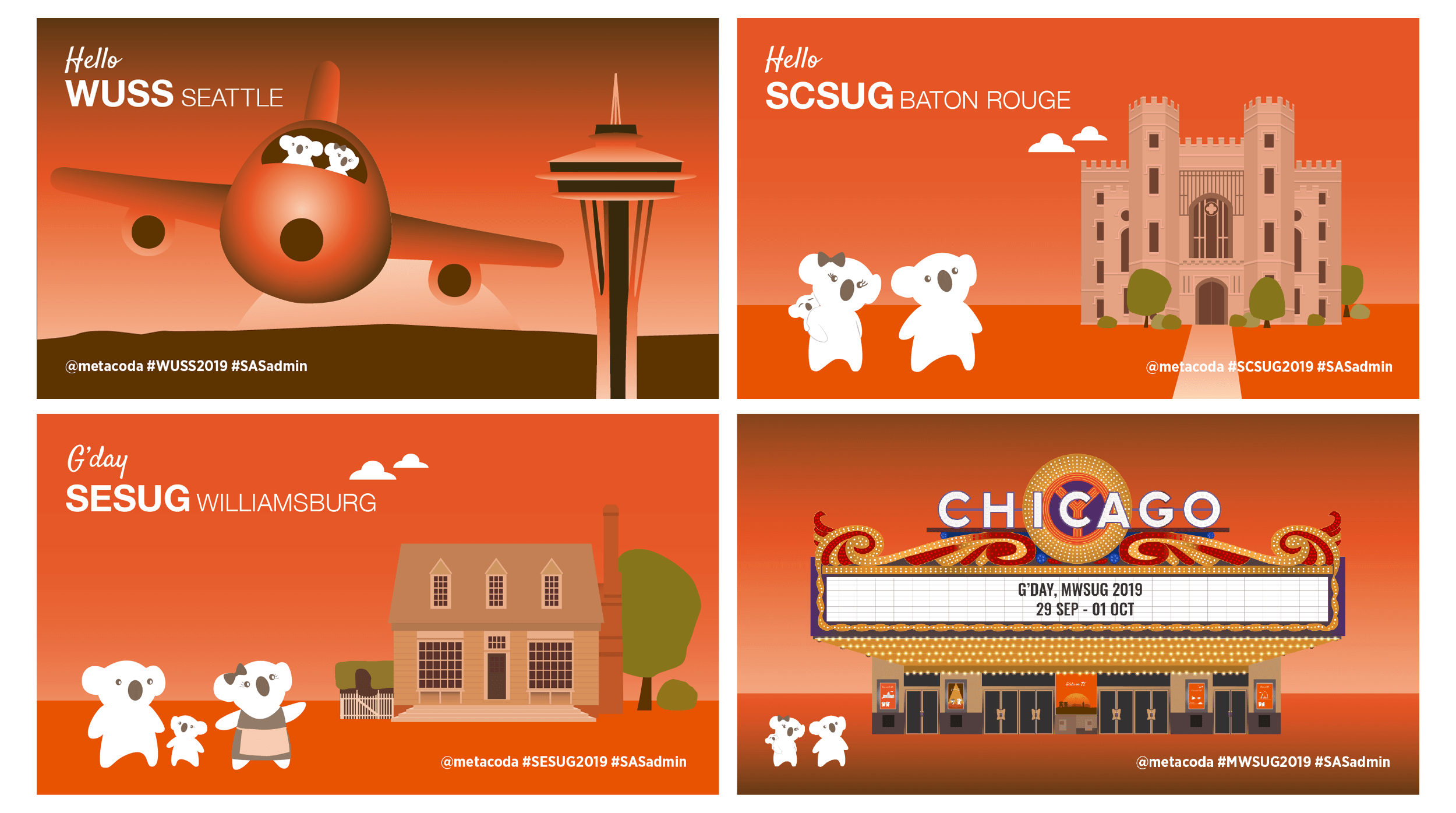 We love feedback and – like most people – we're particularly encouraged by positive feedback.
So when we recently asked customers about the benefits of using Metacoda software, we were thrilled to hear these top responses:
Comprehensive metadata visibility, fast
Excellent partnership relationship with a trusted SAS partner
Improved security
Enhanced metadata security governance and user access management
100% value for money
These sentiments were re-enforced at SAS Forum UK in June, when Iain Adamson from ScottishPower told the audience that Metacoda software can save him a few hours a day.
We welcome you to take a look at our new Enhanced Metadata Visibility flyer based on the above feedback, and let us know what you think.
Cheers,
Michelle
---
Imagine saving a few hours a day in your SAS admin work!
Click to watch the #SASForumUK 2019 Metacoda koala video…


Read more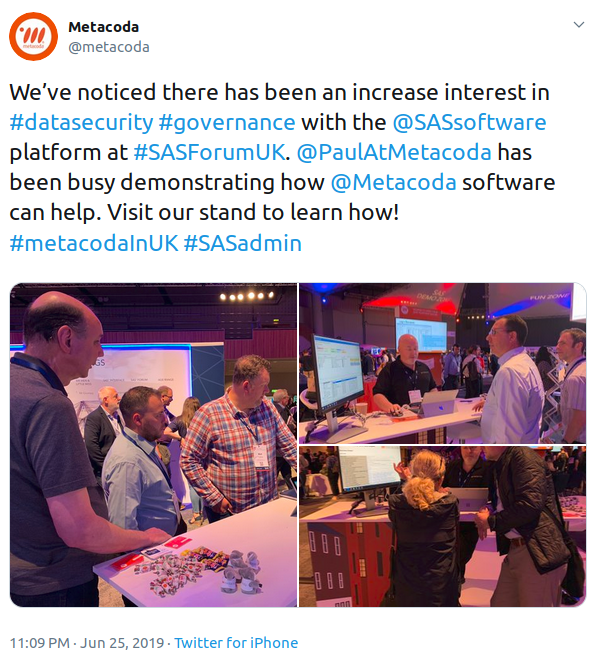 "How much time does Metacoda save you per week?"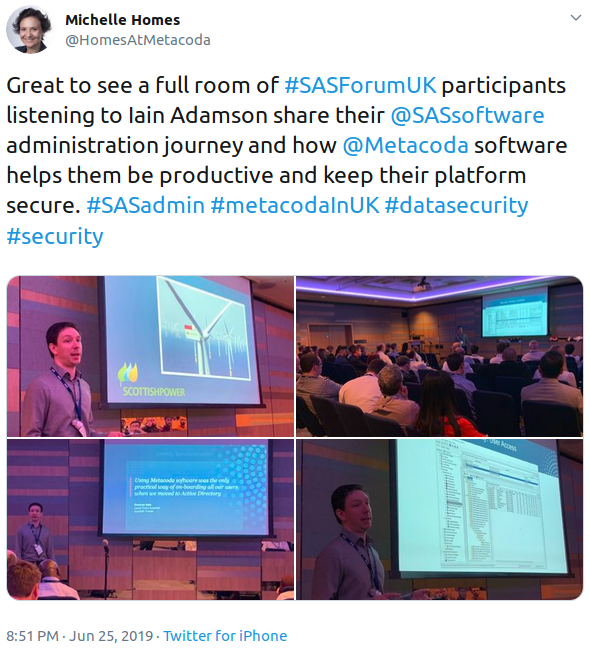 This question was asked of Iain Adamson from ScottishPower following his presentation, "From cottage industry to critical system! How Metacoda software enables productivity as your SAS platform becomes business critical", which he presented with Michelle Homes from Metacoda at SAS Forum UK on 25th June.
Iain's response – "while the time varies, it can be a few hours a day" – certainly seemed to impress the audience. (Not such a surprise for us though, given that we've been helping SAS administrators to be more productive since 2007 🙂)
Many thanks to Iain and his manager, Duncan Bain, for enthusiastically sharing their Metacoda software journey, and highlighting a few of their favourite tools:
Metacoda Password Encoder – Easily creates encoded/encrypted passwords without requiring access to a SAS coding interface. This helps to ensure there are no plain text passwords in the production environment.
Metacoda ACT Reviewer – Allows admins to quickly see the Access Control Templates, how they've been defined, where they have been applied, and how they may have been protected. Warning indicators identify potential issues where deviations from recommended practices have occurred.
Metacoda Identity Sync – ScottishPower believe the Metacoda Identity Sync Plug-in was the only practical way for them to on-board their users to the SAS platform with their Active Directory profiles.
Metacoda User Reviewer – Provides a comprehensive, whole-of-server view of a selected user. Being able to see the identity hierarchy in a tree view is very helpful and saves time.
Metacoda Identity Permissions Explorer – With just a few clicks, generate a report of what a user has access to. ScottishPower was able to review its effective permissions across multiple objects (folders, libraries, stored processes, reports etc), and be confident that their SAS metadata security model was as expected.
To find out more about how Metacoda can help a growing business, you can see the full presentation here.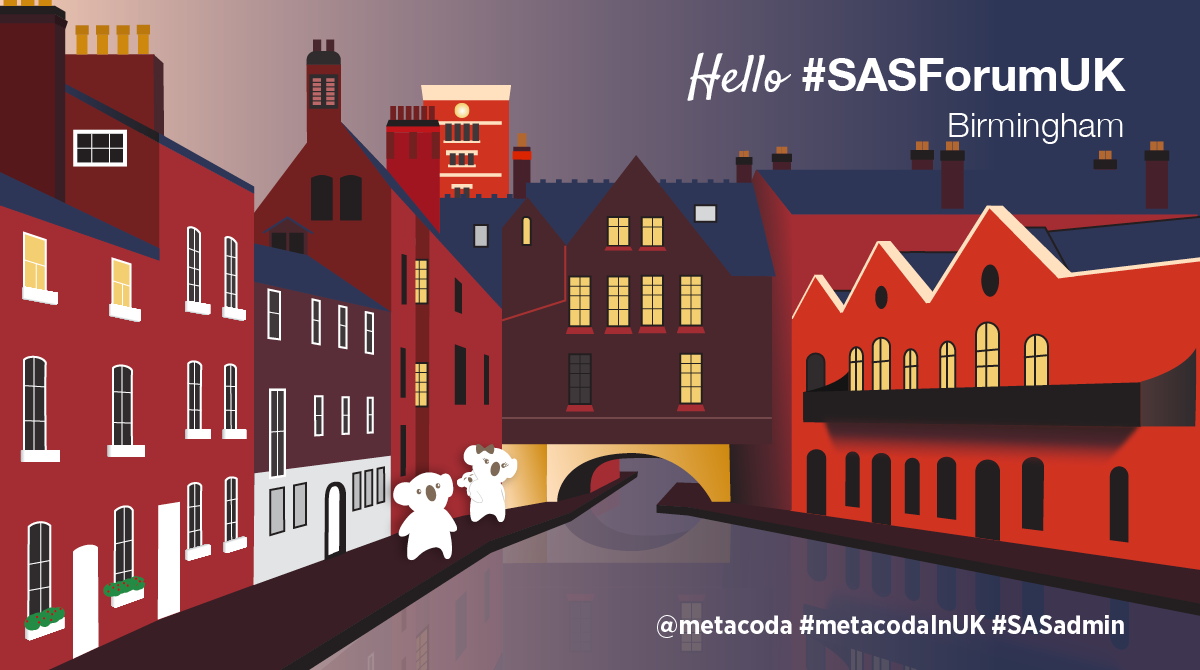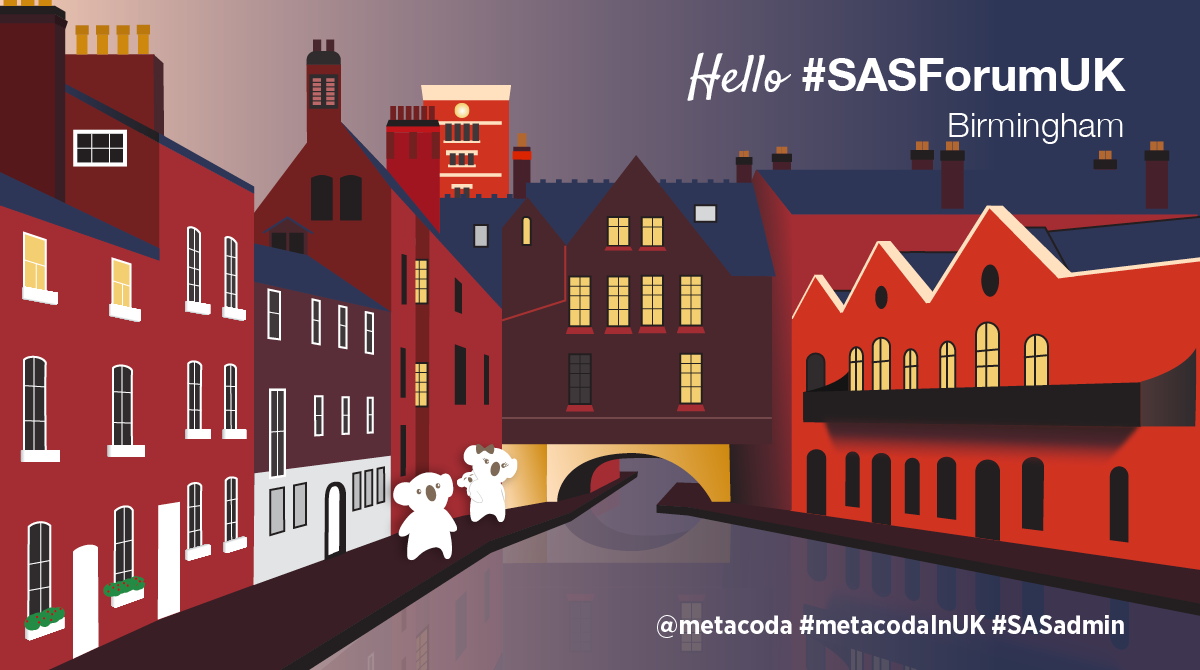 "We are witnessing a renewed focus on data and analytics, driven by the combination of increased computing power, a more connected world and more powerful technologies, like artificial intelligence, computer vision, natural language processing and machine learning."
We certainly agree with these words from the SAS Global Forum 2019 (SASGF) opening address by Dr Jim Goodnight, SAS Institute CEO.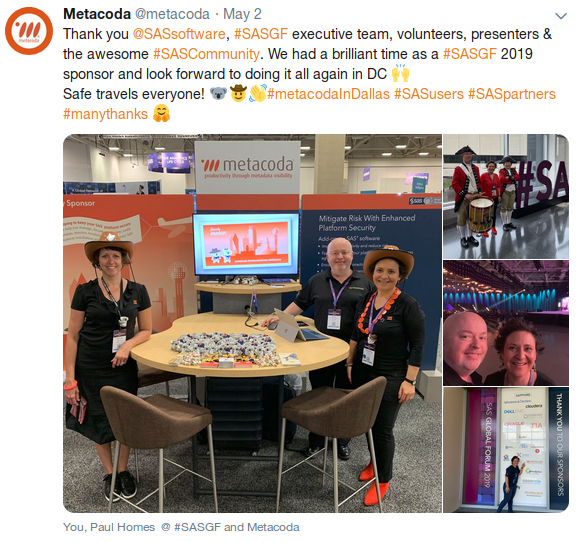 With the technological advancements available on the SAS Viya platform, we've noticed an increased uptake and Metacoda is also continually investigating and prototyping what's possible with the SAS Viya APIs.
Please make sure you keep the feedback coming about our products and what you want to see in them; we find the feedback essential in delivering products to help you manage and optimize your SAS platform.
As always, thanks for being part of such a supportive and interactive SAS community; we look forward to seeing many of you in Birmingham at SAS Forum UK on the 25th June.
Cheers,
Michelle
Read more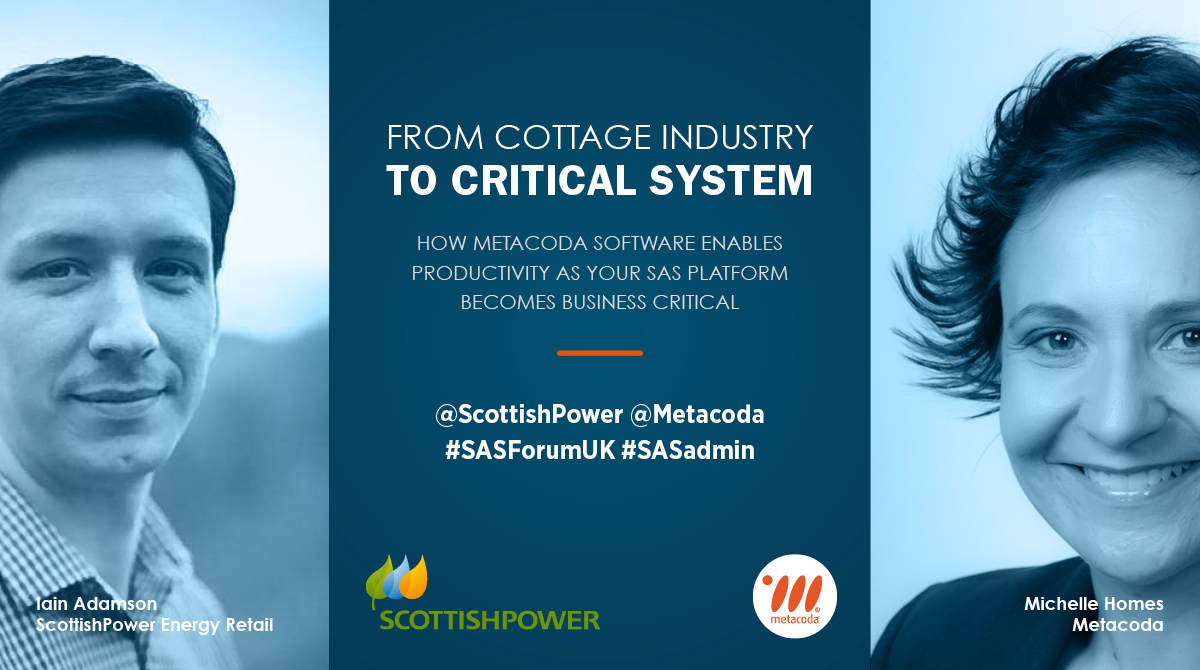 The SAS Forum UK website states…
"Analytics informs. It inspires.
It transforms the world around us.
KNOW how to put your AI & Analytics in Action."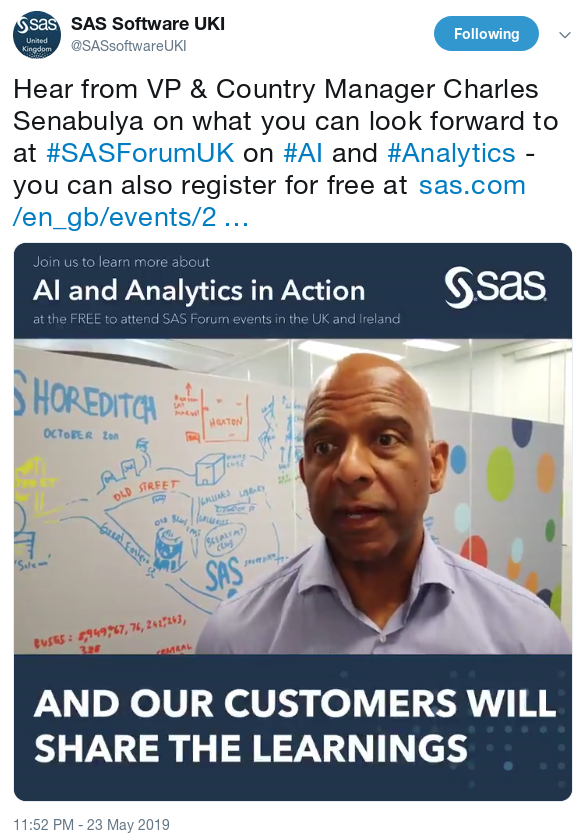 With a theme of inspiration and transformation, we're looking forward to SAS Forum UK on the 25th June 2019 and hope to see you there.
After all, as Oliver Schabenberger (SAS CTO and COO and keynote speaker at the upcoming conference) has been saying for years; "Data without analytics is value not yet realised".
SAS Institute has been sharing the power of analytics for more than 40 years, and now – with advancements in technology – more businesses than ever are realising the true value of data.
In his compelling invitation Charles Senabulya, VP and Country Manager for SAS UKI, explains that SAS Forum UK will focus on stories from customers about HOW they are bringing analytics to life in extraordinary ways every day.
It's an opportunity not to be missed!
Read more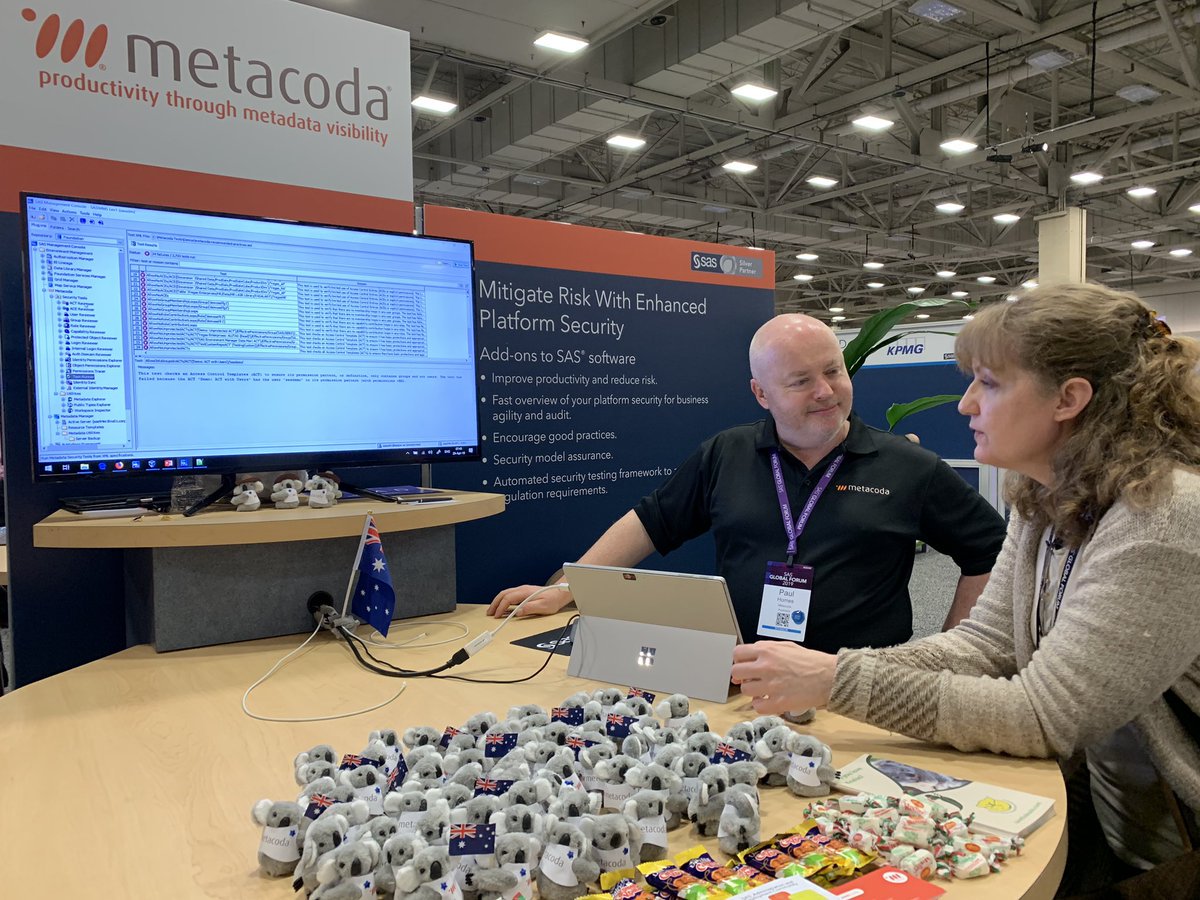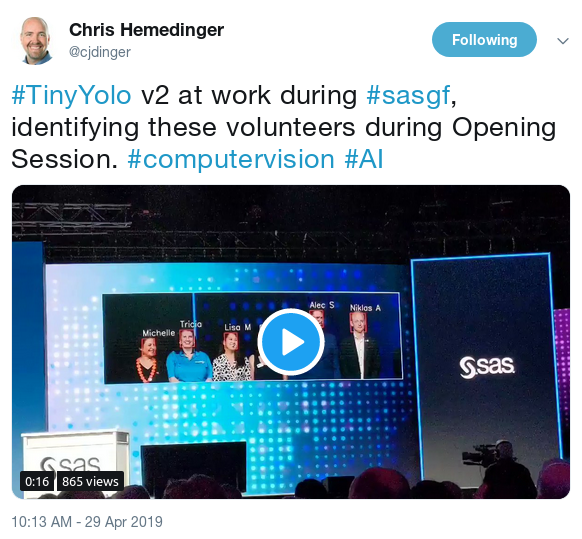 When more than 6,000 SAS users came together at SAS Global Forum 2019 in Dallas, it was clear that we are living in exciting times, full of potential!
Dr Jim Goodnight, SAS CEO, set the scene perfectly in the opening session:
"We are witnessing a renewed focus on data and analytics, driven by the combination of increased computing power, a more connected world and more powerful technologies, like artificial intelligence, computer vision, natural language processing and machine learning."
To support his words, he blew us away with a live facial recognition demonstration, using an enthusiastic group of volunteers (including Metacoda's Michelle Homes) and a model TinyYOLO v2. The model essentially converts each face into a vector of 512 floating point numbers, looks it up using nearest neighbour, and then returns a name. But obviously behind the scenes there's a lot more going on: the facial recognition uses approximately 11 million parameters… with more than 22 million floating point operations that have to occur on a workstation with 2 GPUs… which sends the data to SAS Viya running ESP on 4 GPUs… which sends the pixels in the bounding box into a model that has 55 million parameters from FaceNet! If you're intrigued, please see Dr Goodnight's opening session presentation for yourself (and notice that even funny faces can't fool that clever underlying algorithm!) 😉