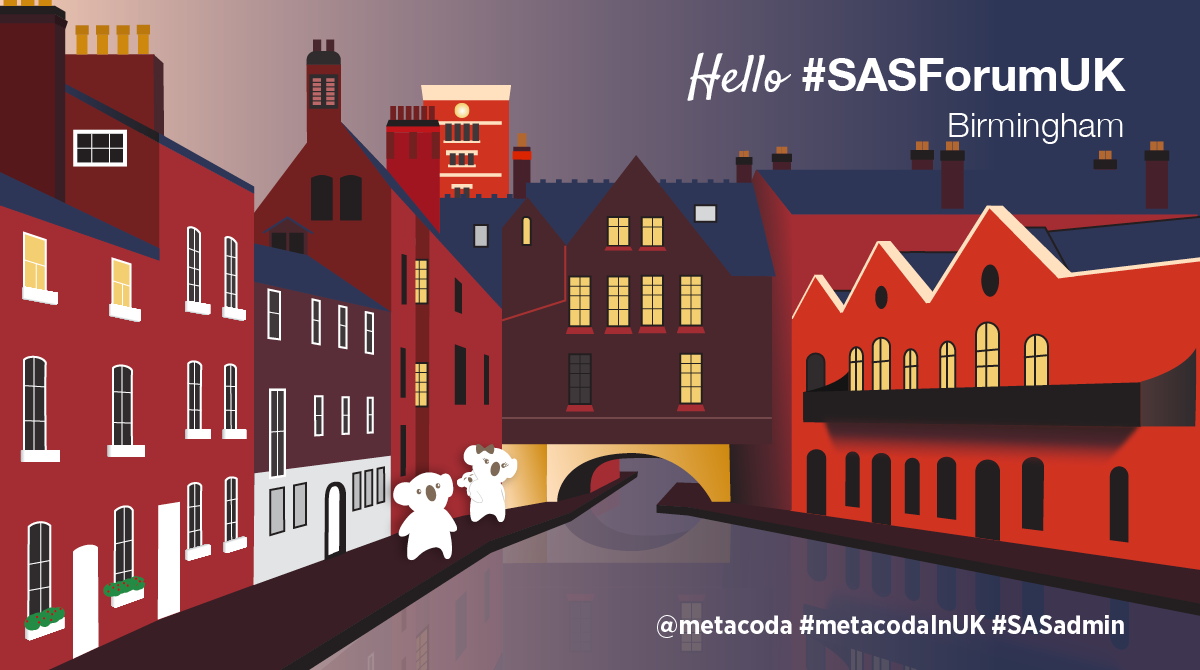 "We are witnessing a renewed focus on data and analytics, driven by the combination of increased computing power, a more connected world and more powerful technologies, like artificial intelligence, computer vision, natural language processing and machine learning."
We certainly agree with these words from the SAS Global Forum 2019 (SASGF) opening address by Dr Jim Goodnight, SAS Institute CEO.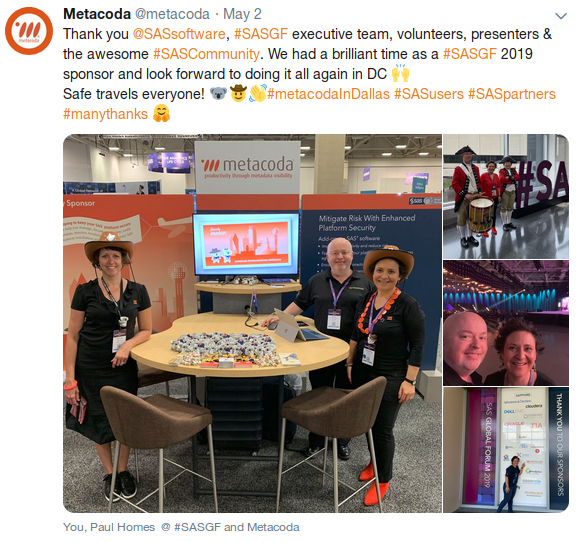 With the technological advancements available on the SAS Viya platform, we've noticed an increased uptake and Metacoda is also continually investigating and prototyping what's possible with the SAS Viya APIs.
Please make sure you keep the feedback coming about our products and what you want to see in them; we find the feedback essential in delivering products to help you manage and optimize your SAS platform.
As always, thanks for being part of such a supportive and interactive SAS community; we look forward to seeing many of you in Birmingham at SAS Forum UK on the 25th June.
Cheers,
Michelle



---
Power to do good
SAS Global Forum is all about learning, connecting and growing, and that's certainly what happened recently in Dallas.
You can read more about our Dallas adventure in the Metacoda blog post: Power to do good: bringing analytics to life at #SASGF, or access the full conference proceedings via the SAS Global Forum site.
If it's memories you're after, take a look at our SASGF 2019 Metacoda video. Spot the familiar faces and reflect on the positivity of the SAS community.
---
Your ideas for SASGF 2020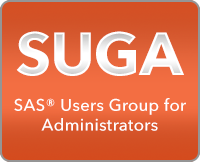 With SAS Global Forum 2019 still fresh in our minds, plans for SAS Global Forum 2020 are already under way.
To make sure the 2020 program is just right, SUGA (SAS User Group for Administrators) committee is keen to get your thoughts about the topics (and don't forget to also ask your SAS administrator and SAS architect).
---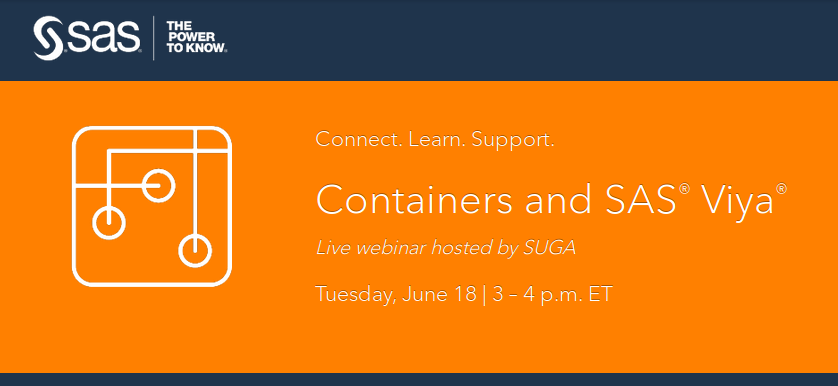 Containers and SAS® Viya®?
Want to know more about the pros, the cons and things to watch out for with
If so, tune into the SUGA live webinar at 3-4pm ET, June 18 to hear Erwan Granger – Advisory Technical Architect for the Global Enablement and Learning team at SAS – speak about this topic.
Register to watch live and/or get the recording afterwards.
---

SAS Architecture Community
If you're a SAS architect – or know one – you'll be happy to hear that a new SAS community area has been created for all things SAS architecture.
Join the group to share your thoughts, ideas and areas of interest.
Keep an eye out for the first session of the Global Virtual Group for Architects planned for the end of September.
---
Metacoda Product News
As mentioned in our April newsletter, the release of Metacoda Plug-ins 6.1 includes two new plug-ins:
External Identity Manager
Our 6.1 R2 (released prior to SASGF) also includes a new feature: Compare Metadata Objects. If you need to compare SAS metadata security for two users, groups, or ACTs etc, we'd love you to try it out!
Let us know what you think; any feedback about our products and features are always appreciated!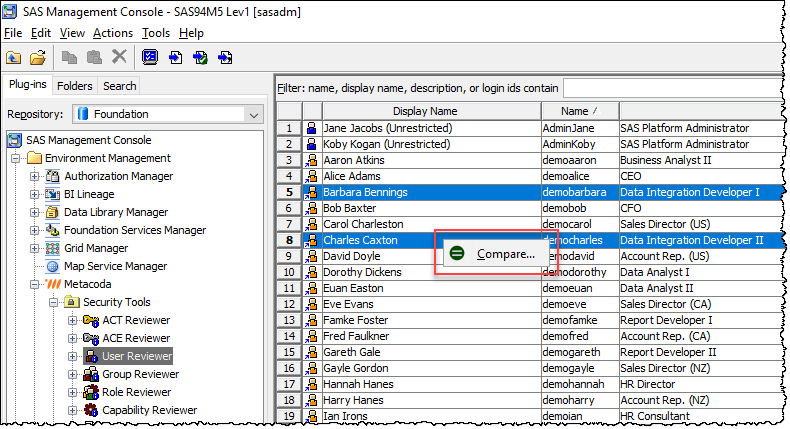 ---
Data and Beyond at SUNZ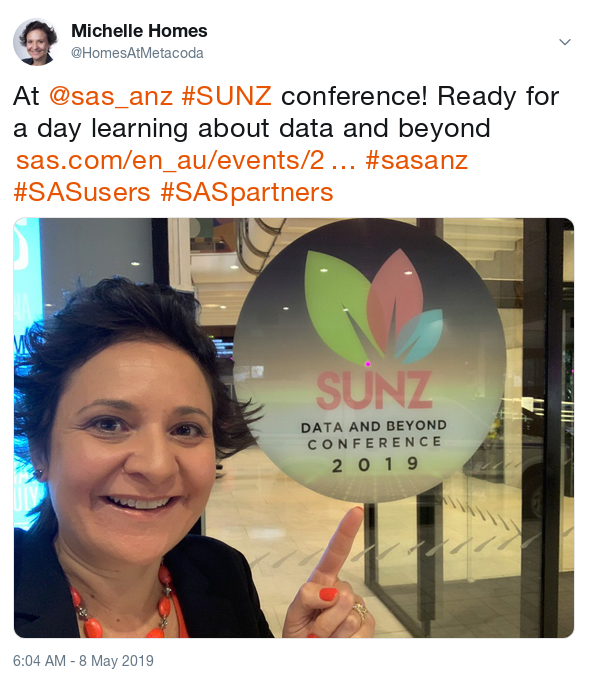 Michelle had a mega day of learning at the 39th SAS Users New Zealand (SUNZ) conference in Wellington on 6th May.
As promised, the conference went beyond data with highlights including:
John Edwards, NZ Privacy Commissioner, sharing what's changing in data regulation and our ethical responsibilities
Diana Shaw presenting on the digital gap with actionable AI
Kimberly Nevala outlining the five areas for a successful digital transformation
A focus on practical uses of SAS software.
As Dame Diane Robertson from NZ Data Futures said, "There's a Gollum-like attitude to not share data…" Data governance is thinking about the purpose and using data to make decisions faster!
For a handy summary of the day, check out the #SUNZ Tweets.
---
From cottage industry to critical system!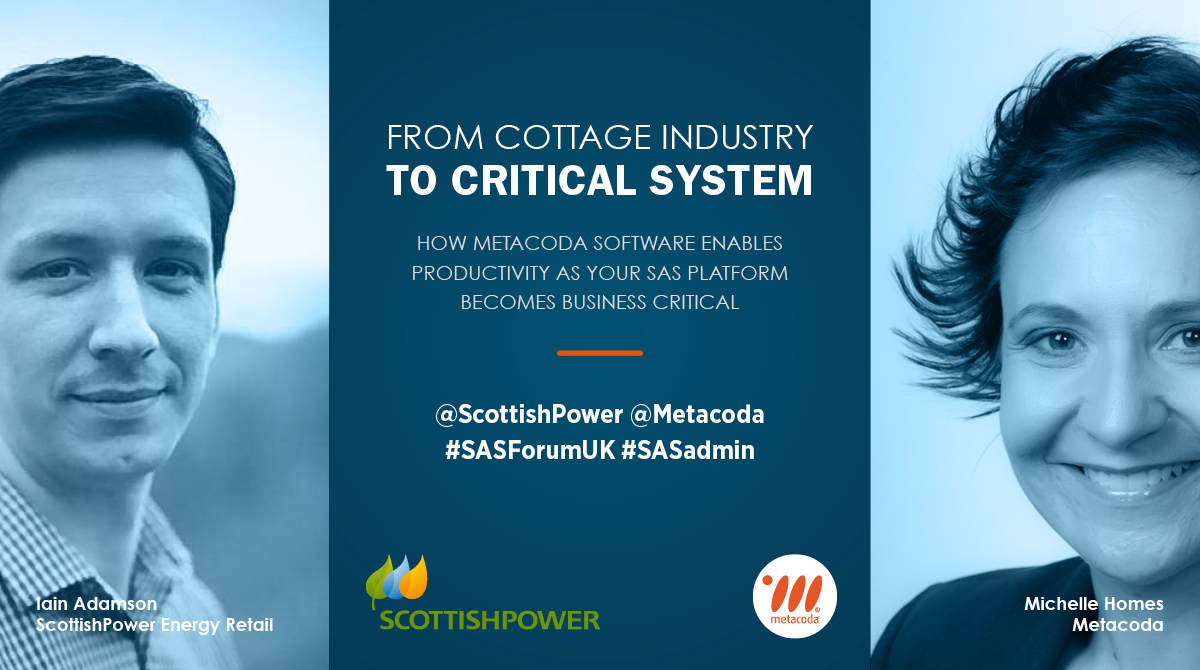 Metacoda is looking forward to co-presenting with ScottishPower at SAS Forum UK to share their fascinating analytics journey.
Our joint presentation, "From cottage industry to critical system! How Metacoda software enables productivity as your SAS platform becomes business critical", shows how the SAS platform has evolved over the past ten years, and how the changing demands on the platform required a security model that was simpler to manage and audit.
Metacoda's solution lightened the administrative burden, delivered diagnostic capabilities, and eliminated gaps in security policies.
Join Iain Adamson from ScottishPower, and Michelle Homes from Metacoda at 11:30am BST on Tuesday 25th June, to hear more about this real-life success story.
---
Hope to see you soon!
If you're thinking about attending SAS Forum UK in Birmingham, get excited by listening to this compelling invitation from Charles Senabulya, VP and Country Manager for SAS UKI. The event certainly sounds like an opportunity not to be missed!
Make sure you visit our booth to say g'day, collect a Metacoda koala, taste some Aussie sweets, and ask us how we can help mitigate risk in your security journey.
Or if you're unable to make it and would like to experience the benefits of Metacoda software in your own environment, please register for a free 30-day evaluation.