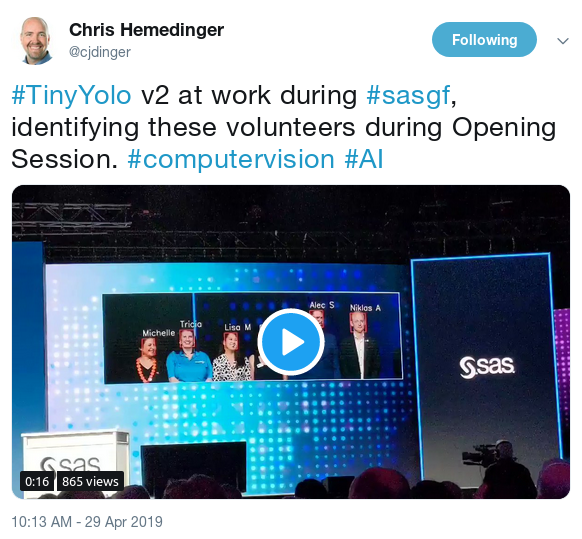 When more than 6,000 SAS users came together at SAS Global Forum 2019 in Dallas, it was clear that we are living in exciting times, full of potential!
Dr Jim Goodnight, SAS CEO, set the scene perfectly in the opening session:
"We are witnessing a renewed focus on data and analytics, driven by the combination of increased computing power, a more connected world and more powerful technologies, like artificial intelligence, computer vision, natural language processing and machine learning."
To support his words, he blew us away with a live facial recognition demonstration, using an enthusiastic group of volunteers (including Metacoda's Michelle Homes) and a model TinyYOLO v2. The model essentially converts each face into a vector of 512 floating point numbers, looks it up using nearest neighbour, and then returns a name. But obviously behind the scenes there's a lot more going on: the facial recognition uses approximately 11 million parameters… with more than 22 million floating point operations that have to occur on a workstation with 2 GPUs… which sends the data to SAS Viya running ESP on 4 GPUs… which sends the pixels in the bounding box into a model that has 55 million parameters from FaceNet! If you're intrigued, please see Dr Goodnight's opening session presentation for yourself (and notice that even funny faces can't fool that clever underlying algorithm!) ?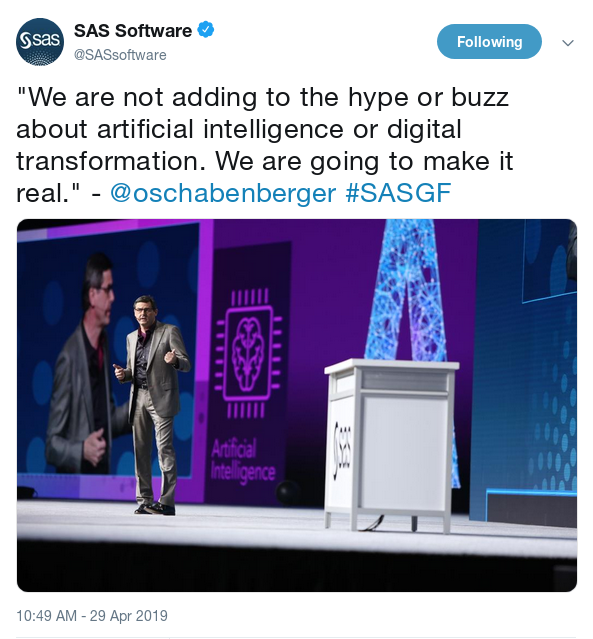 It's so exciting to see how these advanced analytics techniques are being used to do good in almost all aspects of life, even including medical image processing and treating cancer. See more in the recorded General sessions and selected User sessions.
As Oliver Schabenberger, SAS CTO and COO, pointed out SAS technology is also playing a revolutionary role in democratizing analytics for all. The tools enable businesses, non-profits, educational institutions and others to maximize their data so they can create better experiences AND improve society. Read more in SAS GF Technical Connection "Bring AI, ML and analytics to life" blog post by Shannon Heath.
The power of the partner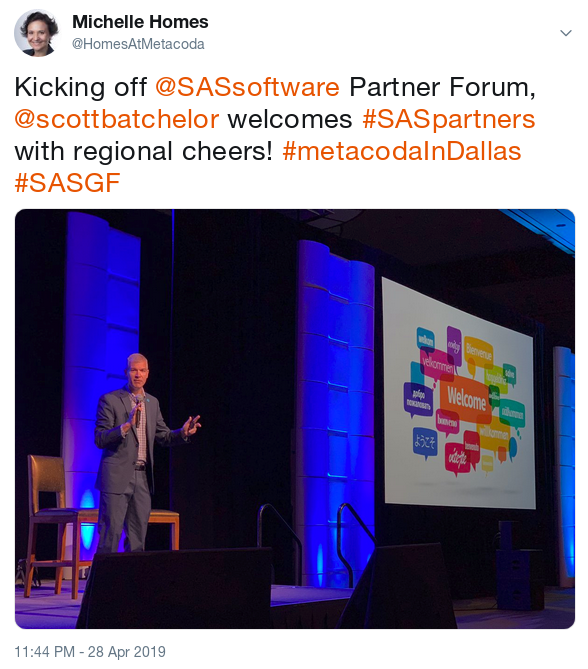 With 655 attendees, including 56% international folk, the SAS Partner Forum in Dallas was pretty powerful!
Undaunted by the large numbers, we did our best to connect with as many people as possible, and to learn about all the exciting new SAS partners from around the globe offering innovative solutions.
Once again, huge congratulations to all those who were recognised in the SAS Partner awards!
Howdy partners at the Metacoda booth
We loved embracing the Texas cowboy spirit at our Metacoda booth by providing cowboy hats for all – from our tiny Metacoda koalas to our wonderful booth visitors! For lots of smiling faces and highlights, take a peek at our Metacoda at SASGF 2019 Facebook album and #metacodaInDallas Twitter feed.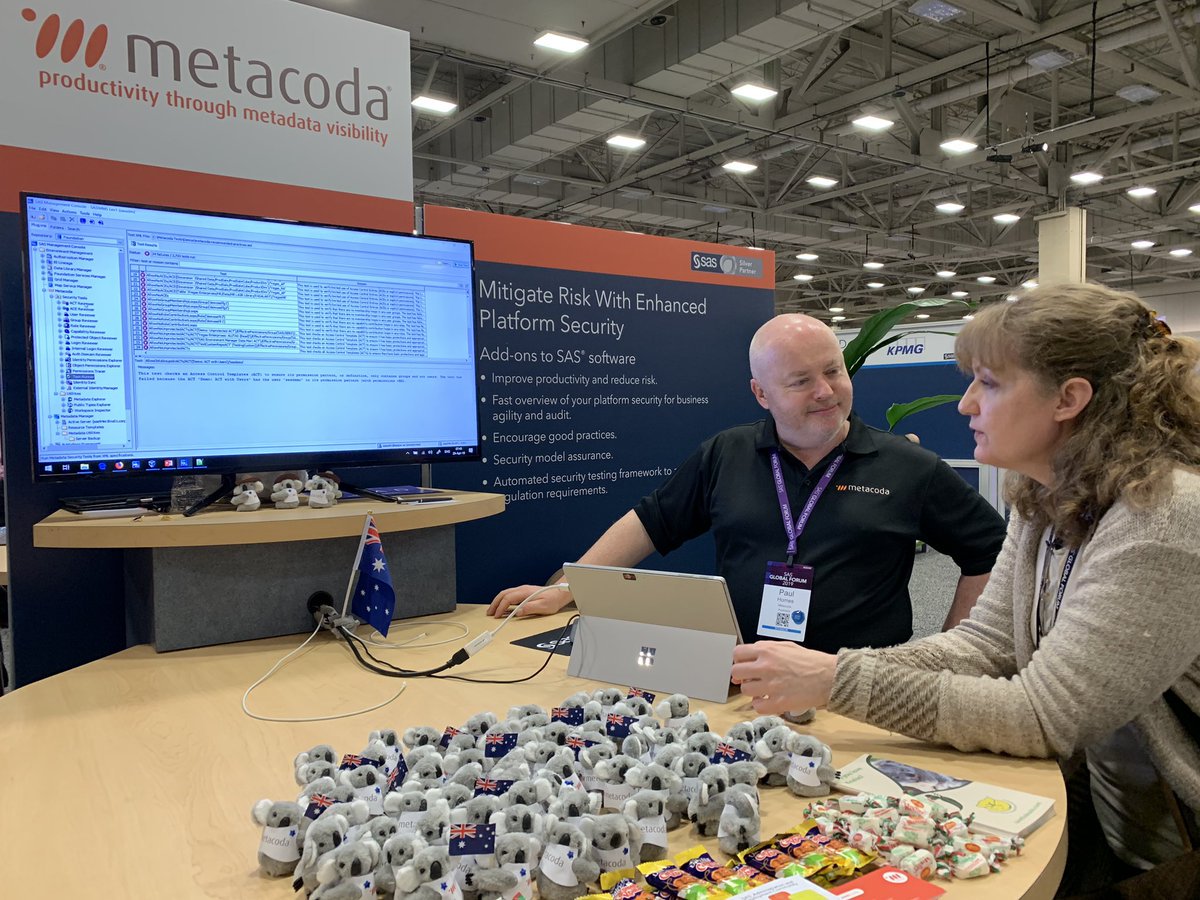 Thanks to everyone who visited the Partner Village in the Quad and came by to say 'Howdy'. Whether it was to collect a Metacoda koala, take a photo, collect some Australian candy, have a chat, get a Metacoda software demonstration, or talk about the new features in our latest 6.1 release, we thank you!
A special thanks also to Timo Blomqvist (from OP) and Tapio Kalmi (from SAS Finland) who mentioned the power of Metacoda products in their presentation, "Modern, Fast, Automated and Secure Trigger-Based SAS® 9.4 Application Configuration".
Your positive sentiments are always much appreciated, whether in person or via social, such as Tamara Barker's tweet, "Finally scored an Aussie @metacoda koala at a SAS conference! Also met @HomesAtMetacoda and Paul Homes and got a demo of their fabulous product for SAS admins. I recommend checking out their booth in the Quad at #SASGF!"
Join the Koala Army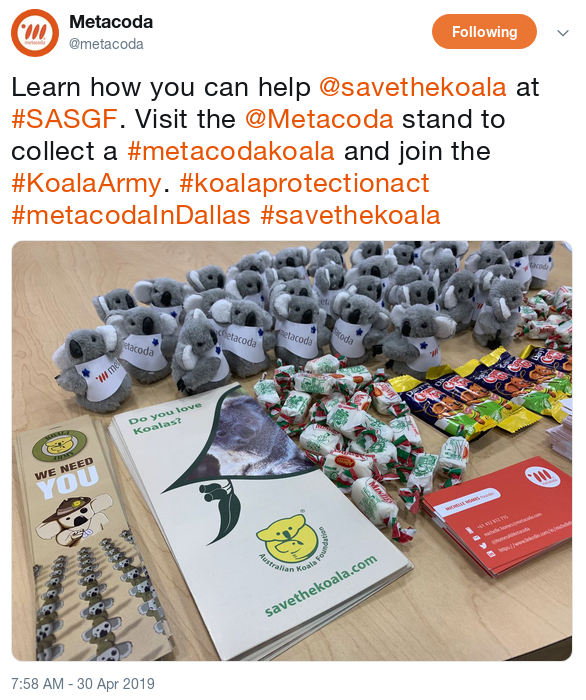 As koala lovers, we support and promote the Australian Koala Foundation (AKF) as much as we can wherever we go. At SASGF it was heartening to speak to so many interested people about the AKF's critical work – including the Koala Protection Act. If you'd like to learn more about the plight of the koala and how you can help protect our furry friends, please join the Koala Army.
Being inspired to do good
The SASGF keynote speakers absolutely radiated growth, bravery and innovation. By sharing their personal stories and journeys, they inspired action and creativity, and I'm sure everyone walked away wanting to do good, in line with SAS Institute's principles of:
Everything about the event highlighted that SAS Global Forum does a fantastic job of championing the needs of SAS users worldwide to help them learn, connect and grow. Be sure to check out the conference proceedings to boost your growth, learning and power to do good.
We're honoured to be a member of the supportive SAS community, and incredibly grateful for the many memories, ideas and friendships…
Until our paths cross again, please enjoy a little video of our SASGF 2019 adventures…