Metacoda Plug-ins 6.1 is now available and has several improvements including two new plug-ins that may be of interest to existing and potential Metacoda customers.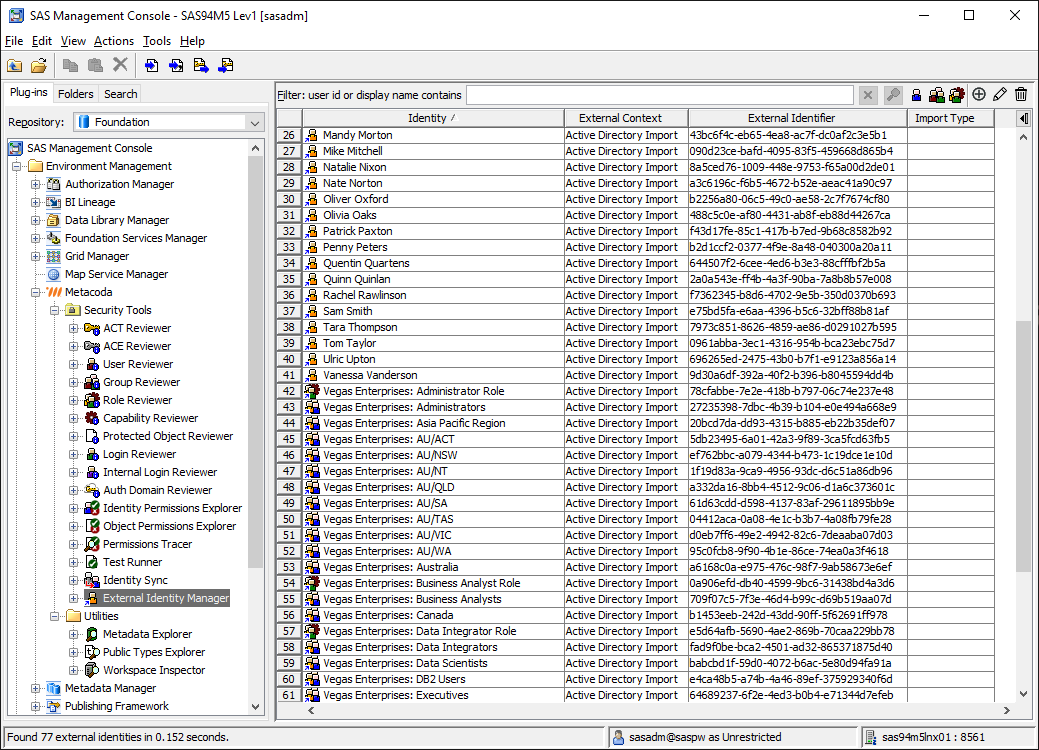 The main improvements in Metacoda Plug-ins version 6.1 include:
New Auth Domain Reviewer plug-in: a new plug-in for reviewing, documenting, and testing the use of Authentication Domains in SAS metadata.
New External Identity Manager plug-in: a new plug-in to assist with identity synchronization between SAS and Microsoft Active Directory (and other LDAP servers).
New Key Export feature in the Identity Sync plug-in: provides the ability to export a CSV file containing a variety of external identity keys (e.g. objectGUID, objectSid, sAMAccountName, distinguishedName) for all discovered external identities.
Numerous enhancements to the Identity Sync plug-in with report extracts, options.
New Metadata Security Testing Framework tests have been added:
<RequireFoundationRepositoryACT/>: a new recommended practice test to verify the Foundation repository has a Repository ACT.
<AllowNoDirectFoundationRepositoryACTUsage/>: a new recommended practice test to verify the Foundation Repository ACT has not been directly applied to any metadata objects (it is indirectly applied to all metadata objects at the top of their object inheritance paths).
<AuthDomains/>: new implementation tests as exported by the new Auth Domain Reviewer plug-in.
Providing the Metacoda Plug-ins Batch setup as a public GitHub repository to make it easier for customers, partners, and ourselves to install and configure the Metacoda Plug-ins Batch Interface. It is available at https://github.com/Metacoda/metacoda-plugins-batch-setup
The End User License Agreement (EULA) has been updated, including a new section on GDPR obligations. The EULA continues to be displayed in the software on first use, but is also now available for review prior to downloading the software at https://www.metacoda.com/eula/.
and lots more…
As an existing Metacoda customer, we encourage you to read the detailed What's New document within the Metacoda Customer Portal and download and install the software. If you aren't an existing Metacoda customer and would like to try it out with a 30 day free evaluation, please register.
Keep your feedback, suggestions and ideas coming… we love to hear them and to work towards including them in a future release too!