Earlier this month, we set off to the Netherlands, Denmark and Norway on the promise of SAS innovation, and we certainly weren't disappointed!
We met so many wonderful customers and SAS users, we talked to partners and the community, and we learned about the latest developments from experts in the field. We were excited to see first-hand how Metacoda is helping our global customers to manage, review, troubleshoot, document, audit and test their SAS platform installations.
It certainly makes all the hard work worthwhile when you're on the other side of the world and SAS Administrators tell you that Metacoda Plug-ins 5.0 is a "must have" tool and that they look forward to trying out the Metacoda Identity Sync Plug-in, Metacoda Testing Framework, and Metacoda Utilities.
We'd love to be able to share all the details of our trip with you, but we might have to save that for when we see you in person. For now, you can read below for some of our highlights, or recap the events on Twitter at #SFNL15 (SAS Forum Nederlands), #SASforumDK (SAS Forum Copenhagen), FANS (Norwegian user group) and our Metacoda Facebook page.
6 October, NBC Conference Centre, Nieuwegein (near Utrecht), Netherlands
This inspiring forum carried the theme of 'Accelerate Innovation' into all aspects of the event, starting with an amazing digital musical number, which set the scene for the thought-provoking presentations to follow.
You can find an interesting report of the day at the SAS Forum Netherlands webpage. Of course if, like us, your Dutch is limited to 'ja' and 'nee', you'll find the English Google translated page very handy.
The demo and sponsor area was well organized, and constantly busy and buzzing throughout the day. It was a great opportunity to meet our customers in person, catch up with partners and friends, and show our software to new potential customers.
Here are some highlight Tweets and pictures we took in Nieuwegein: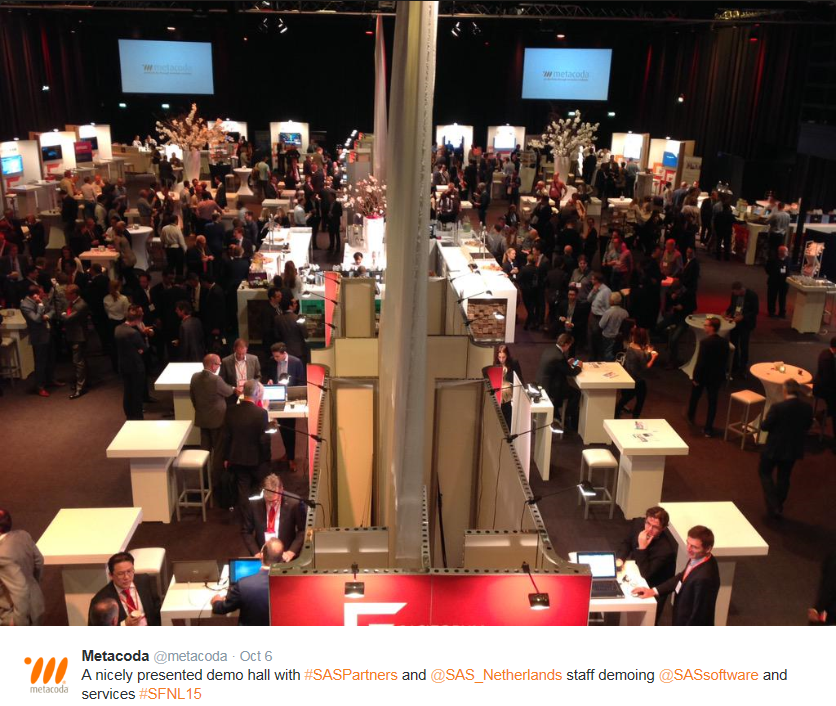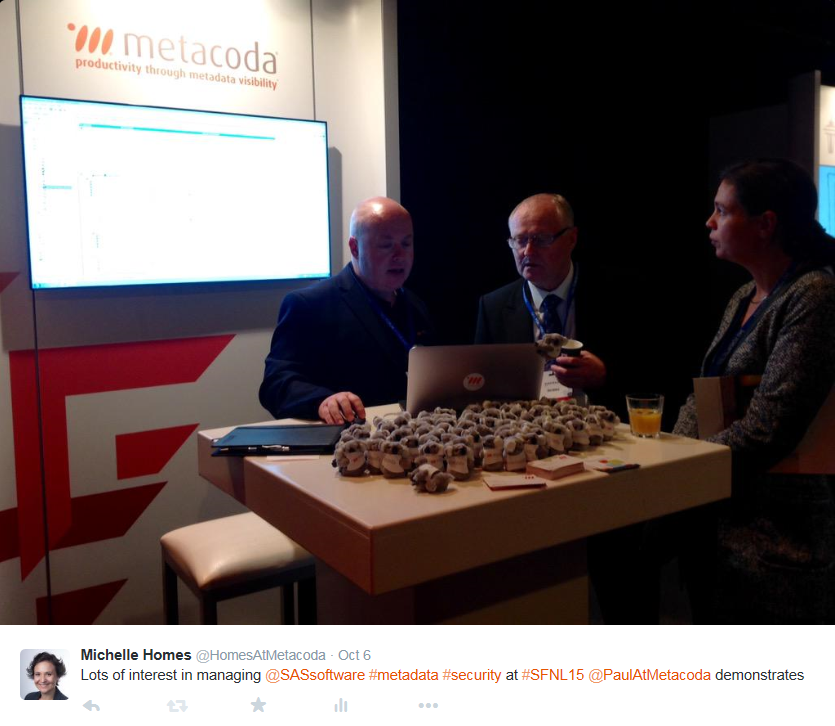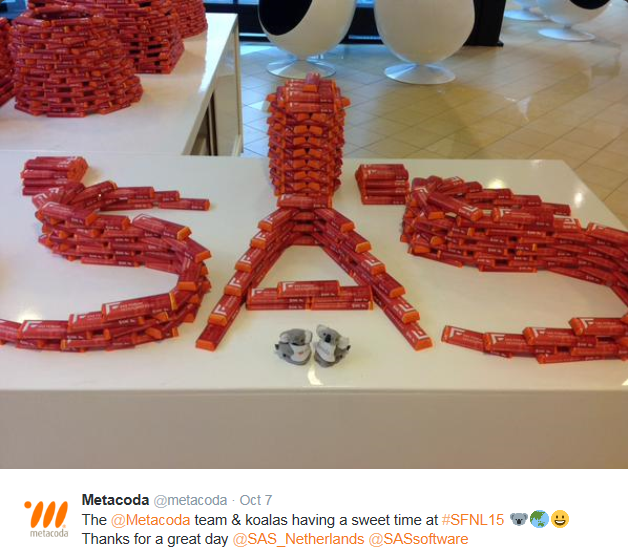 8-9 October, Tivoli Congress Centre, Copenhagen, Denmark
The Tivoli Congress Centre's beautiful central circular stage was the perfect venue for the jam-packed program around the theme of 'Share insights. Drive innovation. Push the limits.'
Metacoda's Paul Homes was honored to be in such great company when he presented his paper, Test for Success: Automated Testing of SAS Metadata Security Implementations to an interested and engaged crowd.
We also had the opportunity to share our latest release Metacoda Plug-ins 5.0 in the demo area. Those we spoke to were excited to see there is a tool to help them with their SAS metadata security regulatory and auditing requirements, and an easy way to do identity synchronization.
Program highlights for us included:
opening session's SAS Visual Analytics presentation;
Rasmus Ankersen's session about his analytic experiences with Midtjylland Football Club;
Chris Hemedinger's presentation on What's New for SAS Programmers in SAS 9.4M3, SAS Enterprise Guide and SAS Communities;
seeing again Per Andersen, the iPad winner from our SAS Global Forum 2012 draw;
Cecily Hoffritz's talks on SAS Administration. Her presentation on collating SAS metadata security-related data to produce a SAS Visual Analytics network diagram and access control report was interesting and entertaining. The clarity of her demonstrations overcame any language barriers and we'll certainly remember her access control phrase "green and grey is great" (which sounds even better in Danish!);
closing session by Puni Raja from Governance Reviews UK, where she spoke about how Copenhagen has been Copenhagenized, the exciting world we're in with the Internet of Things (IoT), and the opportunities ahead for those who are curious.
The SAS Forum Copenhagen 2-day presentations are now available within the SAS Denmark Community at the SAS Forum page and SAS Forum Plus page .
Here are some highlight Tweets and pictures we took in Copenhagen: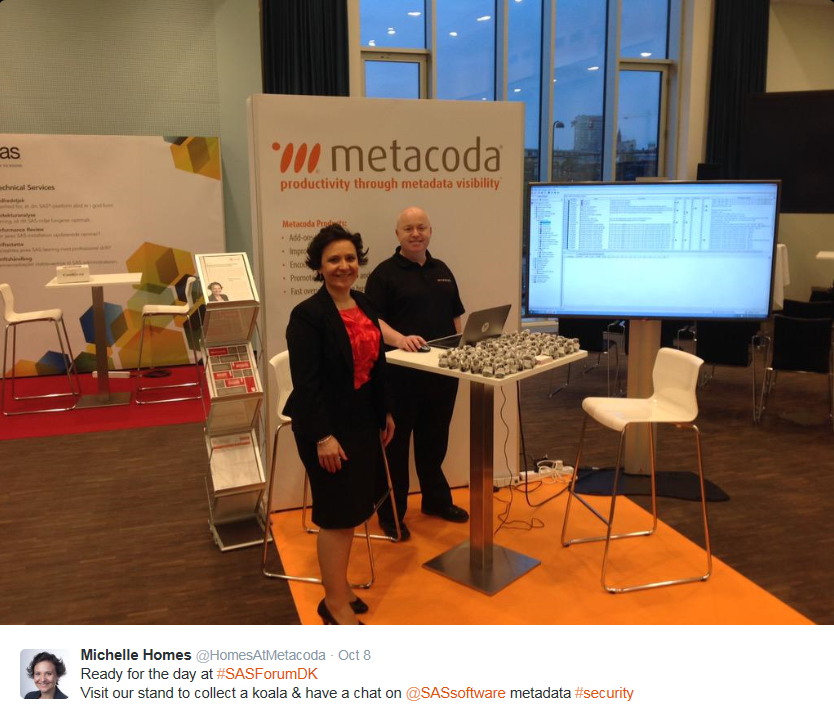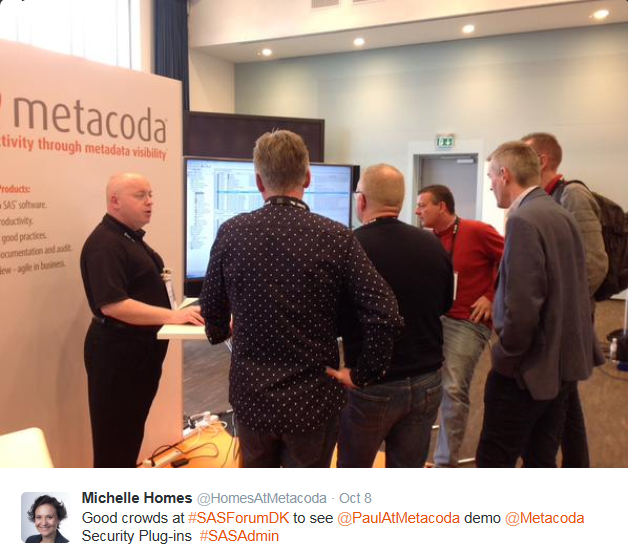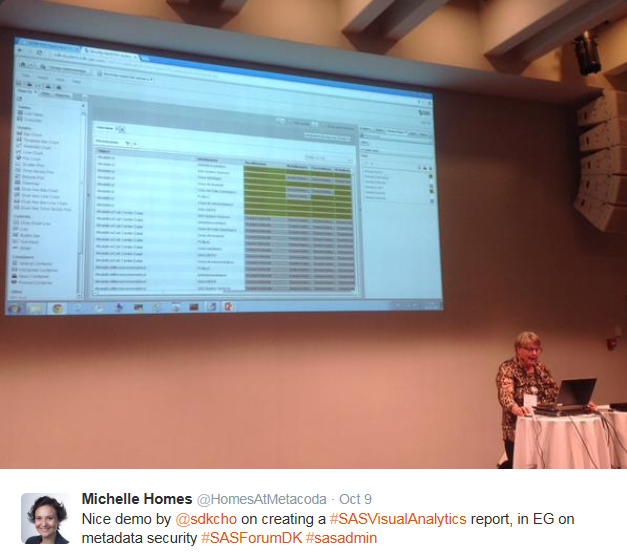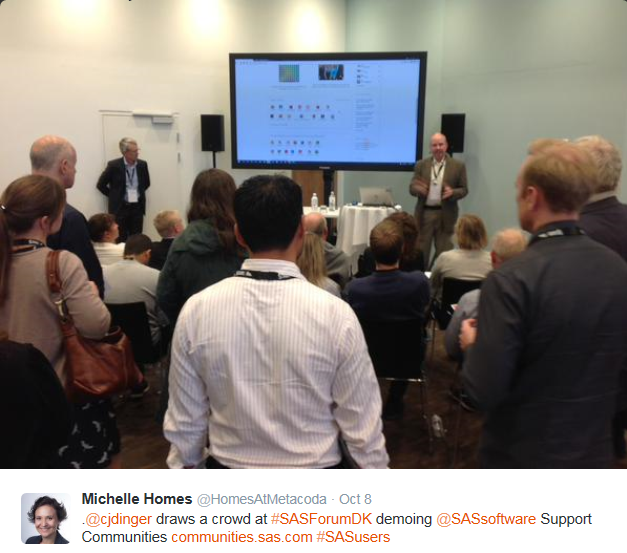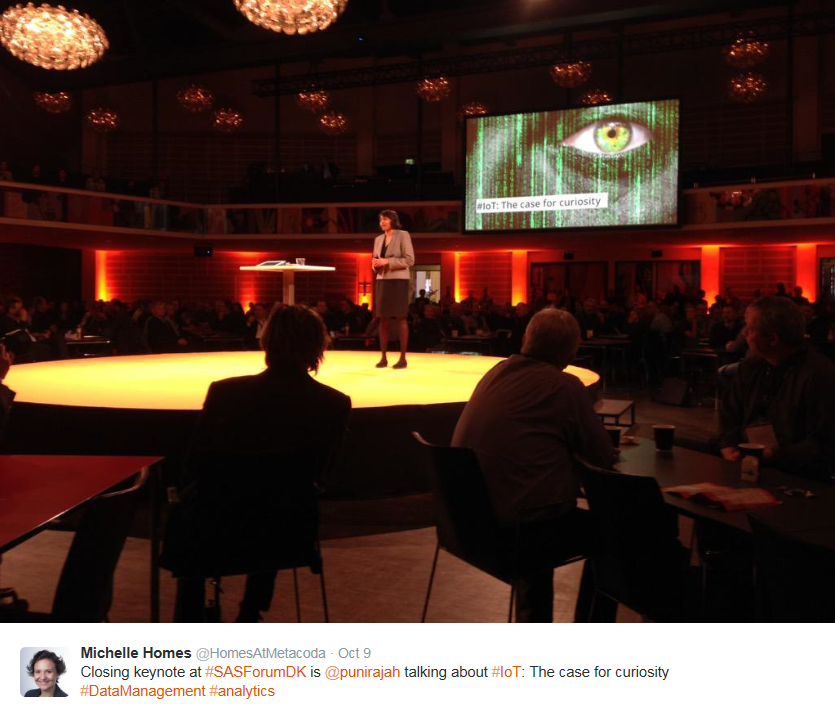 Norwegian Users Group Technical Trade Day (FANS Teknisk Fagdag)
12 October, SAS Oslo Office
Our last stop was Oslo where we visited our customers and gave a 2-hour hands-on presentation involving a live demonstration, as well as a question and answer session. Our focus was on how we can best help SAS administrators and metadata specialists with their SAS metadata security management. Again, we were excited to receive lots of positive feedback about our products, as well as new interest in using Metacoda software. The presentation can be downloaded from the FANS presentation page.
Here are some highlight Tweets and pictures we took in Oslo: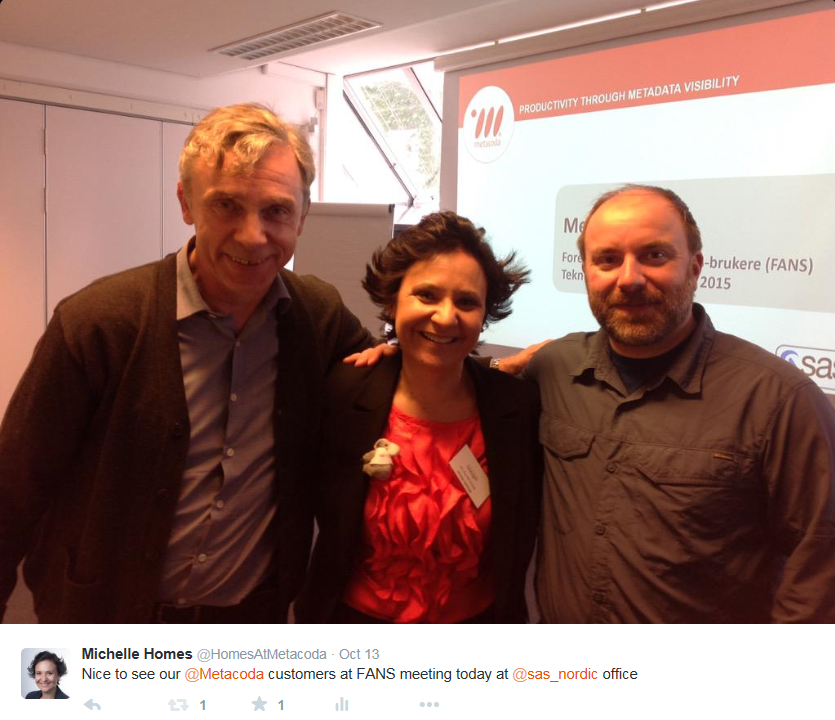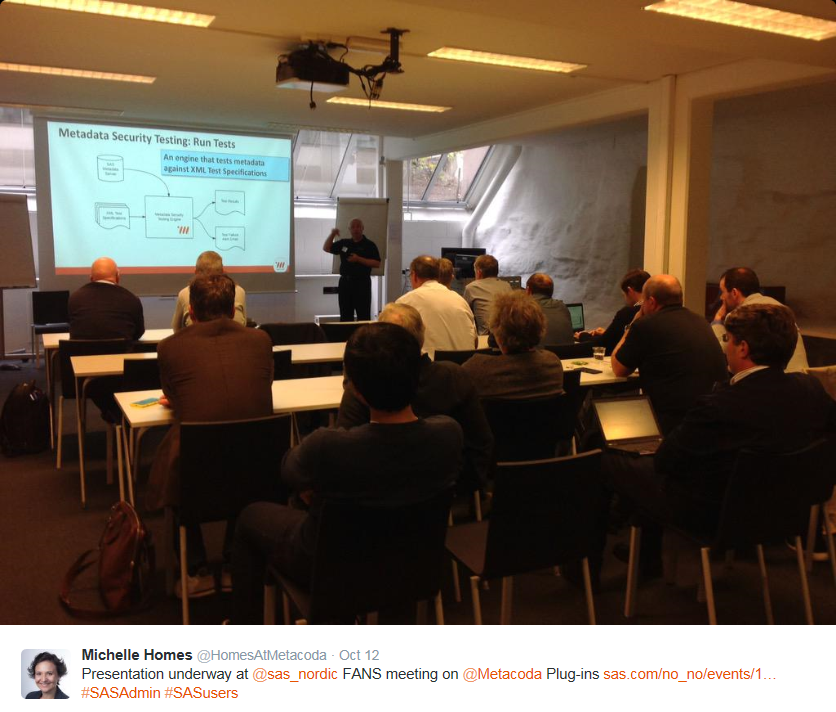 Metacoda Koala Trip
The Metacoda koalas also enjoyed their trip to Europe; meeting people and finding new homes. Check out the photo collage of their trip below (also on their YouTube playlist).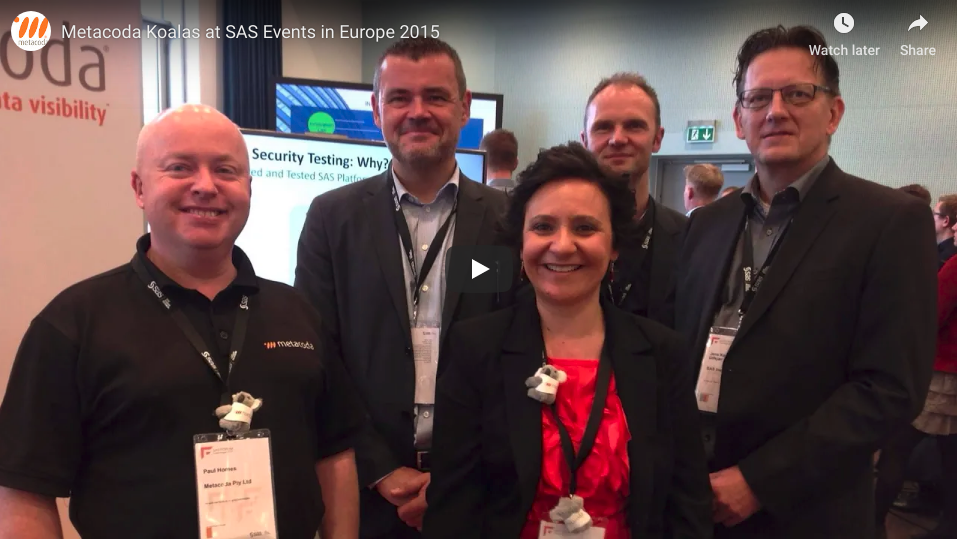 Did we miss seeing you?
We have to say we're immensely grateful to our Europeans counterparts for speaking such impressive English (100% better than the occasional 'please' and 'thank you' that we managed to pick up in the local languages). It was a pleasure to meet so many people and to spread the word on how we help SAS customers securely manage their SAS platforms.
If you missed us at the events, or weren't able to make it, we'd love to hear from you. Either contact us or use the comments below.
If you'd like to see first-hand how our new Metacoda Security Plug-ins 5.0 release delivers an even more powerful way to enhance your SAS metadata security implementation, please register for a free 30-day evaluation license.
Looking forward to seeing you in person or online soon!