31AUG2015 NOTE: There are now 6 Free Tools as Metacoda Plug-ins 5.0 is released and the Workspace Inspector is available.

SAS® platform administrators face some common challenges and requirements; particularly when exploring metadata or needing to access features of a SAS coding interface while working in the SAS Management Console. Our many years of experience helping SAS platform administrators led us to develop these five (and half) free tools to help us address such issues. We find them useful and we hope that you will too.
1. Make sense of your metadata with the Metadata Explorer
Metadata specialists may be familiar with the METABROWSE tool built into Foundation SAS to examine metadata. With the uptake of SAS® Enterprise Guide® and SAS® Studio, Display Manager (DMS) may no longer be readily available so we developed a free plug-in into the SAS Management Console, Metacoda Metadata Explorer. The Metadata Explorer Plug-in provides an easy way to search, navigate and explore SAS metadata, without needing to rely on writing SAS code or having access to Display Manager.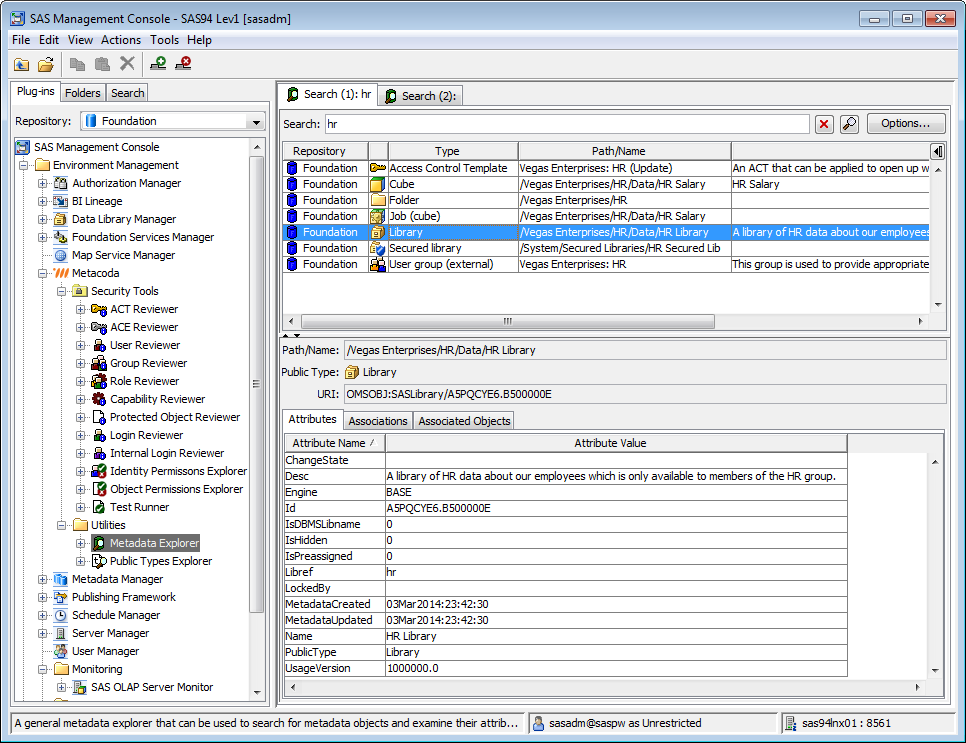 The screenshot above shows how intuitive the plug-in is to use; enter a search term and it produces a table listing every SAS metadata object that contains that term. You can easily see its attributes and drill down for more information.
2. Explore metadata associated with common object types using the Public Types Explorer
The SAS metadata server provides metadata about metadata. Knowing information about the applicability of permissions for well-known SAS metadata object types (public types) is important when setting up and maintaining a secure SAS platform.
Our free Public Types Explorer Plug-in helps SAS platform administrators to examine the metadata associated with public types available in the foundation metadata repository and see how the various metadata permissions apply to them.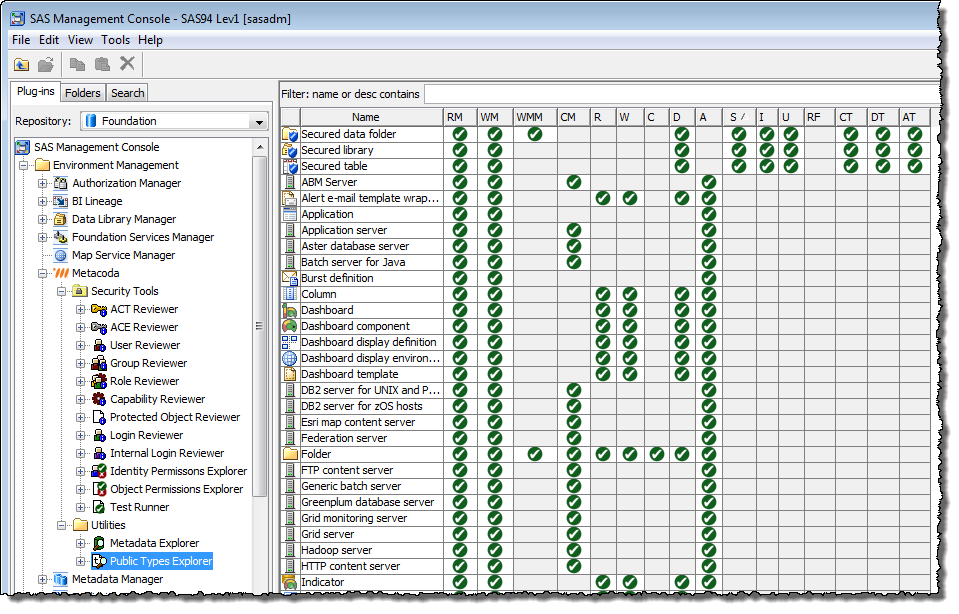 You can sort the permissions columns by object type allowing you to easily answer questions such as "which types of metadata object does the select (S) permission apply to?" As you can see from the above screenshot; the first three rows, "Secured data folder", "Secured library" and "Secured table" metadata object types have this as an applicable permission.
3. Use Password Encoder to create passwords directly from the SAS Management Console
Masking or encrypting embedded passwords using SAS is an important task for many SAS platform administrators. If you're working primarily in the SAS Management Console, access to a SAS coding interface (such as Foundation SAS or SAS® Enterprise Guide®) to generate these passwords isn't readily available.
To overcome this, we developed a free Password Encoder tool that plugs into the SAS Management Console. The Metacoda Password Encoder has a simple interface to create encoded/encrypted passwords using the sas001 and sas002 methods. Support for sas003 and sas004 will be available with the upcoming Metacoda Plug-ins V5 release.
4. Easily and efficiently review Access Control Templates (ACTs) using the ACT Reviewer
The ACT Reviewer Plug-in is part of our commercial Metacoda Security Plug-ins product. You can use the ACT Reviewer to easily and efficiently review all of the Access Control Templates (ACTs) in metadata. The interface allows you to quickly find out how they have been defined, where they have been applied, and how they may have been protected.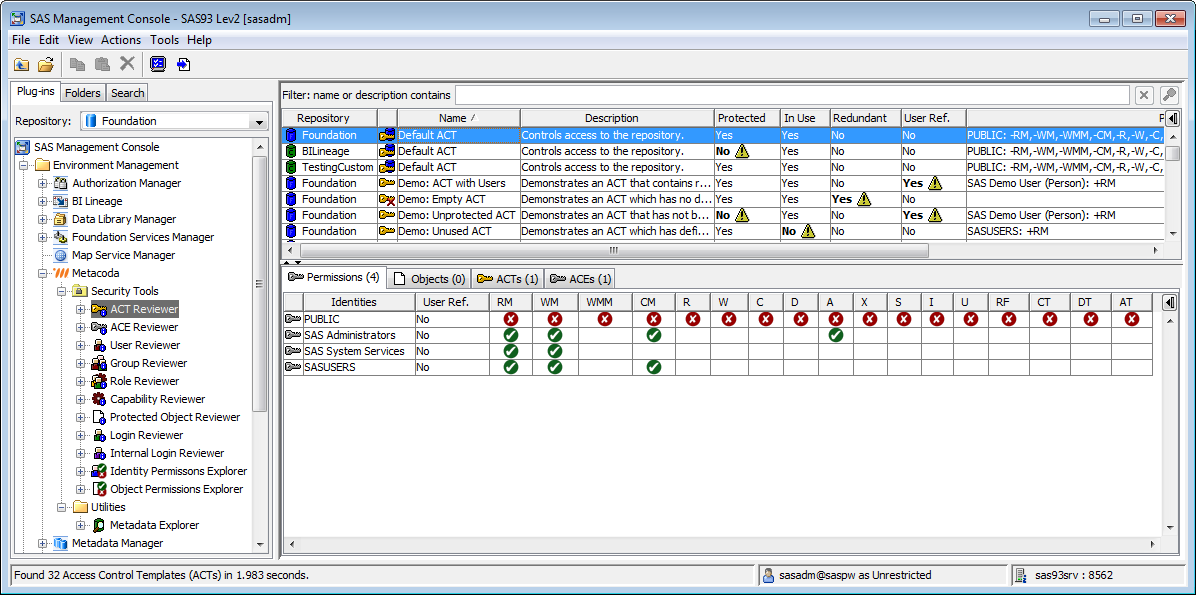 The ACT Reviewer shows you a comprehensive table listing all of the ACTs present in metadata together with summary information and an indication of any potential issues or security concerns, via the use of recommended practice indicators. You simply hover your mouse over an indicator to find out more information.
Furthermore, select an ACT, and you'll see additional information such as permissions and which objects have been protected by direct application of the ACT. Importantly, you can also easily export the information displayed for documentation, troubleshooting, auditing and testing purposes.
We've offered this tool free-of-charge as we hope you'll want to make use of the Metacoda Security Plug-ins later.
5. Find columns and tables registered in metadata quickly using Metacoda Custom Tasks
Metadata specialists benefit greatly from our free plug-ins and if you're a business analyst using SAS® Enterprise Guide® or the SAS® Add-in for Microsoft Office user you can install and use Metacoda Custom Tasks to rapidly search for tables and columns registered in metadata.
What's more, since the Metacoda Custom Tasks search metadata, rather than dictionary tables, they can find tables and columns in any metadata-defined library, even those which have not yet been assigned (so long as your effective metadata permissions allow you to find them).
5½. Introducing the Workspace Inspector
Our last free tool hasn't been released yet, hence the half. The Metacoda Workspace Inspector Plug-in will allow SAS platform administrators to quickly inspect SAS Workspace Server execution environments from within the SAS Management Console. You can submit small code fragments, review the SAS log, as well as view assigned libraries and tables. We'll provide you with more details when Metacoda Plug-ins V5 is released.
Register Now to Download your Free Plug-ins
Are you a SAS platform administrator looking for some productivity tools or a SAS metadata specialist wanting an easy way to find what you're looking for? If so, register today to get access to our free plug-ins or you can request a 30 day free evaluation license for full access to all Metacoda Plug-ins which include our commercial Metacoda Security Plug-ins and the free plug-ins.

If you have any questions about our software and plug-ins, please add a comment below or sent us a note. We look forward to hearing from you.