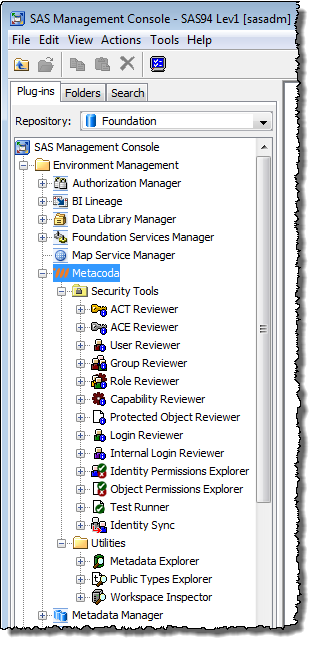 After a successful beta testing phase, we're pleased to announce the availability of Metacoda Plug-ins 5.0 for use with SAS® Software versions 9.4, 9.3 and 9.2. Our beta testers provided some great feedback, including several examples of how it has improved their productivity. In one instance we were told that the new Metacoda Identity Sync Plug-in enabled Active Directory synchronization to be set up in less than an hour after having previously spent 3 days of coding and troubleshooting (with still more coding to do). Furthermore, the plug-in provided value-added features, beyond the code, such as a visual preview of the changes, support for large and heavily nested groups, tag-deletion, and an audit report of the changes made. At Metacoda we love to code, but we know that many busy SAS administrators don't have time for it. This was one of the primary reasons we built this plug-in, so it's great to hear how much coding time it has been saving already.
Other feedback we've received included Leslie, who said on he was "WOW"ed on LinkedIn, and Quentin who found the Metacoda Identity Sync Plug-in "worked like a charm". Thanks to both Leslie and Quentin for publicly sharing their experiences on social media, and a big thank you to all our customers and beta testers in the lead up to our V5 release! We very much appreciate the time and feedback you provided.
Metacoda Plug-ins 5.0 includes some powerful new features and additional functionality; including the Metacoda Identity Sync Plug-in, and enhancements to the Metacoda Testing Framework, our explorers, reviewers and other Metacoda Utilities. Read on to find out more about these new features and how you can benefit from them. If you have a Metacoda login you can also read the What's New section of the documentation in the Metacoda Customer Portal.
What's New in Metacoda Plug-ins 5.0?
Easily Sync Active Directory Users & Groups into SAS Metadata: the new Metacoda Identity Sync plug-in allows you to easily synchronise identities from Microsoft Active Directory (AD) and other SAS environments into SAS metadata, without needing to write SAS code.
Documentation from Interactive Security Testing: where the Metadata Security Testing Framework previously generated test failure reports in batch mode, you can export an HTML or CSV file of test failures directly from the interactive Test Runner plug-in now too.

New Recommended Practice Tests: the Metadata Security Testing Framework can now help you to enforce the 'Golden Rules' for SAS metadata security. A new series of tests help you to enforce the use of Access Control Templates (ACTs) and limit the use of Access Control Entries (ACEs), and enforce the use of groups and limit the use of users in access controls (whilst allowing for some exclusions). You can find out more about the new recommended practice tests on platformadmin.com.
Enhanced Exports: as some of the most requested enhancements, the Identity Permissions Explorer and Object Permissions Explorer now allow effective permission reports to be exported in HTML and CSV format. You can also export effective permission tests to run in the testing framework too.
Inspect SAS Workspace Servers: the new Metacoda Workspace Inspector Plug-in allows you to quickly inspect workspace server execution environments. You can run small code fragments, review the SAS log, check pre-assigned libraries and test the availability of table contents without leaving SAS Management Console.
Support for Multiple SAS Software Versions: Metacoda Plug-ins 5.0 is supported for use with SAS software versions 9.4, 9.3 and 9.2 (including SAS Visual Analytics) at all maintenance levels. If you still have any legacy SAS 9.1.3 SP4 installations we still have Metacoda Plug-ins 1.0 available too.
New Licensing Bundles: Starter if you just want to do identity synchronization; Basic if you want all the time-saving metadata security perspectives provided by the reviewers and explorers; and Enterprise if you want everything including the confidence-boosting automated Metadata Security Testing Framework.
Automatic Upgrades for Metacoda Customers: if you're already a customer, we'll be sending you your new new V5 licenses. The Metacoda Plug-ins 5.0 R1 installation packages are now available for download from support.metacoda.com.
Register Now for a 30 Day Free Evaluation License
We're excited about Metacoda Plug-ins 5.0 and the additional benefits it brings to SAS customers. As outlined above, our new release delivers an even more powerful way to enhance your SAS metadata security implementation with new and improved plug-ins and utilities.

To experience the benefits Metacoda Plug-in 5.0 for yourself, register for a free 30 day evaluation license. If you'd like to know more about Metacoda Plug-ins 5.0, contact us for further details.