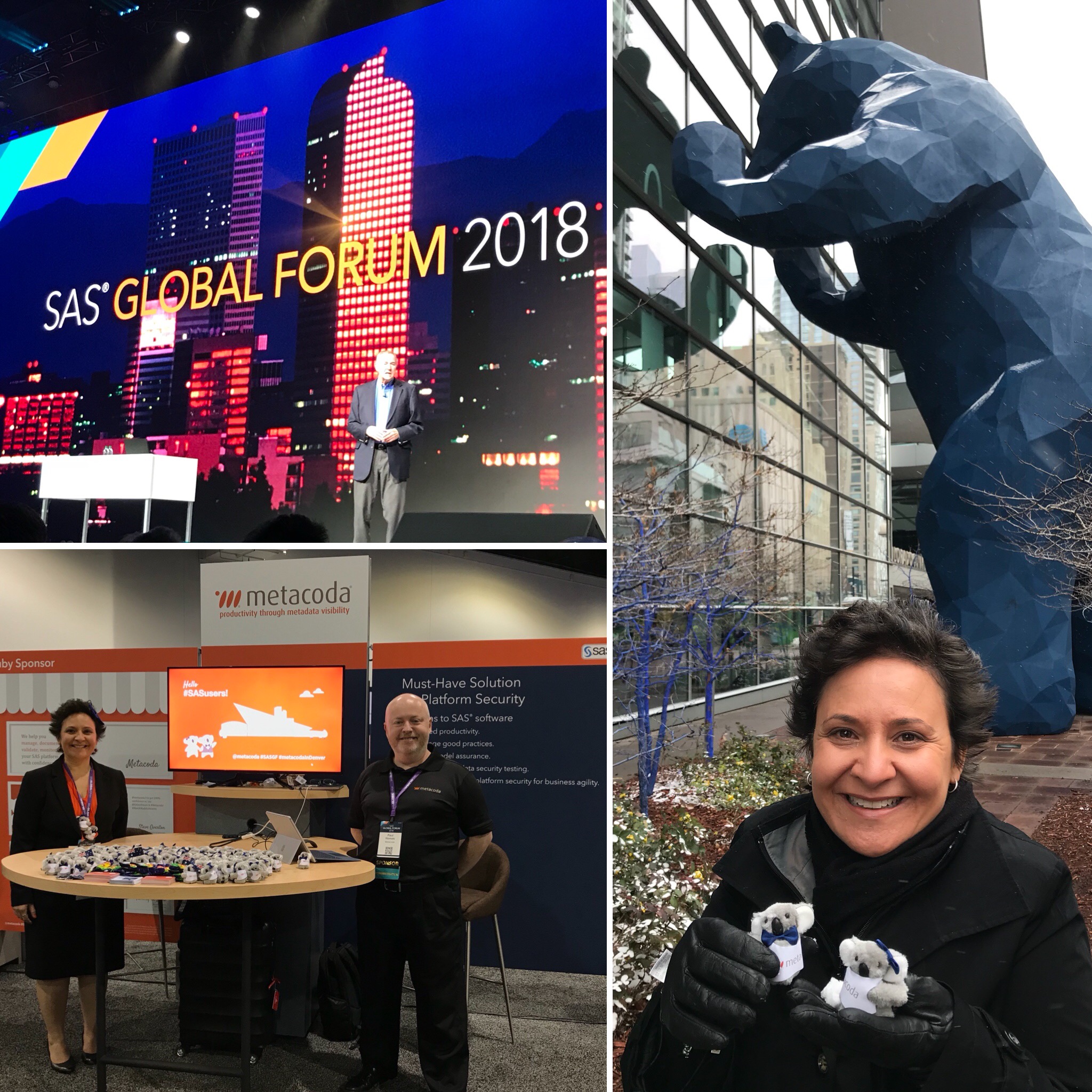 Last month we wrote about how much we were looking forward to being a SAS Global Forum (SASGF) 2018 sponsor in April 8-11.
Well, it certainly lived up to our expectations. Every moment was extraordinary; particularly the time spent connecting with customers, partners, supporters, and friends.
It was such a pleasure to cross paths with so many wonderful people – whether in person, on Twitter, at the Metacoda stand, in the hallways (or streets), via networking sessions, or at the magnificent Kick Back Party.
We hope you and your new "true blue" Metacoda koalas had an un"bear"lievable time too! Make sure you check out the photos in our Metacoda in Denver Facebook album and please tag yourself!
520 partners…
We kicked off our SASGF experience with the SAS Partner Forum where the largest crowd of partner representatives (520 partners!) heard from SAS experts, executives, and industry thought leaders. We learned all about the latest on technology, product updates, and how to maximize the benefits of SAS partnership. It certainly set the scene for the insights, brilliance, and experiences to follow…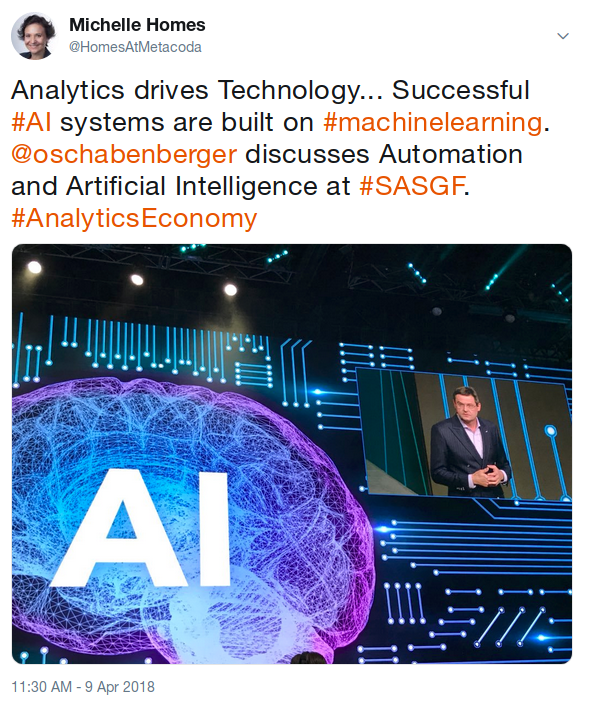 5500 plus attendees
Before any words were even spoken, we were wowed at the Opening Session by the stage and screen! The incredibly crisp video screen was kitted out with 48 million LEDs, in order to make sure the 5500 plus attendees didn't miss a single detail.
The content of the Opening Session lived up to the impressiveness of the stage setting, reminding us that innovation will always be possible and new discoveries can be uncovered when curious minds boldly ask, 'What if?'!
Find out more in the SAS opening session executive recap by Angelica Cummings.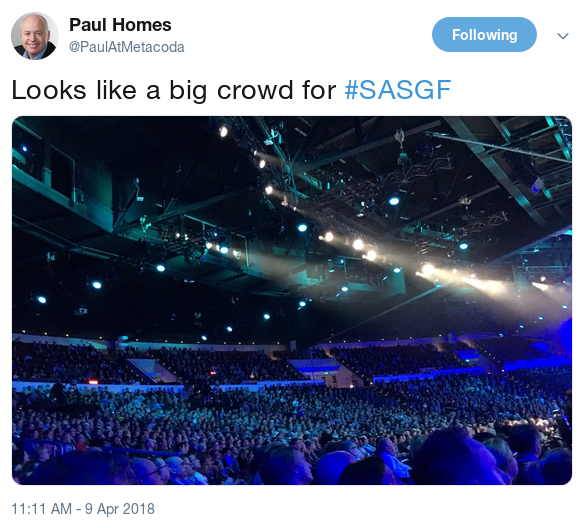 Changing the world with SAS
The innovation, passion, curiosity and power of analytics continued with four fascinating real-life examples showcasing how SAS software was being used in:
the opioid epidemic
animal conservation with WildTrack
banking at DBS
humanitarian issues with Global GoalsCast.
These examples set the scene for the extraordinary Technology Connection session the following day. Oliver Schabenberger (SAS CTO and COO) took the audience on an interesting journey… highlighting how SAS tools have used Artificial Intelligence and Machine Learning to help customers like SciSports change the world of football with a new class of analytics. See Lane Whatley's blog post to learn more about the remarkable results of applied curiosity.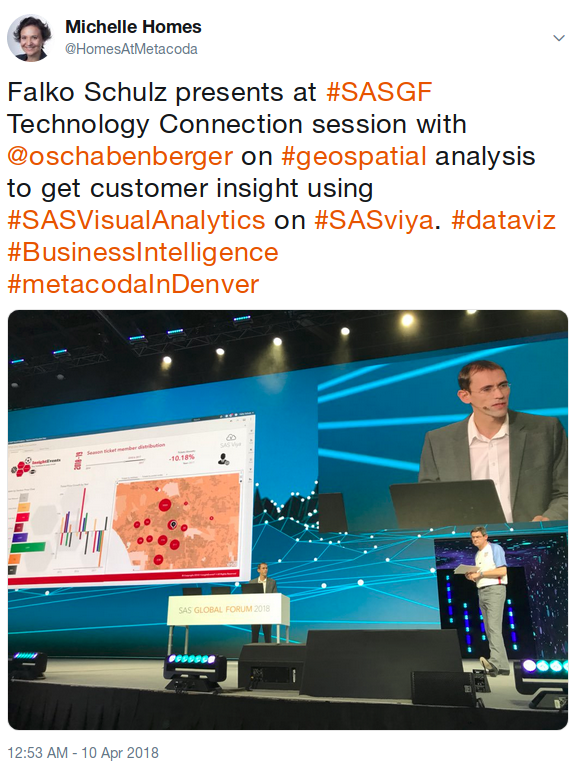 As Oliver shared in a SAS Technologies interview with Jim Goodnight (SAS CEO) and Karin Reed, one of the amazing things about SAS software is how it has grown beyond the original intent of the product… it's use from agricultural research analysis to regulatory requirements and decision making!
Feeding our curious minds…
The information sharing continued with over 750 breakout sessions, workshops, link-ups, quick tips, e-posters and table talks. So many ways for SAS users – new and old – to keep learning!
If you missed anything, or just want a refresher, you'll find all the sessions available in the SAS Global Forum 2018 proceedings.
Want to be inspired and embrace your curious mind? Watch the plethora of SASGF videos on the general sessions, breakout sessions, tech talks and interviews.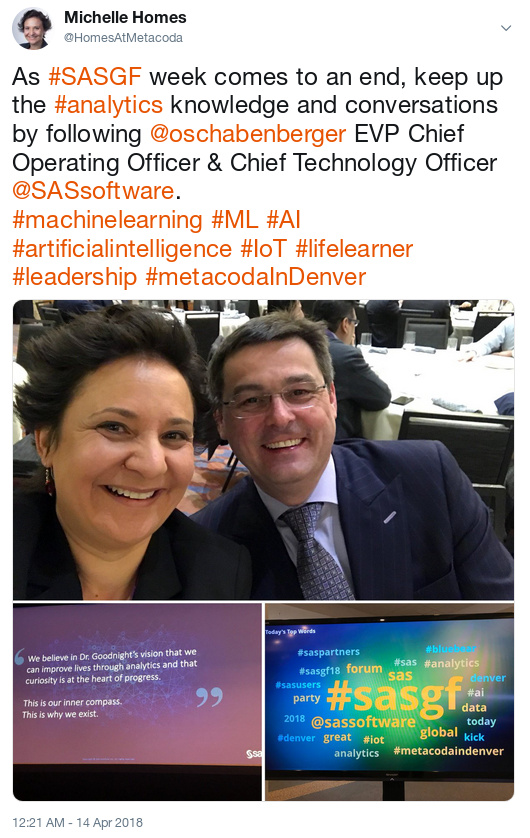 Our wonderful community…
Events like SASGF – that bring together the global SAS community – make us even more excited to be a SAS partner and to be able to help SAS customers be productive and successful in securing their analytics platform. It was a pleasure to see our customers in person, get their feedback and assist more SAS users with their SAS security journey.
Thank you for visiting us in The Quad and for doing your bit to help us get through the 400 pounds of M&Ms at The Den Candy Wall (which we sponsored). More than 180,000 M&Ms were consumed!
Maybe you'll even catch a glimpse of yourself in the background of this interview with Kirsten Hamstra where Michelle talks about her passion for SASGF, SAS partnerships and social media.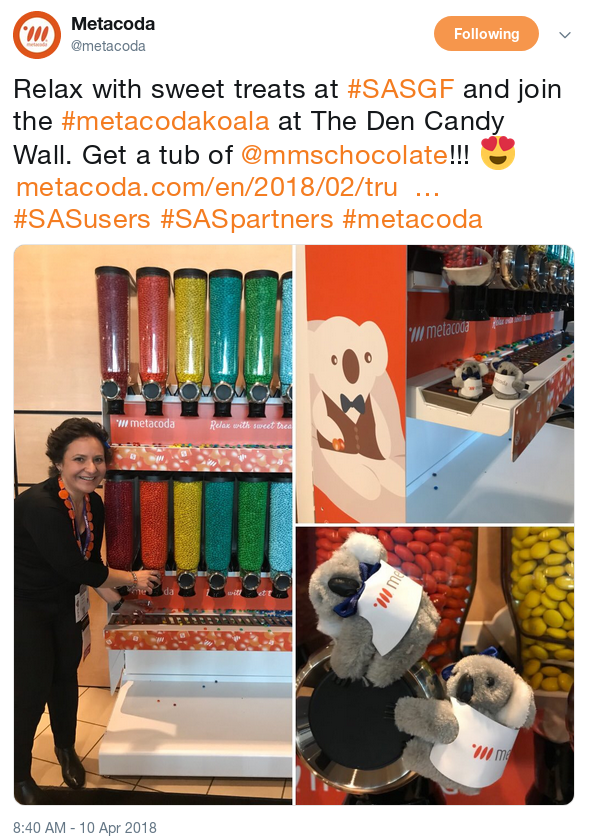 We are extremely humble and thankful to the wonderful support and friendship we've received over the years from people across the globe and at SAS Global Forum; your invigorating spirit and energy is inspirational!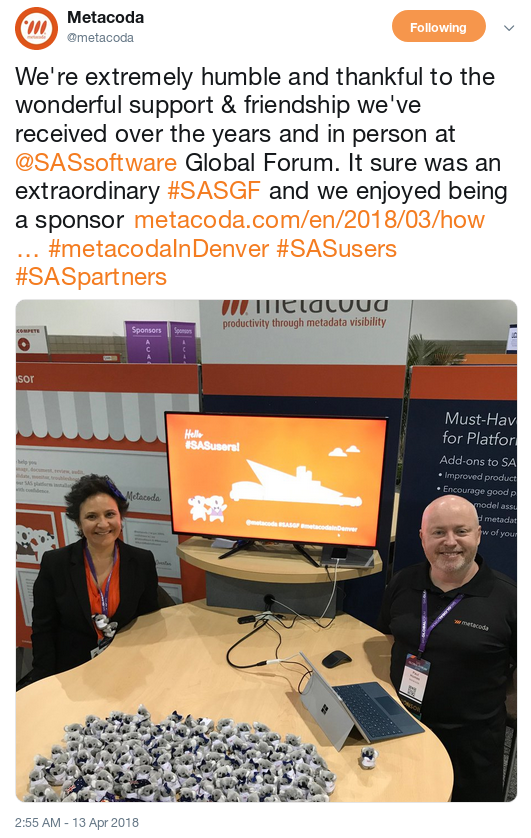 Thank you so much, and we look forward to seeing you in the Twittersphere (and other spheres) soon…
P.S. Don't forget to engage with our #SASGF tweets, #metacodaInDenver, Metacoda at SASGF 2018 Facebook album, and check out the Metacoda Koala SASGF 2018 video below.