Metacoda were excited to attend this year's SAS Forum UK held in the Shard in London and we look forward to the next event in Manchester.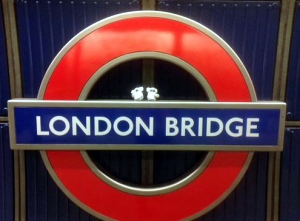 It was a great opportunity to catch-up with our customers, partners and friends. We'd especially like to thank all those who took the time to talk to us and hear more about how we help SAS software users and companies maintain a secure SAS platform.
The Metacoda koalas enjoyed their trip too, and had great fun riding on the London Underground. In fact, a couple of them have stayed over to take the trip to Manchester!
The conference atmosphere and content were inspiring and we learnt a lot. Here are our top 11 takeaway messages.
1. The Shard is the tallest building west of Moscow and east of New York
At a height of 306 meters, the Shard can be seen from 40 miles away on the South Downs. A fitting venue to host a high-level overview of SAS data management, administration and analytics.
2. Designing optimum SAS architectures is like building with Lego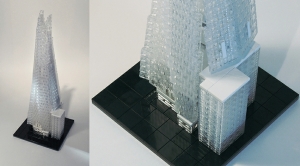 Christopher Robson from SAS showed how the SAS platform must be built upon a secure architecture for it to perform well. Chris used the analogy of building with Lego. As with SAS architecture, you can follow the set plan, or deviate as you see fit.
In fact, budding Lego architects can build their own 32 cm high Shard using 1,309 bricks!
3. Metadata management is fundamental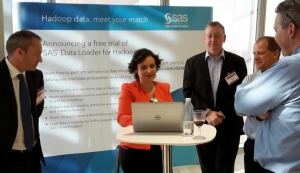 Paul Smith of Zurich stated that it's essential to manage and secure your metadata effectively in a SAS environment. Metadata security was an area of concern for many delegates. As a result, Metacoda were pleased to discuss with some attendees how Metacoda Security Plug-ins addressed these and other metadata related concerns with some great feedback.
4. "A disaster is only a disaster if you're not prepared for it", Bo Mihalovich, DunnHumby USA
John Ballinger, also from DunnHumby, outlined his disaster recovery plan. Data is crucial to DunnHumby's business and John explained how he was working with 180 metadata servers. He explained how he averted the risk of a disastrous loss of data by using multiple metadata back-ups, enabling him to recover from any catastrophe in less than one hour.
5. Credential management is a challenge for SAS platform administrators
Security was tight on the door to the Shard. It's critically important that there aren't too many people in the building at any one time, and that the people who are in the building are who they say they are.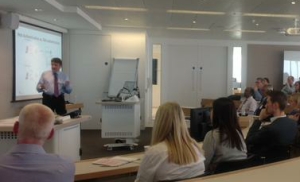 Peter Hobart from SAS explained how SAS platform administrators face the same problem; this is known as 'credential management'. Peter explained that most organisations synchronise their SAS identities with an enterprise directory, such as Active Directory or LDAP. Platform administrators generally do this using macro code supplied by SAS. However, for those who need an easy way to set up options, visualise, validate and troubleshoot this process or don't have the time to learn SAS code, Metacoda's forthcoming Identity Sync Plug-in will help to make this process even easier.
6. If single sign on is the question, Kerberos is generally the answer
Peter also outlined how most users look for 'single sign-on'; this is where they only have to enter their user name and password once to access all of their tools and databases. However, this can be a challenge and Peter recommended that SAS platform administrators should make use of Kerberos to help them achieve this.
7. Don't forget to check and tune your SAS platform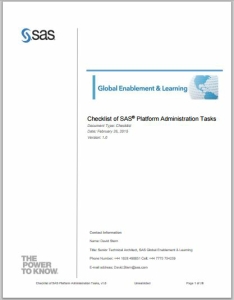 David Stern of the SAS Global Enablement Team encouraged all SAS platform administrators to download and read the 'Checklist of SAS Platform Administration Tasks' which can be found on the SAS Professionals Network. This document is essential reading for all SAS platform administrators.
Andy Gadsby of SAS also ran an excellent session where he showed how some simple changes to the default SAS options can make a huge difference.
8. Reach out to the wider SAS community
Independent consultant, Matt Lomas encouraged SAS users to reach out to the wider SAS community for help. There are plenty of online groups including the SAS Support Communities, SASCommunity.org and SAS Professionals where you can meet thousands of other SAS users.
9. Make the move to SAS Studio
Both Phil Holland of Holland Numerics and Steve Ludlow from SAS ran excellent sessions concerning SAS Studio. The SAS Studio interface is shipped with every copy of Base SAS software and allows you to run SAS in your browser. A modern day alternative to the familiar Display Manager System, SAS Studio helps you to write SAS code with drag and drop tasks; making programming in SAS even easier.
10. Analytics is for everyone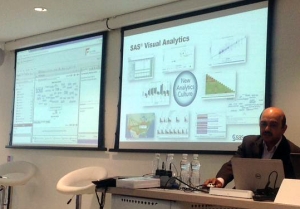 Rajeeve Narula and Anand Chitale from SAS showed how anyone can derive insight from data, regardless of data size using SAS Visual Analytics' easy drag-and-drop interfaces, powerful analytics and reporting capabilities. Deploying SAS Visual Analytics in the cloud means that you're able to create immediate, "self-service", business intelligence and analytics environments for your user communities. Allowing users to design and distribute BI reports and dashboards and explore data through interactive data visualisation – all from within a single application.
11. It's a disruptive world!
In his session "Big Data and Dangerous Ideas" Dr. Daniel Hulme explained how even the most powerful computers still only have the processing power of the brain of a leech. As computers continue to develop they will continue to disrupt how industry, organisations and society function. Today, the quantity of data collected by online activity has radically altered how products and services are produced, marketed and sold. With the advent of interconnected sensors, devices and objects ('internet of things') this process will further accelerate. Our challenge is how to take full advantage of these changes and turn disruption into opportunity.
Share insights, drive innovation, make an impact
The theme of this year's SAS Forum UK was to 'share insights, drive innovation and make an impact'. We certainly experienced that and had a bucket load of fun too. We hope you did too.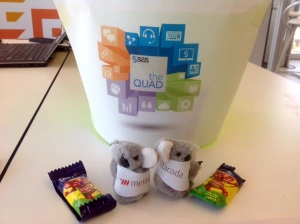 You can see what we captured on our Facebook photo album and the #SASForum twitter feed. Also be sure to check out SAS UK's Storify recap of the day and download the presentations. We'd love to hear about what your takeaway messages were from SAS Forum UK 2015 London and if you have any feedback about Metacoda, our Plug-ins and the Identity Sync Plug-in.
And finally, if you'd like to get a free 30-day evaluation of Metacoda Plug-ins or try the beta for our upcoming V5 release with the Identity Sync Plug-in, let us know.
See you in Manchester!