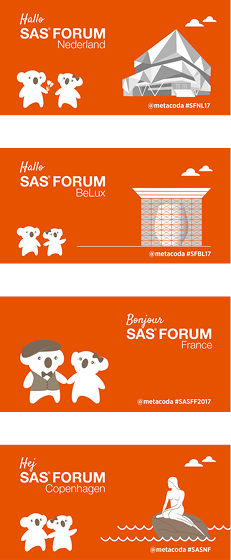 We've recently returned from the beautiful cities of Nieuwegein, Brussels, Paris and Copenhagen where we were sponsors at four European SAS Forums.
As always we had a fantastic time being part of the SAS community, and we definitely embraced the theme "Experience Your New Possible"!
As with SAS Global Forum 2017, the events boasted thousands of attendees, analytics storytelling, data visualization, data management, technology, leadership and socialness.
Many thanks to SAS forum organisers for the sponsorship opportunities, and to our customers, partners and community for your support and friendship.
Helping to keep your SAS platform secure
Amidst the many Tweets and selfies, the events were full of great opportunities to talk to SAS customers about platform security. In particular, at SAS Forum France, Michelle Homes (Metacoda) and Gregory Becquembois (Decision Network) were excited to be interviewed by Elisabeth Ziegler on our partnership and how Metacoda products can help to keep SAS platforms secure. You can see the recording on YouTube.
Four events in seven days!
With four jam-packed SAS Forums, it sure was a busy and rewarding week! Use the table below to take your own quick journey via Tweets, videos and presentations/summaries.
Prepare to be audited!
At the forums, we received fantastic feedback on the new Audit Reviewer Plug-in we're working on for the Metacoda Plug-ins 7.0 release. Thank you! We look forward to sharing when a beta is available to get further feedback and to help SAS customers with their auditing requirements. If you'd like to be notified when the beta is ready, please contact us. At SAS Forum Denmark, Michelle Homes presented a shorter version of the SAS Global Forum 2017 paper, SAS Metadata Security 301: Auditing your SAS Software Environment, originally authored by Charyn Faenza from First National Bank (FNB) and Michelle. This paper highlighted how Metacoda software has become an important tool of the trade for meeting auditing requirements.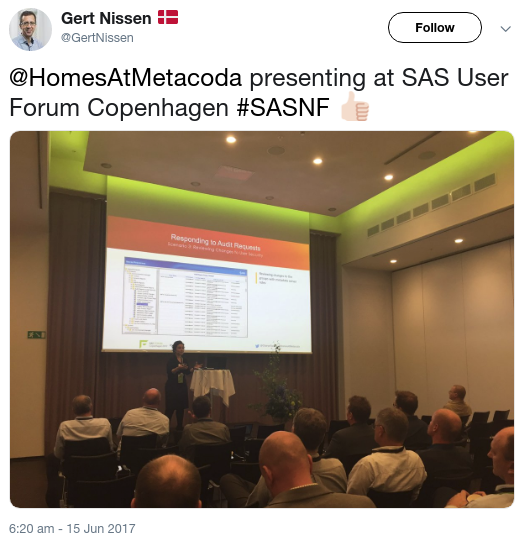 Ready for GDPR?
A common theme at each of the events were presentations and discussions around the upcoming General Data Protection Regulation that comes into effect on the 25th May 2018. SAS has a solution to help you build your analytics platform and be GDPR compliant. To find out how we can also help with your GDPR data security governance requirements with your SAS platform, see the following presentation by Michelle at a Brisbane SAS user group meeting: How will the EU General Data Protection Regulation (GDPR) impact you? Keep your SAS data assets and platform secure.
It's a social world!
Being based in Australia, we find it such a treat to meet people in person we've connected with on social channels. Social media has certainly helped us share what we do at Metacoda with the wider SAS community and we also love having fun along the way. Thanks for your social engagement and of course the fun conference selfies which have been tweeted and posted on our UK and Europe 2017 Facebook Album. Please feel free to comment/tag yourself and share how your Metacoda koala has settled into its new home. Did you know Metacoda koalas are also helpful cable ties…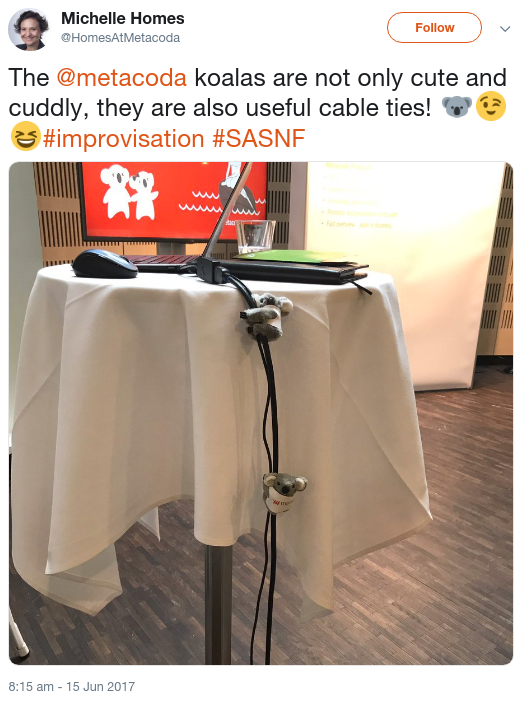 At each of the events it was a delight to see Kirsten Hamstra, global head of SAS social media working with the local SAS offices at the SAS Social Media Hubs. At SAS Global Forum 2016, Kirsten and Michelle presented Paying it Forward: Art of Authentic Engagement and described the HELP approach to Humanize your message, Enourage conversation, Listen first, Promote less. As they shared, let's all become CEO's (Chief Encouragement Officers) to bring our community, the SAS community… closer, connected and engaged. If you haven't already, be sure to connect with others virtually or in person using various SAS social mediums.
Thank you!
Thanks for visiting the Metacoda stand at the forums and for those we missed, feel free to contact us to arrange a web meeting/demo or have a chat on how we can help your security journey to manage, review, audit, document, troubleshoot, test your SAS platform security implementation with confidence.