…of Storytelling, Dataviz, Technology, Leadership, Data for Good and Social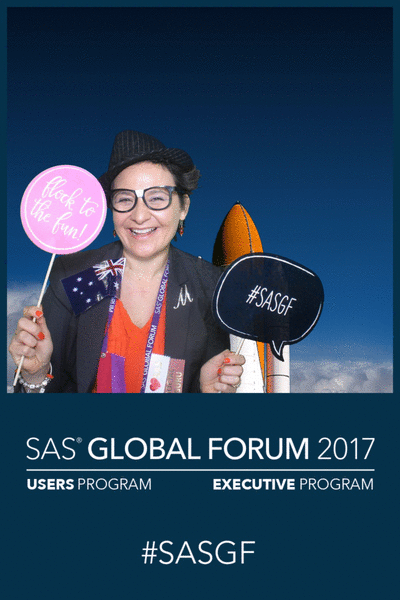 SAS Global Forum (SASGF) was a blast!
(And we have 600+ photos and plenty of tweets to show for it!)
In fact, with the following features, how could it have been anything but mind-blowing?
5,400+ attendees
700+ presentations/posters/demos
TED Talk-style keynote presentations
perfect warm Spring weather
the magical venue of Florida's Walt Disney Swan and Dolphin Resort
amazing social events including the Kick Back Party at Hollywood Studios!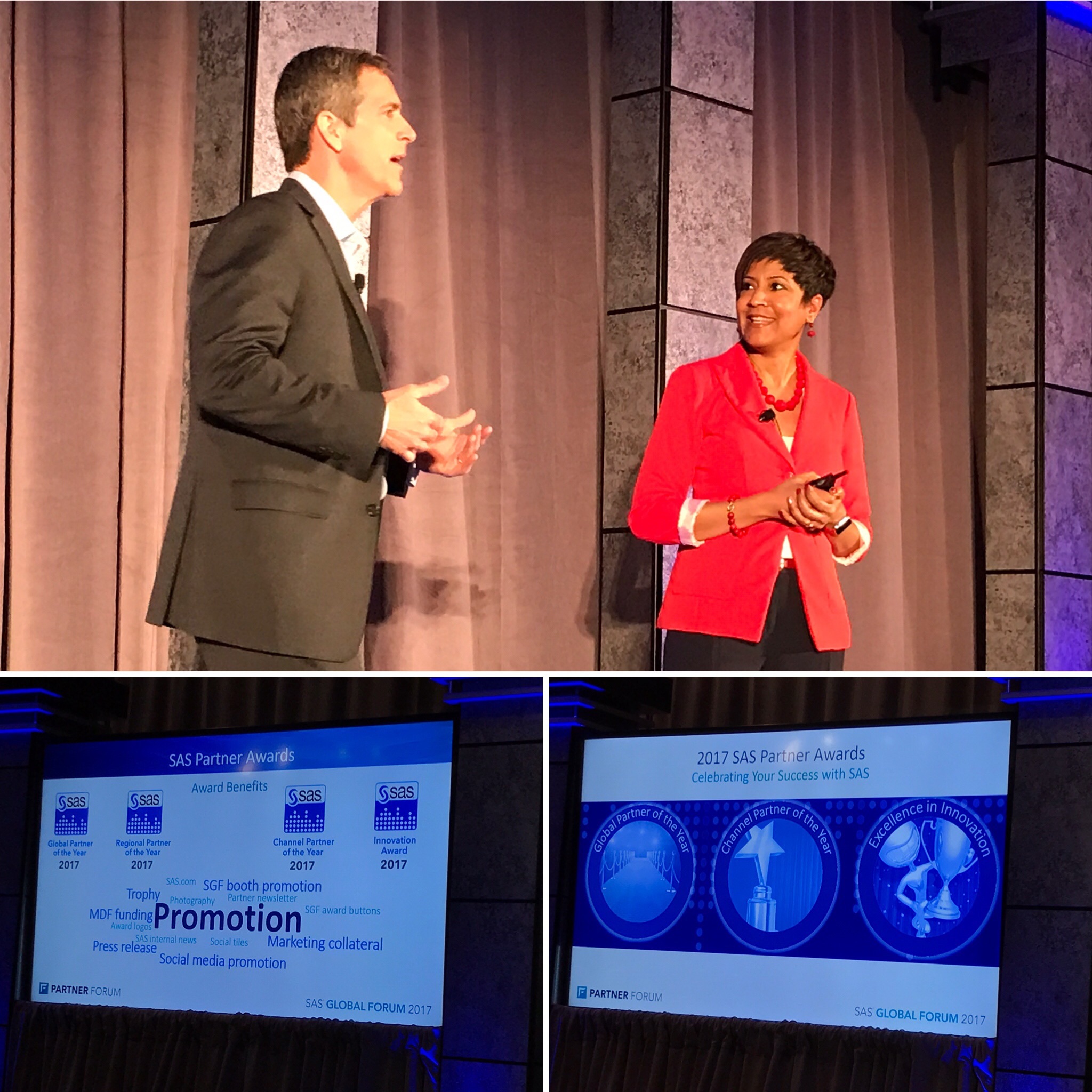 Growing as a SAS partner
Before SASGF even kicked off, Metacoda embarked on our learning and sharing journey at the SAS Partner Conference.
We loved the extra opportunity to connect with SAS partners, and we embraced the tips for becoming a top-performing partner.
The inaugural SAS Partner Awards provided an exciting opportunity for Russ Cobb and Donna Peek to recognize partners across the globe. Huge congratulations to all the award winners (check them out at the SASGF Partner Forum replay).
Succeed with SUGA
Prior to the conference opening session, the SAS Users Group for Administrators (SUGA) held the event, "Helping the SAS Administrator Succeed". Here SAS administrators collaborated in groups, sharing questions and experiences on:
Monitoring in SAS Environment Manager
Latest and Greatest from SAS 9.4: Best Practices for Upgrades and Migrations
Top 10 SAS Studio Tips for SAS Grid Manager Administrators
It was a great session to meet with peers and discuss the success of the SAS platform and business outcomes. To continue the collaboration post-SASGF, be sure to join SUGA (SAS Users Group for Administrators).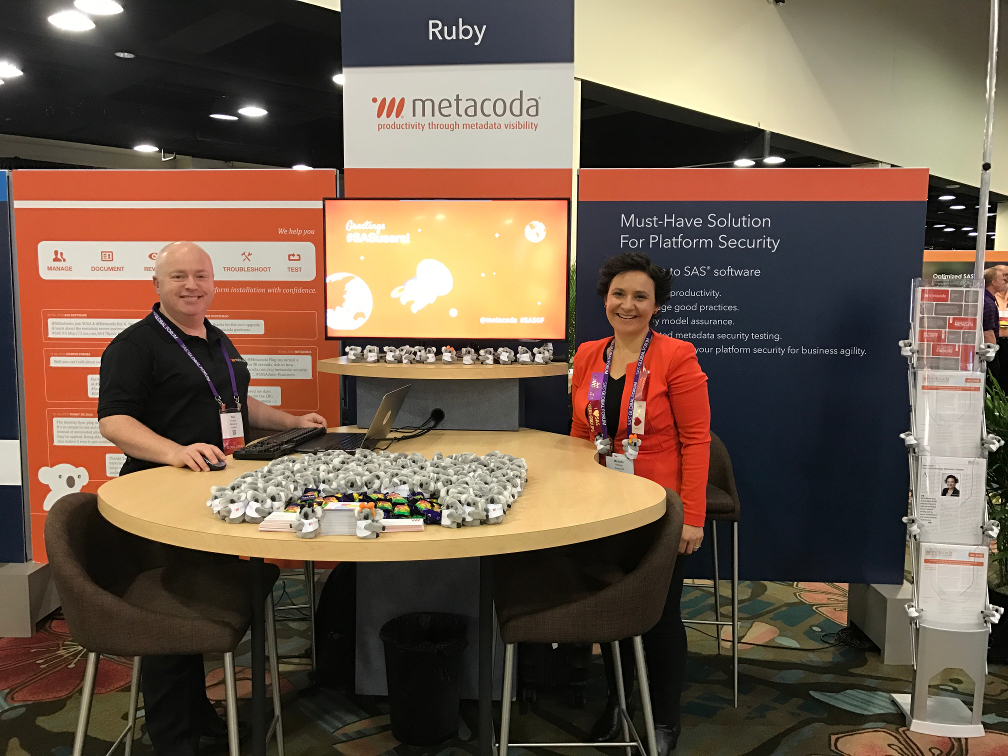 Let's work together on your security journey
During the conference, we continued the conversations at our Metacoda booth in the Quad.
We shared how our Metacoda products help SAS customers with their security journey in the management, documentation, reviewing, auditing, troubleshooting and testing of SAS platforms.
As an invited speaker, Michelle presented with Charyn Faenza (First National Bank) on the role of Metacoda software in auditing your SAS environment. Find out more about how we can work with you at Your SAS Security Journey: Authentication, Authorization and Auditing.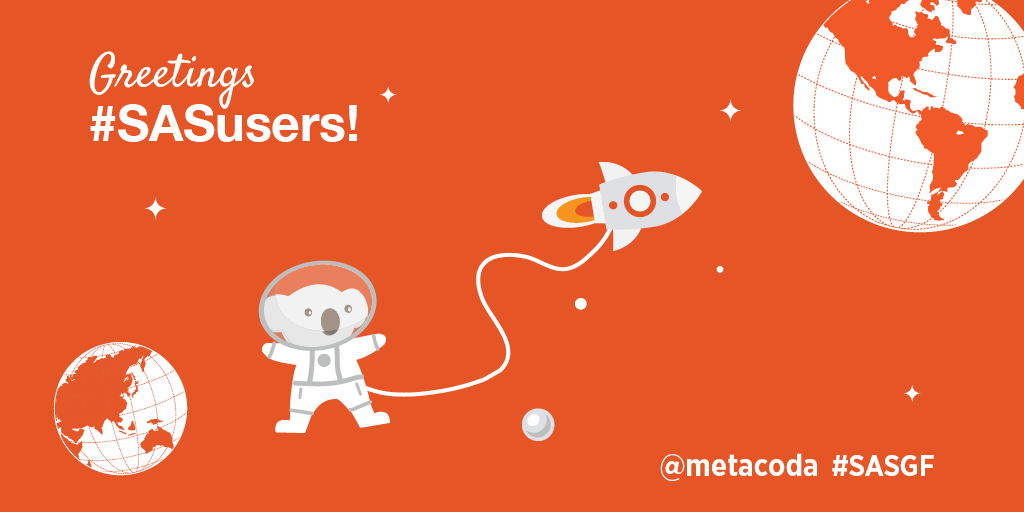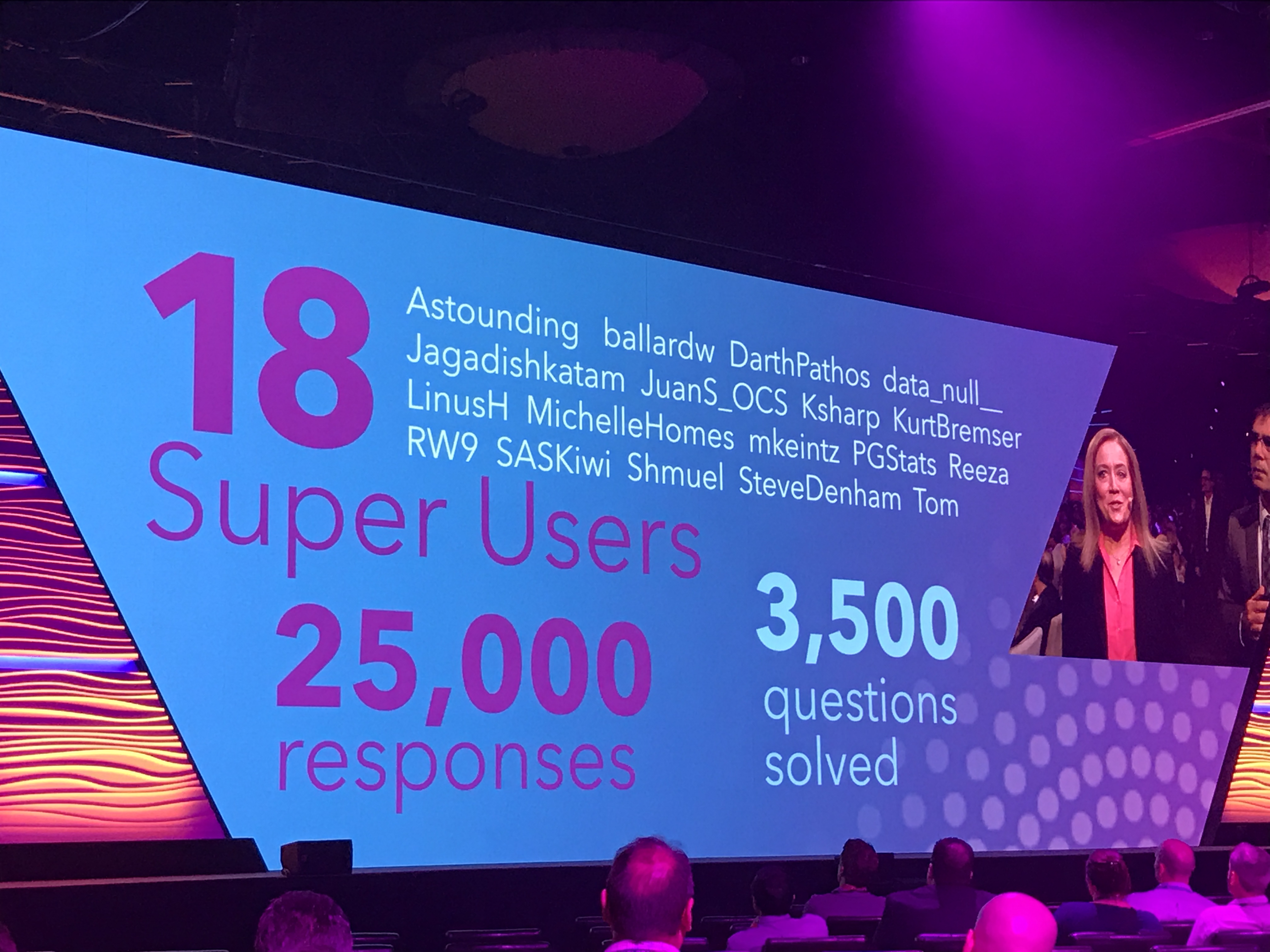 What's your 'new possible'?
SASGF kicked off with a SAS Software Facebook Live Opening Session Count Down. If you missed it – never fear – the recording is available on the SAS Software Facebook page. (P.S. Make sure you watch the last few minutes so you can see Michelle sharing her excitement!).
The Opening Session itself was definitely one of connectivity:
Speakers, including CEO Dr Jim Goodnight, spoke amongst the community, in the audience.
The SAS Support Community recognised the SAS community and the growing number of Super Users.
The Celebration Board was a wonderful innovation for everyone to share accomplishments, recognize innovators, give a shout out or commemorate peers.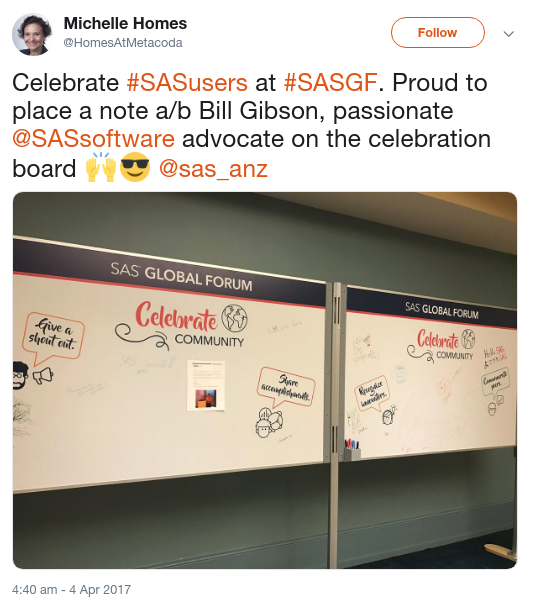 Announced at SAS Global Forum 2016, SAS Viya's journey continues as an extension of SAS 9 to deliver the analytics lifecycle, and a fascinating cognitive computing demonstration, with Amazon Alexa and SAS Visual Analytic reports, showed how SAS Viya is an AI star.
SAS CTO, Oliver Schabenberger, (while riding his Segway!) shared the maturity of AI with Artificial Intelligence to Algorithmic Intelligence to Autonomous Intelligence and the 'new possible'!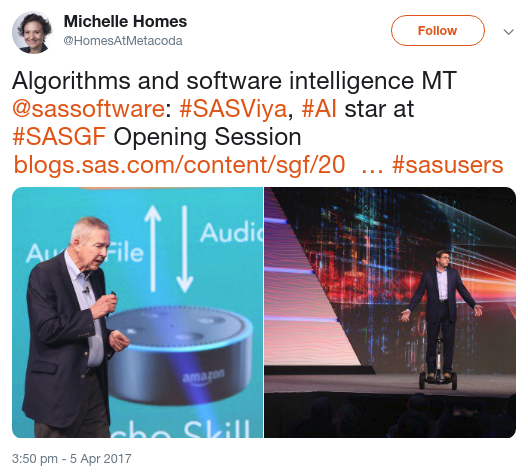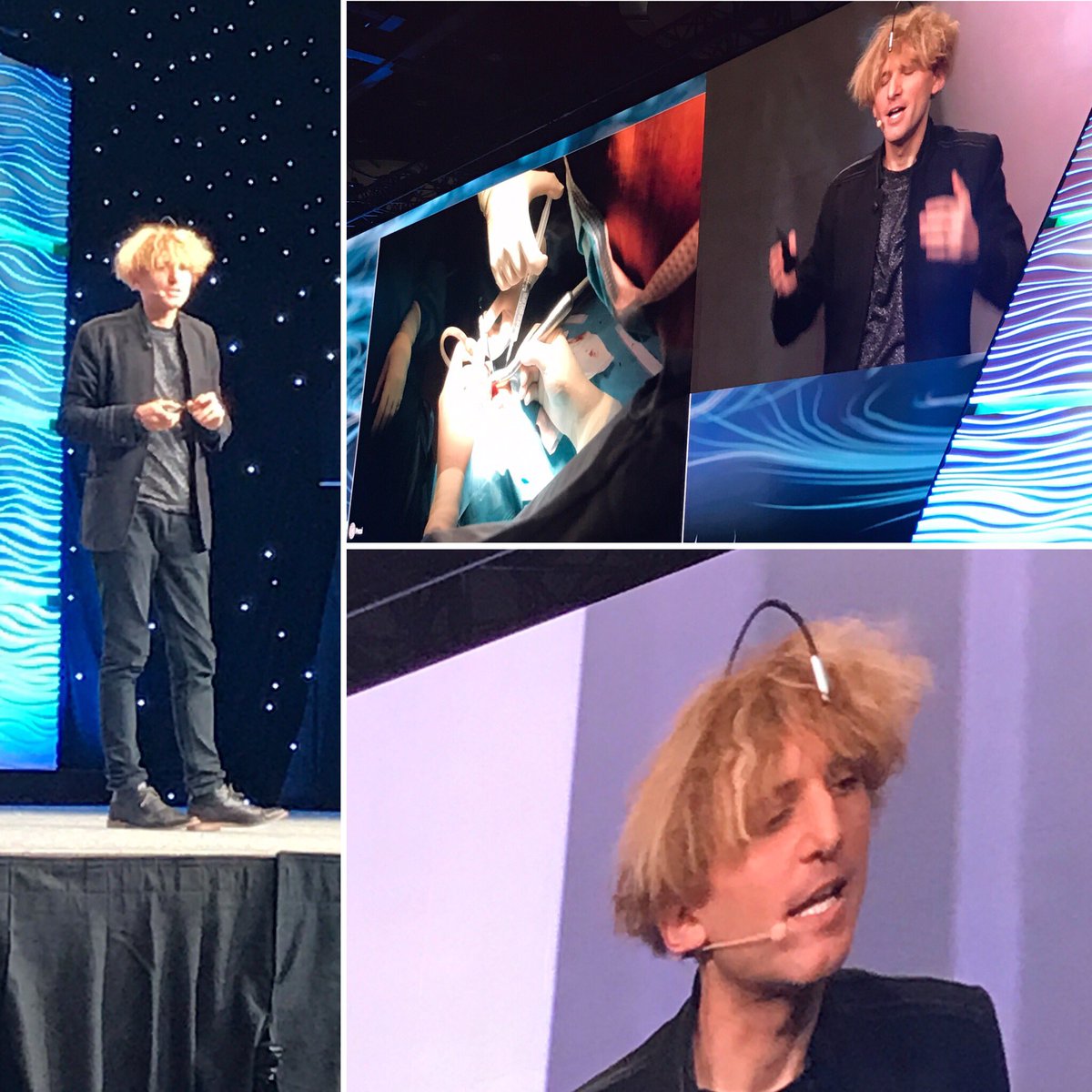 Meet the world's first cyborg
The idea of the 'new possible' was extended the following day with a mind-bending and thought-provoking keynote by the world's first cyborg, Neil Harbisson. Born fully color blind, Neil, at the age of 21, had an antenna implanted in his head, allowing him to hear the color spectrum. As we gradually lose our fear of biological technologies and artificial senses, Neil's aim is to 'become technology, not wear it'.
How's that for a 'new possible'?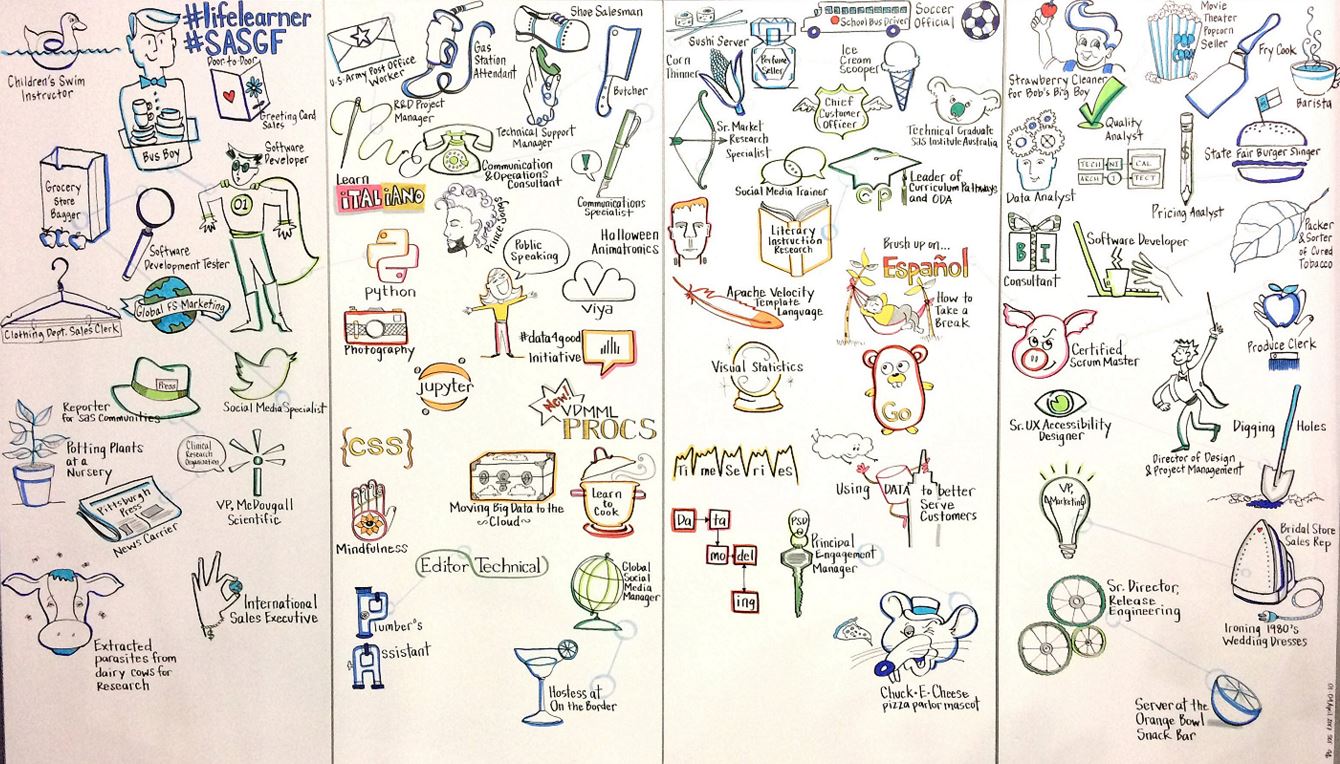 #LifeLearner
Being open and curious is fundamental to human development and motivation. And fundamental to many of the lives within our SAS community.
In the SAS Global Forum online community, prior to the conference, members were encouraged to share information about their lives and their lifelong learning journeys.
John Amhrein, SASGF Conference Chair, further encouraged us to be Lifelong Learners and to join the conversation at #LifeLearner.
For a beautiful visual representation of the varied lifelong learning journeys of our SAS users, take a close look at the Social Listening Mural (pictured).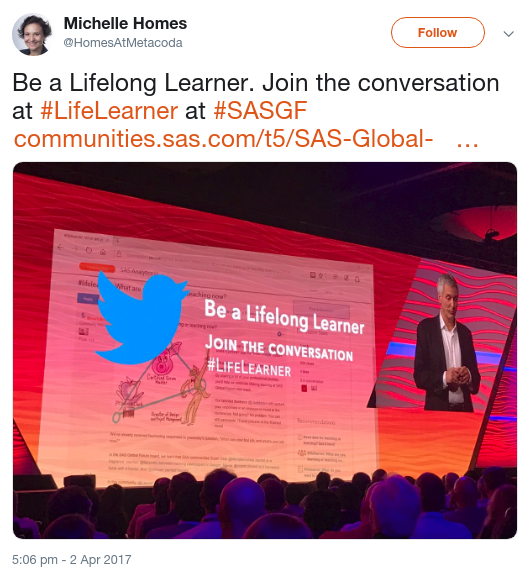 Analytics learning for tomorrow
Another strong theme throughout SASGF was that of university partnerships.
Importantly, SAS partnerships with universities have strengthened and grown over the years with studies highlighting SAS Analytics as a valuable career skill for graduates.
It was great to see this reflected at SASGF with a strong contingent of first timers and a high level of academic sponsors and students.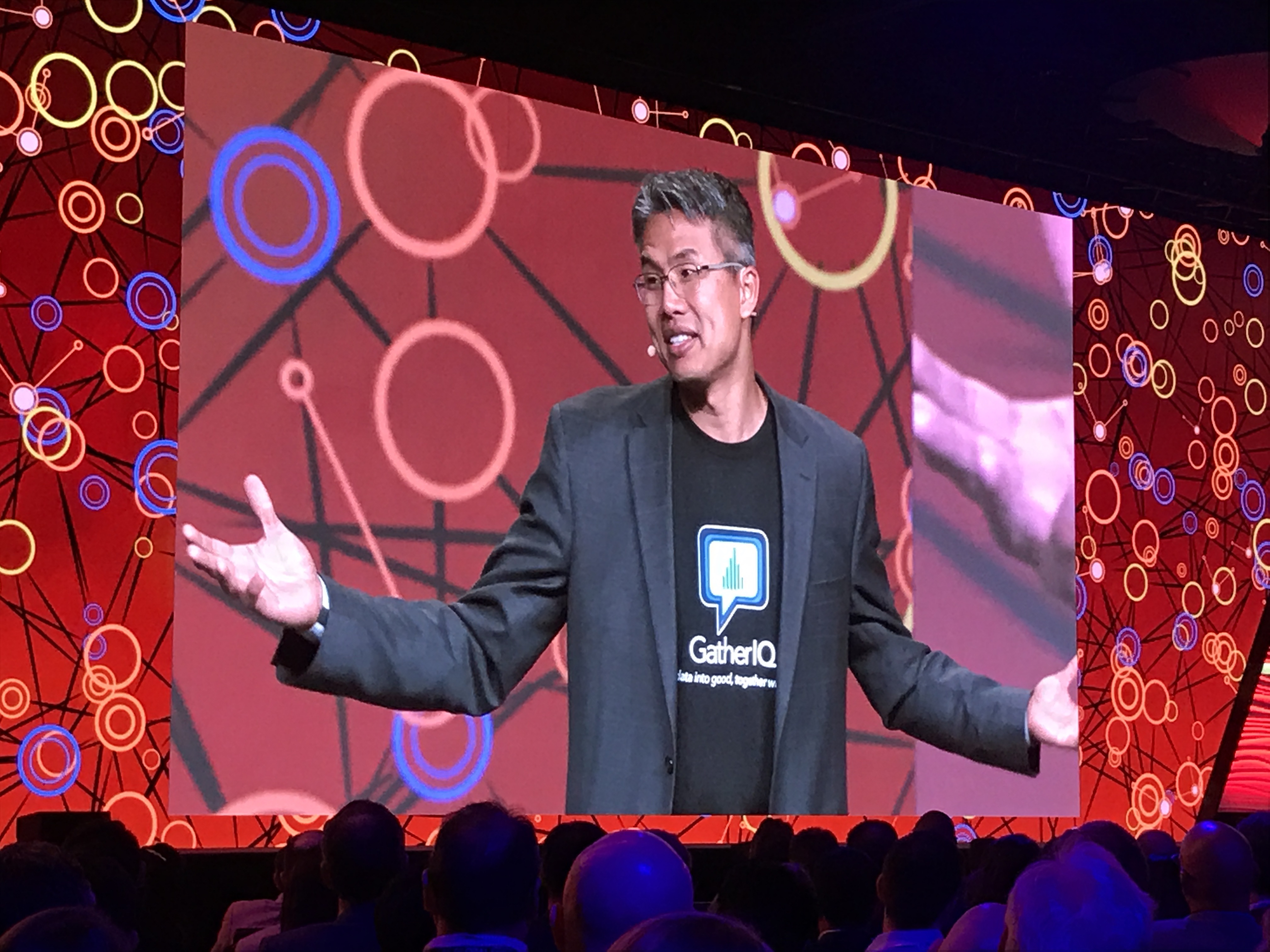 Using Data For Good
SAS is known for using its analytics innovation and data visualization for environmental, social and economic good: from its early days helping farmers to analyse agricultural data, to more recently rebuilding communities in Nepal after an earthquake.
At the Global Forum, SAS announced GatherIQ, a customized crowdsourcing app that begins with two International Organization for Migration (IOM) projects. Learn more about how you can contribute using #dataforgood with GatherIQ.
"Early success is a terrible teacher. What you really learn from is failure."
These are the words of keynote speaker, Colonel Chris Hadfield, who did a great job of entertaining a large crowd, despite it being early on the morning after the Kick Back Party.
He shared his life lessons and experiences, and highlighted his steps to success:
Define what success means to you.
Know what skills are needed to grow.
Love every single step.
Interestingly, he points out that the key is not to visualize success but to visualize failure. Specifically, how would you deal with it if it happens? He urges us to change our perspectives and feel victorious every day. Such inspiring words!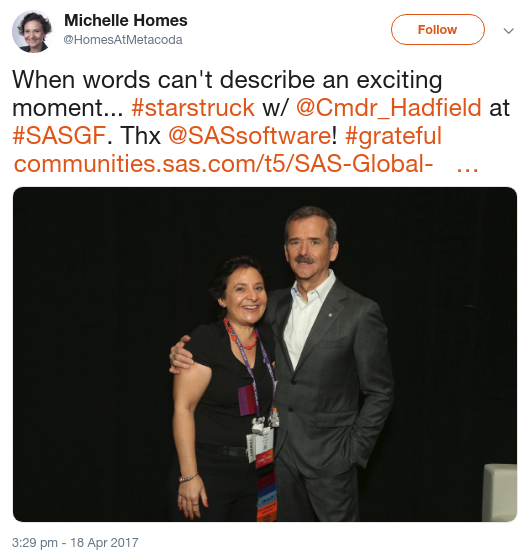 Wrap up
Overall, we loved every single step of SAS Global Forum.
As always, a buzz for us is meeting customers for the first time, reconnecting with customers and partners, and having fun with friends. (For a social #SASGF recap journey from our perspective check out the tweets.)
Thanks to everyone who visited our booth. We hope your Metacoda koala has settled in well (feel free to send us some pics) and please let us know if you're interested in getting a 30-day free evaluation of our products. If we didn't see you at SASGF hopefully we'll see you at SUNZ in Wellington or a SAS Forum in Europe soon.
As Colonel Chris Hadfield said "Love every step along the way. Life is not about your grand mission statements, it's about what you do next"… What's your journey?