Thanks for being part of our Metacoda community. We hope your professional and personal 2017 journeys have been going well. We'd like to give you a quick update on ours and how we can help with your SAS® security journey.
Please feel free to reach out to say g'day, share your Metacoda koala antics, ask questions, provide feedback on our software, or simply keep us updated with your SAS security journey.
Hope to see you in person or online soon!
Metacoda: a SAS Global Forum 2017 sponsor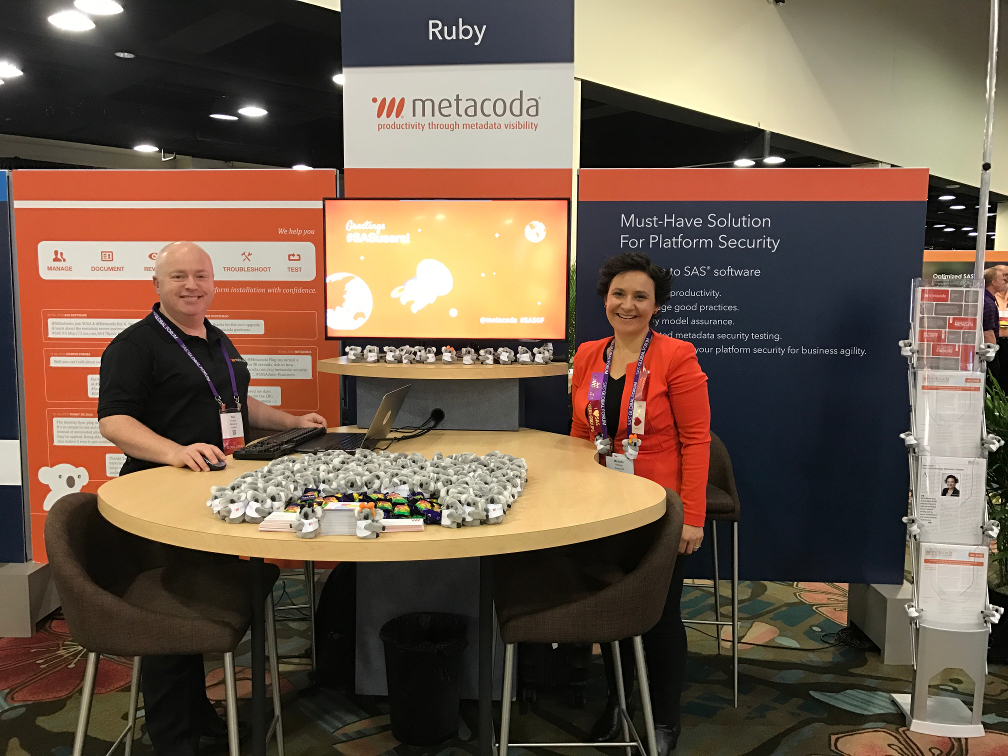 We enjoyed being a sponsor at SAS Global Forum (SASGF) last month and meeting so many SAS customers at the Metacoda stand. Please read our SASGF blog post about our conference experience (including the Metacoda koalas). If we missed seeing you and you'd like to have a web demonstration on keeping your SAS platform secure, please contact us – we'd love to hear from you!
Are you prepared for your SAS platform to be audited?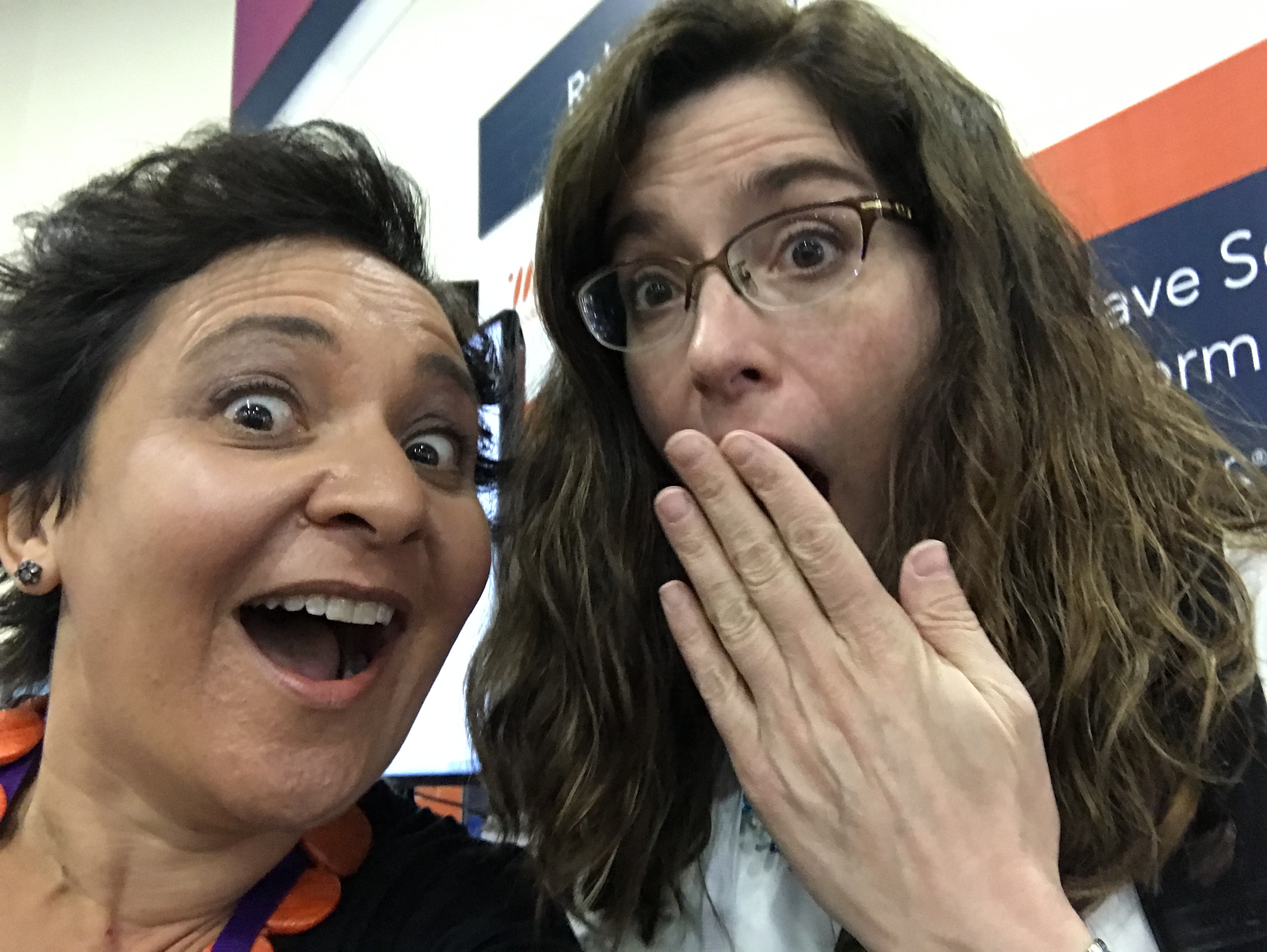 Don't be startled by the thought of being audited – be prepared! Charyn Faenza from First National Bank (FNB) and Michelle Homes from Metacoda were invited speakers at SAS Global Forum 2017. Their presentation, SAS Metadata Security 301: Auditing your SAS Software Environment, highlighted how Metacoda software has become an important tool of the trade for meeting auditing requirements. To learn more, read Your SAS Security Journey: Authentication, Authorization and Auditing.
Where are you along your journey? Let us know if we can help you.
Upcoming SAS Forums and GDPR auditing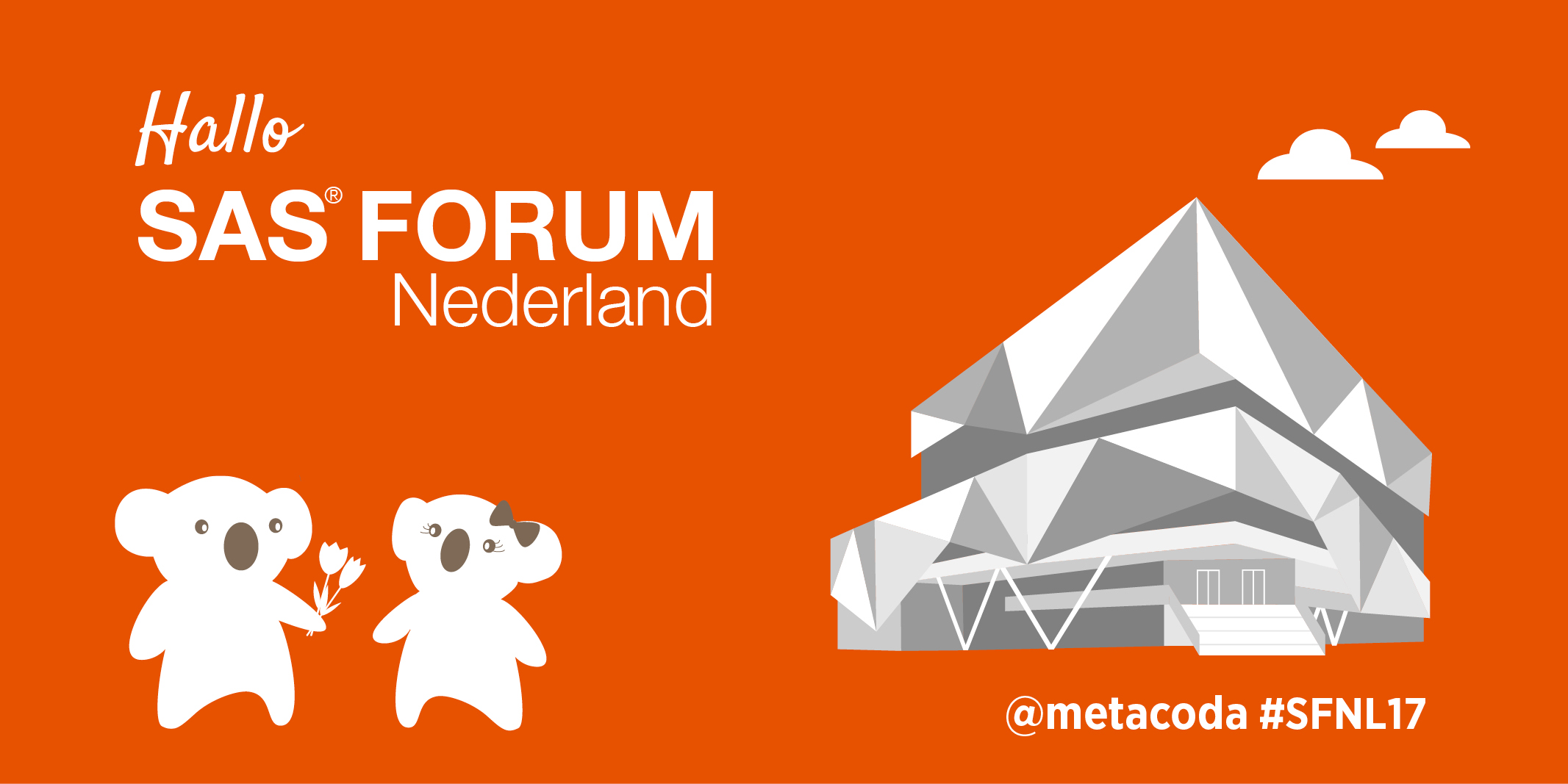 Metacoda loves being part of SAS events so we're excited to be in Europe again soon: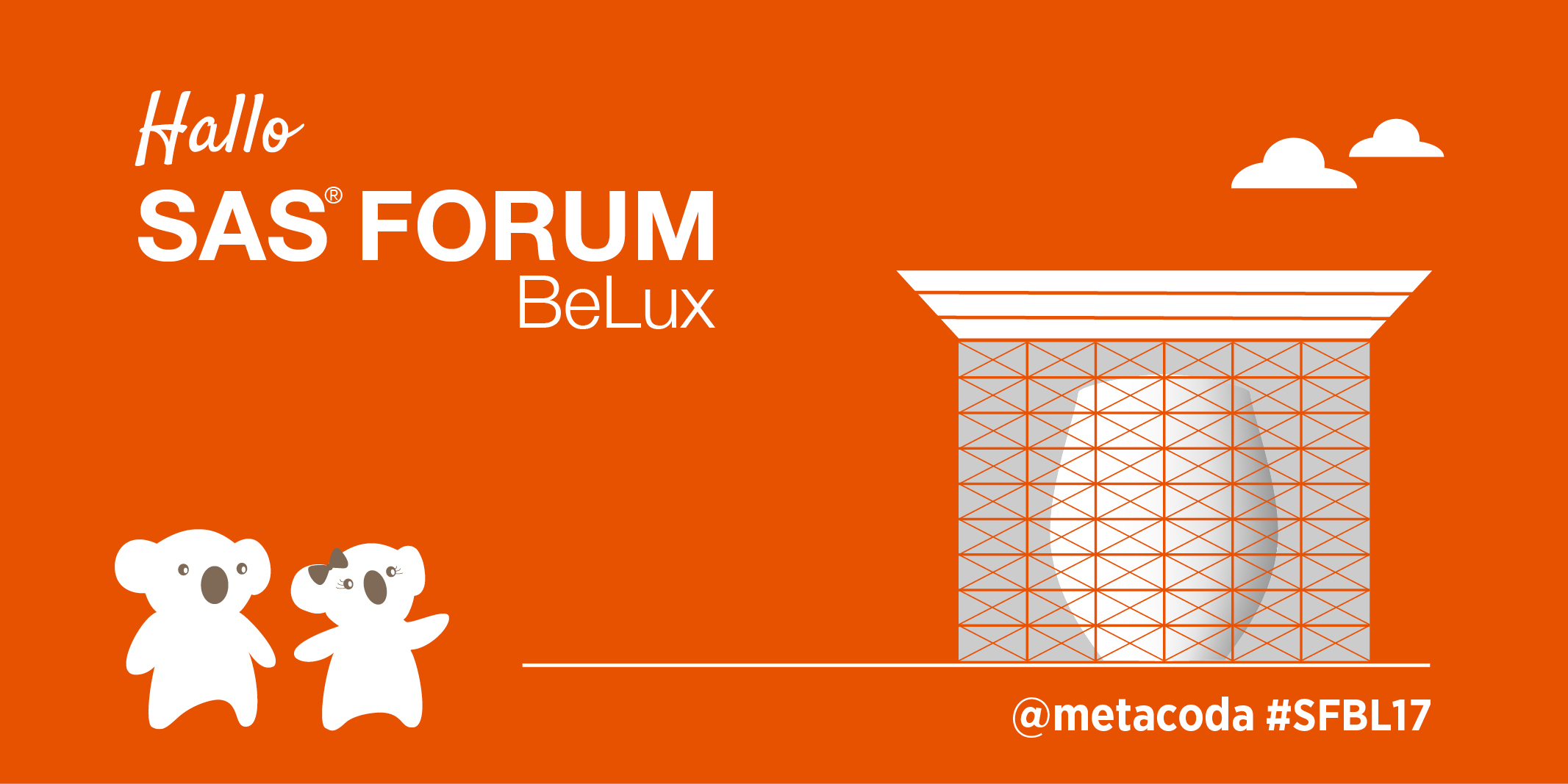 Please come by our stand to say g'day and talk to us about your SAS journey. We'd be delighted to demonstrate our software and get your feedback on our upcoming Metacoda Security Plug-ins 7.0 release and the Audit Reviewer Plug-in we're working on. The new products will be a real advantage for anyone with GDPR auditing requirements! To find out more about how we can help with your GDPR data security governance requirements, see the following presentation by Michelle at a Brisbane local user group meeting: How will the EU General Data Protection Regulation (GDPR) impact you? Keep your SAS data assets and platform secure.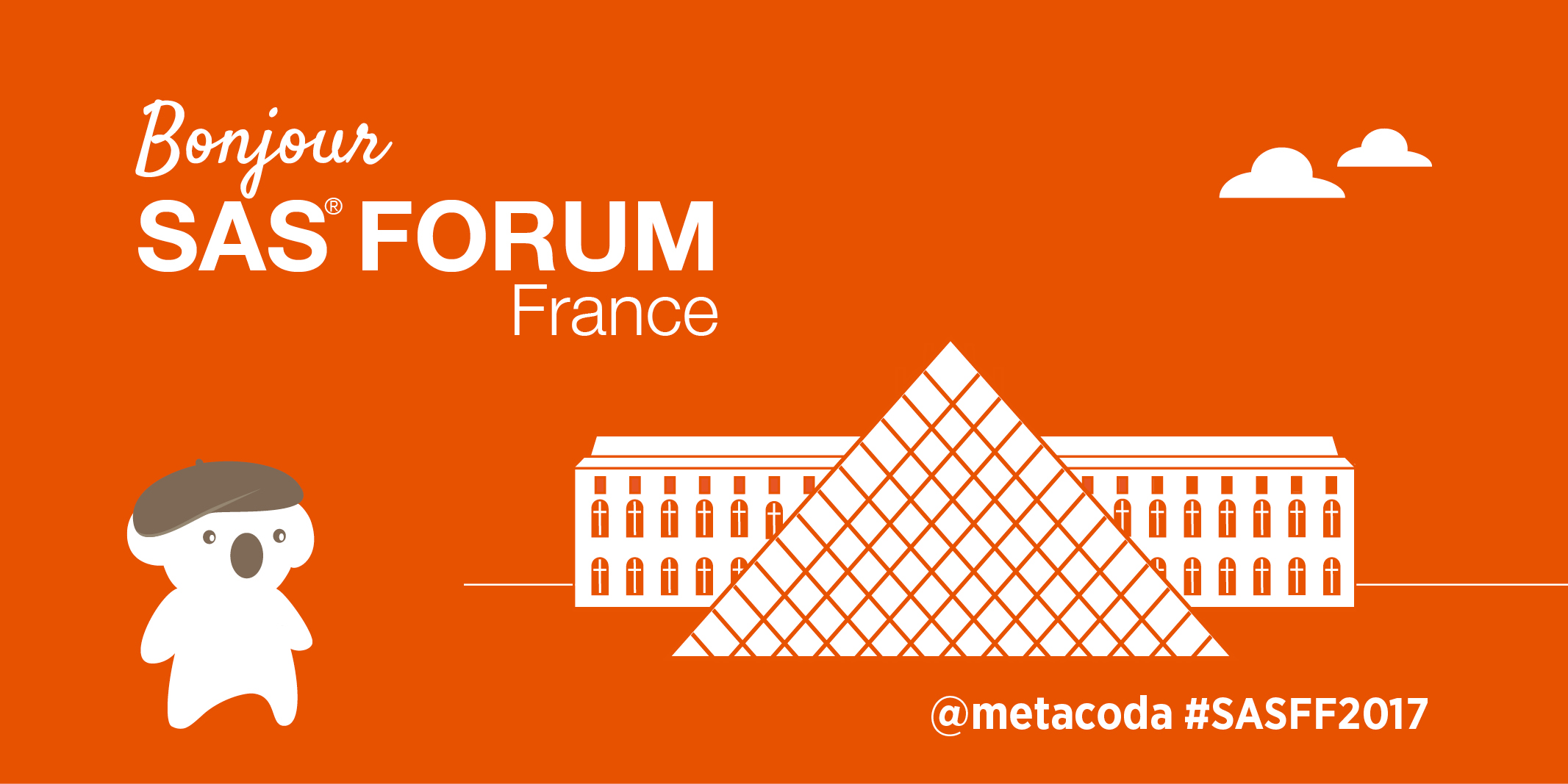 At SAS Forum Copenhagen Michelle will be presenting a version of Charyn and her SASGF paper at 2:00pm on SAS® Metadata Security Journey – prepare to be audited!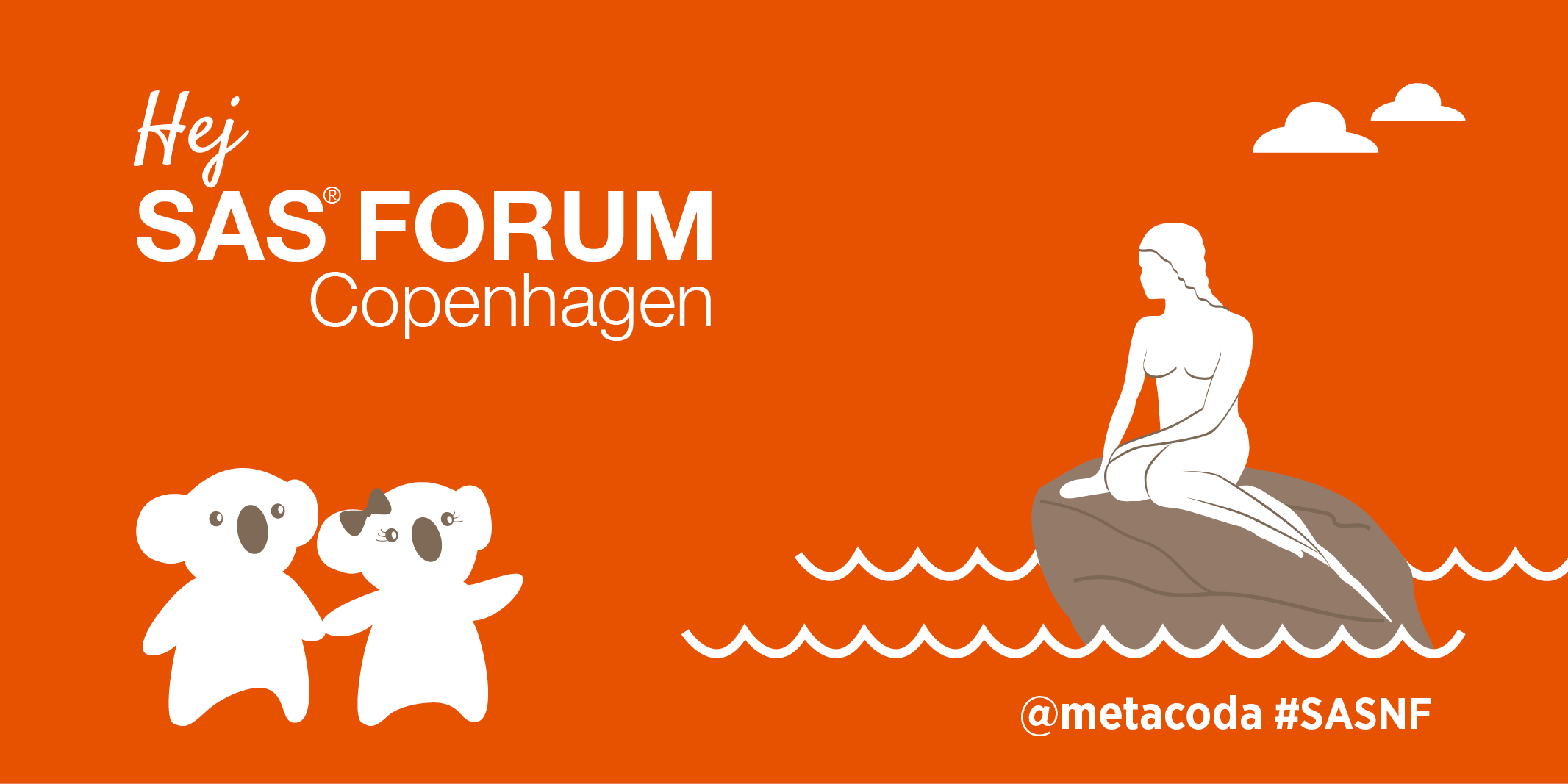 Be social!
Attending SAS events in person can sometimes be a challenge, especially when they're on the other side of the planet. However, the various social channels and community forums are helping to bring us all closer together.
For starters, if you're not already using SAS Support Communities to 'Ask. Find. Share', we recommend you join today. Watch the video where Michelle outlines 3 Ways to Get Involved with SAS Communities.
Social channels such as Twitter are particularly helpful for keeping you up to date with what is happening at an event in real time. As Shelley Sessoms experienced with #SASGF, you may even feel like you are actually there.
Please follow us on Twitter at @Metacoda to get SAS Software and Administration tips and updates from the events we attend.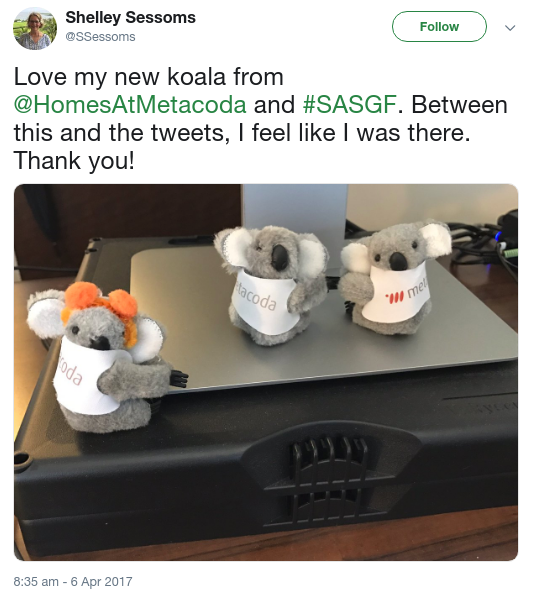 Save The Date: SAS Security Design and Best Practices webinar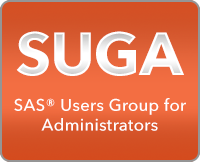 Want to learn more about SAS security design and best practices in a SAS 9.4 environment? Save the date for the free SAS Users Group for Administrators (SUGA) webinar on Tuesday 12th September (3-4pm Eastern Time). Webinar hosts Angie Hedberg (SAS Technical Consulting Manager) and Michelle Homes (Metacoda) will cover key design best practices for securing metadata and the file system, and how Metacoda can help you secure your SAS environment. Join SUGA to find out when you can register and to attend the other SAS admin events.
Try Metacoda products for free

Want to manage, review, troubleshoot, document, test and audit your SAS platform installations with confidence? Read how Metacoda products are helping SAS customers to keep their SAS platforms secure. Better still, see for yourself by registering for a 30-day free Metacoda Security Plug-ins evaluation license.
---
As Colonel Chris Hadfield at SASGF said "Love every step along the way. Life is not about your grand mission statements, it's about what you do next". What's your journey?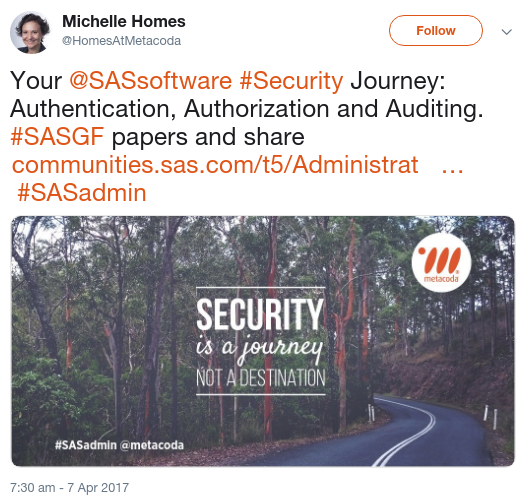 Hope to see, or hear from, you soon!