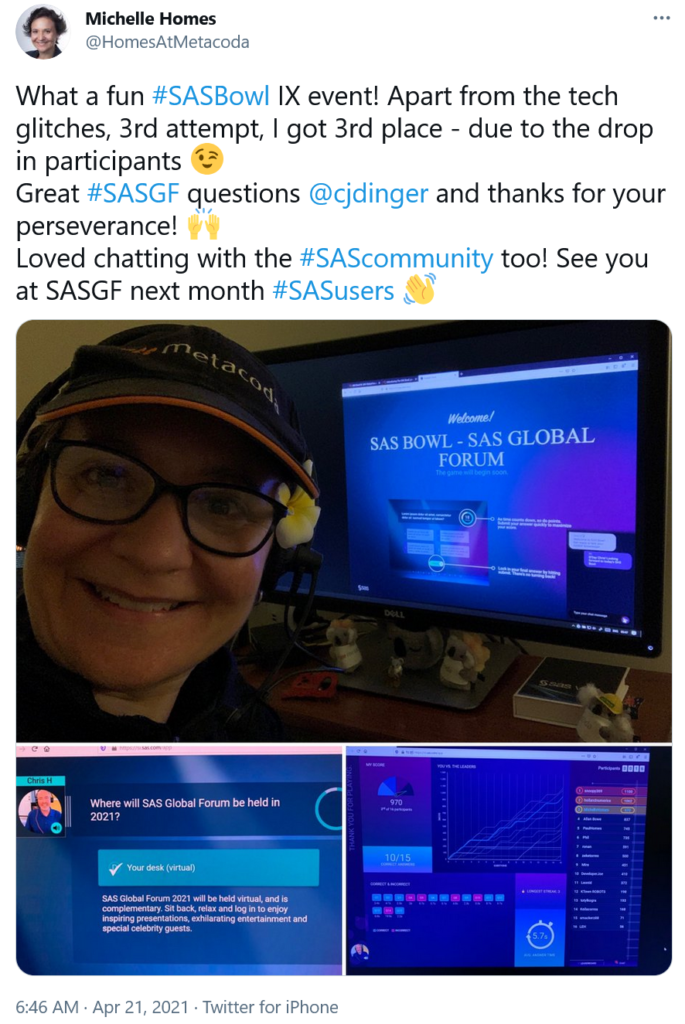 It's 7am and I'm buzzing with glee!
Why?
Well, I've just spent an hour enjoying trivia, chat, and cheer with fellow SAS enthusiasts from around the world.
SAS Bowl IX started at 6am in Brisbane (4pm ET) and – despite a few false starts due to technical glitches – quickly provided my monthly dose of SAS Bowl endorphins and got me 'feeling all the feels'.
While eating breakfast afterwards, I pondered on this huge surge of joy and energy that I feel when I connect with my SAS colleagues.
It seems that being part of a global community bonded by a common interest is a powerful and positive thing. And best of all, it's good for our events, our friendships and our work.
Based on my 7am jubilation, imagine how excited I'll be when we finally get back to in-person SAS events!
In the meantime, let's focus on the creative ways the SAS community is continuing to connect and to get 'all the feels'.

#HackInSAS
Get ready for another dose of endorphins when the SAS community comes together to announce the winners of this year's #HackinSAS regional awards on May 11th.
Having been on the jury since the SAS Hackathon began three years ago, I can attest that choosing winners is never an easy task! Especially when the event just keeps getting bigger and better.
This year the program went global (from its beginnings in the Nordic regions) with 100 teams entering and 66 teams submitting projects. Through the online Hacker's Hub, talented SAS users come together to create a community of collaboration and innovation, where everyone can question, share, network and learn.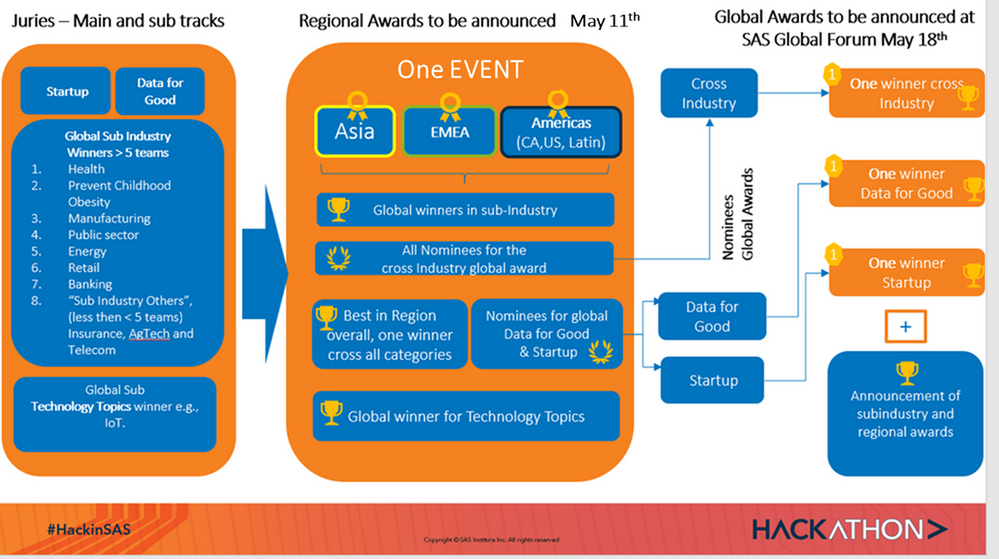 Thank you for the opportunity to be part of such a fun and inspiring project.
In particular, I'd like to give a huge shout-out to Einar Halvorsen (Hackathon Producer) and Peter Lundqvist (Hackathon Director) for your tireless drive, vision and energy! Your hustle and enthusiasm creates all the feels!
I can barely wait to be part of the #HackInSAS global awards announcement at SAS Global Forum (SASGF) on May 18th! No doubt I'll be feeling all the feels!
#SASGF
It's nearly May and we all know what that means… SAS Global Forum time!
Speaking of time, this year the conference will be delivered in three regions – Americas, APAC and EMEA – to account for various time zones.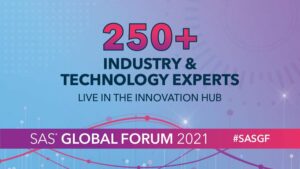 While we may not be able to meet in person, the organisers have included plenty of creative ways for us to connect with our friends and peers. We'll be able to talk to experts, meet sponsors and watch live demos in the Innovation Hub. We'll also be able to ask questions during the Live Q&As at the end of the presentation sessions, and even schedule appointments with people.
Also, don't forget my favourite way to network… Trivia Events! Chris Hemedinger will be hosting the Trivia Events in Americas and EMEA and I'll be excitedly (and nervously) hosting it in APAC. Check out the SASGF agenda for details.
Regardless of whether it's in-person or virtual, our annual SAS Global Forum guarantees plenty of opportunities to connect, learn and … 'feel all the feels'.
This year's theme of – "New Day. New Answers. Inspired by Curiosity." – means I'm extra curious and excited to experience it all. Aren't you?
SUGA meetup

SAS administrator and architect link ups have been a popular part of SAS Global Forums in recent years.
With the virtual event this year, things will be a little different. But the SUGA (SAS User Group for Administrators) group has you covered with a SUGA Meet Up scheduled for June 3rd at 11am-1pm ET.
Having the SUGA Meet Up after SASGF will give everyone time to digest the content, compile questions and get the most out of the event.
The SUGA Meet Up agenda is:
Welcome by SUGA Chair, Shelley Sessoms
"Moving existing SAS applications to the public cloud" presentation by Margaret Crevar
"Viya 4 architecture" presentation by Mark Schneider
Trivia hosted by Chris Hemedinger (yay for more trivia fun!!!)
Networking – breakout groups to chat with fellow SAS admins
Be sure to register and please feel free to add any questions or comments in the SUGA community in the lead up to the SUGA Meet Up!
I'm really looking forward to connecting with the SAS community again soon and, while I won't be able to hug or high five you in person, I'm sure we'll still get 'all the feels'!