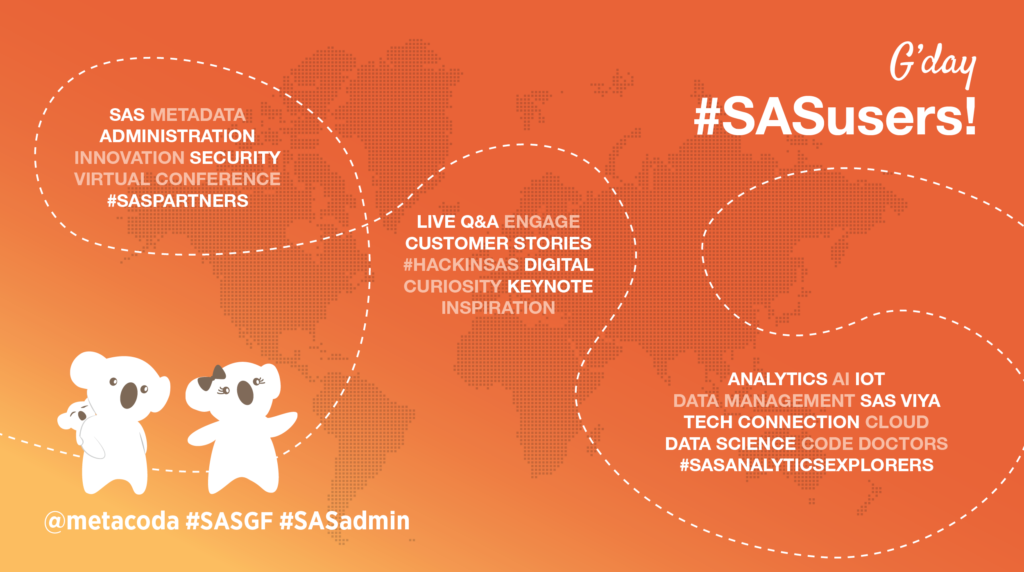 G'Day friends
In previous years, right about now, we'd be flying in from all corners of the globe for SAS Global Forum (SASGF).
The pandemic may have stopped the travel, but an equally inspiring online conference will bring us all together virtually. And just as we've done every year since 2012, Metacoda will be proudly sponsoring SASGF, so be sure to say a virtual g'day at the Americas, Asia Pacific and EMEA events.
The adventure-loving Metacoda koalas are missing the opportunity to meet new people and find exciting new homes around the world, but they'll be sure to make an appearance online. Actually, did you know they almost missed their first conference back in 2012 (??)? If you haven't heard the story and you're curious to know more, connect with us for a chat.
Speaking of curiosity… the theme for SASGF 2021 is 'New day. New Questions. Inspired by curiosity.' You know that wonderful feeling… when pondering a question leads to new discoveries, collaborations, innovations and ideas. Curiosity is what being a lifelong learner is all about and it's best enjoyed in a culture of like-minded people such as our SAS community.
So, if you're feeling curious, make sure you register now for SASGF, and join us in counting down to this fantastic event.
In the meantime, check out some of the recent Metacoda highlights and "cheer" (read the last section).
Cheers,
Michelle

---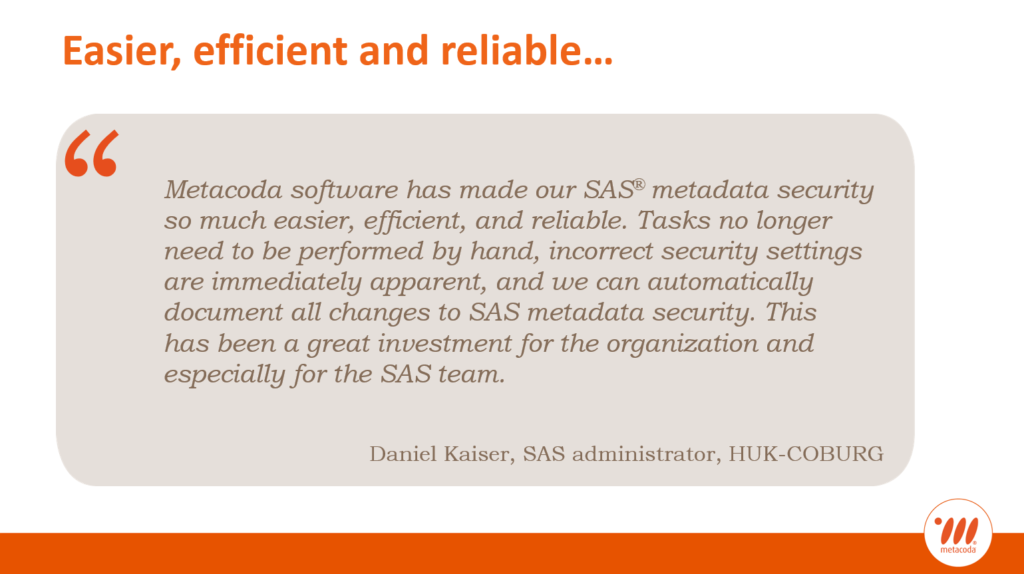 Metacoda Success Story – HUK-COBURG
Germany's major insurer for private households, HUK-COBURG, uses Metacoda software to automate areas of their SAS metadata security management. HUK-COBURG has been happy to share how Metacoda software has saved them a significant amount of time and made their work much more efficient and reliable.
For more about this Metacoda success story:
---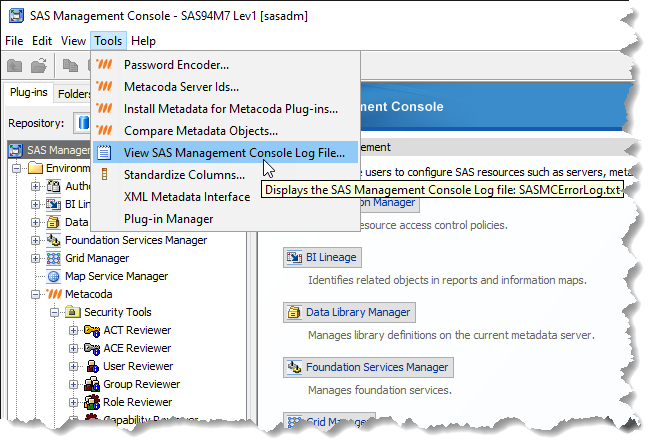 Metacoda Plug-ins 6.1 R6
Earlier this year, Metacoda was pleased to release Metacoda Plug-ins 6.1 R6.
To find out about a new tool, see Paul's platformadmin.com blog "View SAS Management Console Log File…". It enables the user to open the SAS Management Console log file from within SAS Management Console, which saves time and reduces friction. As always, we're keen to hear what you think.
Registered Metacoda software users can log in to the Metacoda Customer Portal to download the software and see the release notes (outlining a range of enhancements and fixes).
If you don't already have access or would like a free trial, please register here.
---
SAS Bowl IX trivia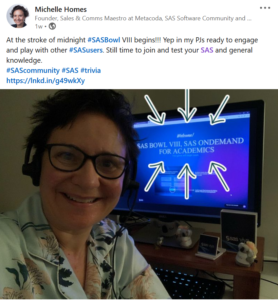 Mark April 20, 4PM ET in your diary!
The upcoming SAS Bowl IX trivia event promises a range of fun and quirky questions about SASGF as well as general knowledge.
The new time slot is good news for those who are usually fast asleep during the event (and may even be better for some of our US friends). Plus it means Michelle won't be wearing her PJs this time!
No pre-registration is required; just visit the SAS Bowl IX page to learn all about SASGF and access the event link.
We look forward to seeing you in the game chat window. Will you be the one wearing pyjamas this time? ;-)
PS If you still need convincing about how fun these events are, see Michelle's SUGA Bowl VIII LinkedIn post.
---

The low-down on the latest SUGA Download
Did you catch the latest SUGA Download newsletter released on March 11?
Check it out to read all the latest SAS news for administrators and architects. The March edition includes lots of SAS Viya tips with migration, Azure storage, SCIM, Kubernetes and a customer's experience in migrating from SAS 9 to SAS Viya.
Make sure you subscribe so you don't miss the next issue.
---
The Koala Manifesto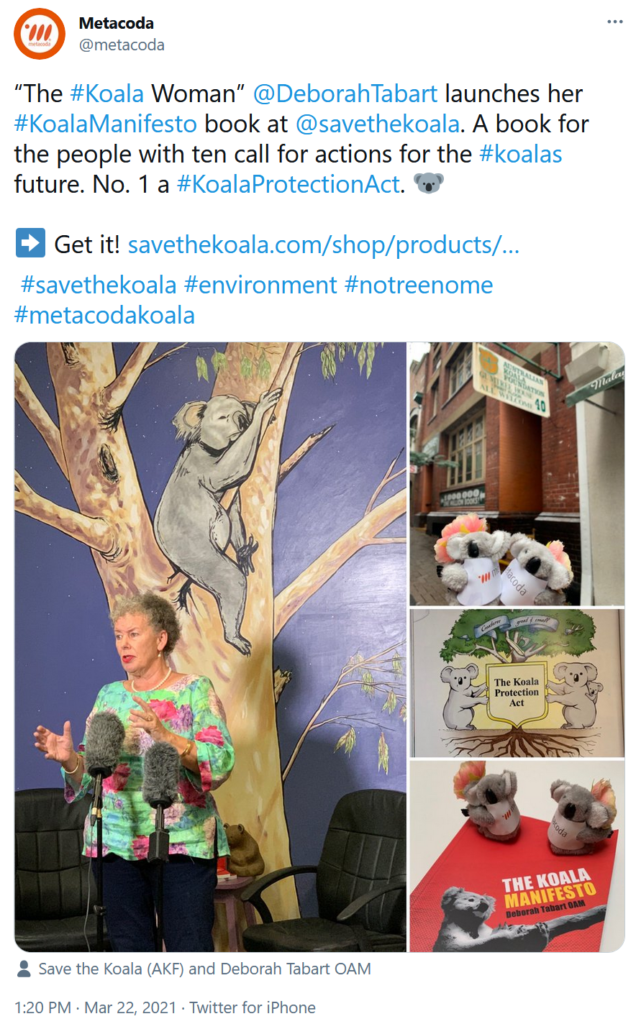 The Koala Manifesto is a powerful new book by Deborah Tabart OAM, chairperson of the Australian Koala Foundation.
As avid koala supporters, I was proud to attend the book launch on March 22, where Deborah spoke to Channel 7 news about how to stop the Australian national icon sliding towards extinction.
In an ABC Brisbane radio segment Deborah spoke of her 33-year fight to save the koala, and her determination to save its habitat and fundamentally change our relationship with nature.
As well as helping to promote our software, the Metacoda koalas play an important role in sharing our love of real koalas and raising awareness of how we can all help.
A great place to start is by enlisting in the Koala Army. Simply talking about this issue and sharing information is a great way to help #SaveTheKoala.
---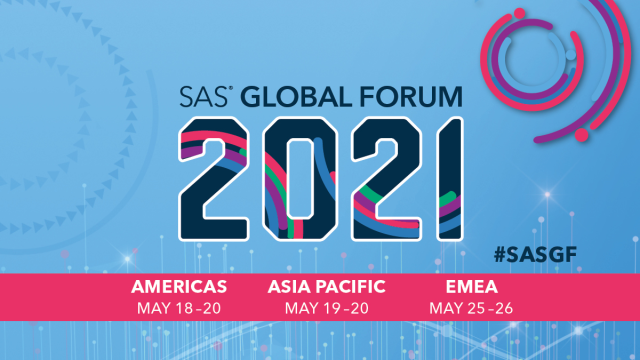 Unfortunately, we won't be able to give out Metacoda koalas at SASGF 2021, but if you already have one please bring them along (to your computer screen ;-) – we'd love to see you all.
You'll find us at the Innovation Hub between 1-4pm ready to share and hear stories about Metacoda koalas (and Metacoda software, of course!). Recently, we heard about a Metacoda koala named Cheer who enjoys playing hide 'n' seek around the house. Oh what koala-ity fun! 🐨
Thanks everyone and 'see' you in May as we countdown to the SASGF virtual catch-up!