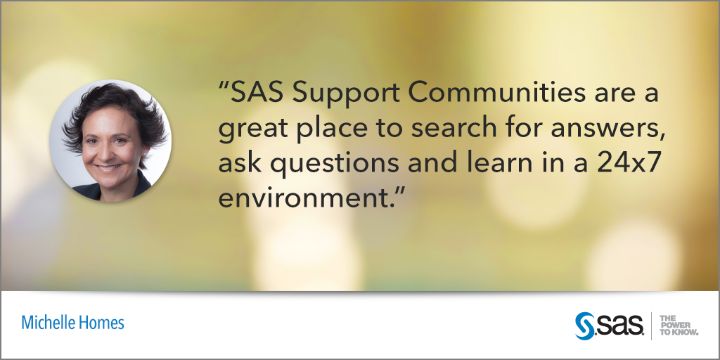 In any community things tend to run most smoothly when each of us finds a role that best suits our strengths and preferences.
For me – as someone who loves socializing and connecting – my role in the SAS community has evolved into what some have referred to as a 'cheerleader'.
Fortunately this is a role I relish, and I'm so grateful to those who recognize and support me for doing what comes naturally!
I'm also grateful to SAS users around the world who are doing their bit to nurture our wonderfully connected SAS community. The gratitude and support that we give each other is part of the glue that keeps this community so robust.
Another important part of the glue is the many events that help us to meet, share and grow. We're big fans of SAS events and SAS User Groups and encourage everyone to join in however you can. (Find a group here)
When it comes to the in-person events – which are still so important in this digital age – the recent SAS US Regional Conferences were a highlight on the US SAS calendar.

While I wasn't able to attend, I was so glad to be able to support the events as a SAS community advocate and sponsor, and to be represented by our furry friends, the Metacoda Koalas. (Meeting people IRL – in real life – is certainly where human connections happen, but tweets like this are the next best thing for feeling connected!)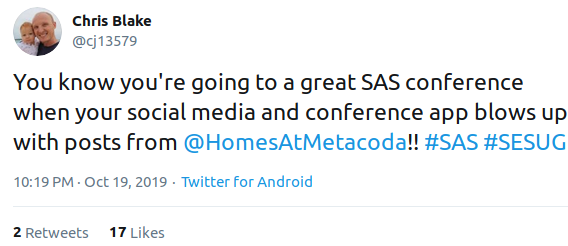 With the help of our keen and kind koala keepers Richann Watson, DeDe Schreiber-Gregory, Louise Hadden, Misty Johnson, Venita DePuy and many helpers, Koala Quests were held across the four SAS US Regional Conferences.
By all accounts, conference participants had a lot of fun tracking down our escaped koalas, checking in with our friendly koala keepers, and adopting a Metacoda koala as a little mascot. Check out the pics of the Metacoda koala's latest adventures in their very own Facebook album and also check out Misty Johnson's MWSUG LinkedIn video post on her statistical predictions for finding a #metacodakoala at #MWSUG2019.
We certainly love having a bit of fun with our Metacoda koalas at SAS events; it's a great way to break the ice and build the connections that are so important for the SAS community (and make sure you remember us ?).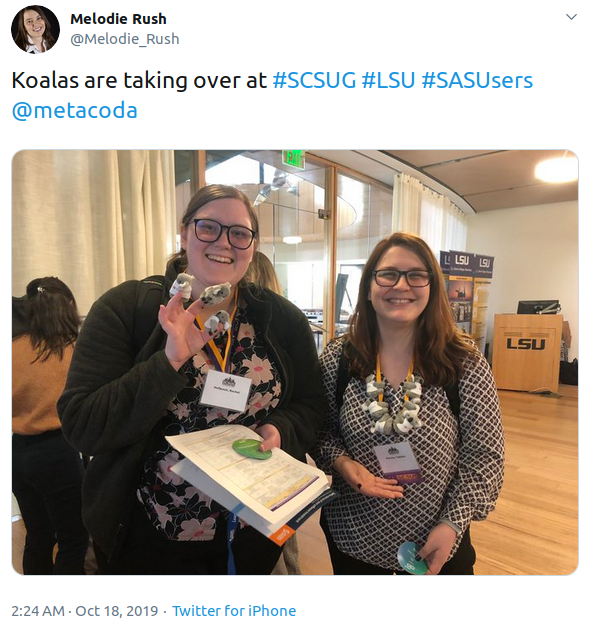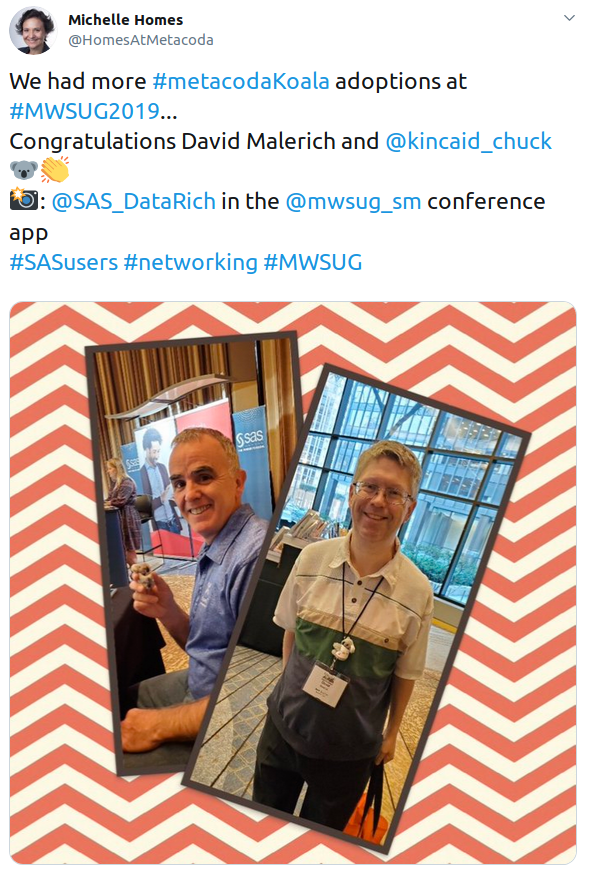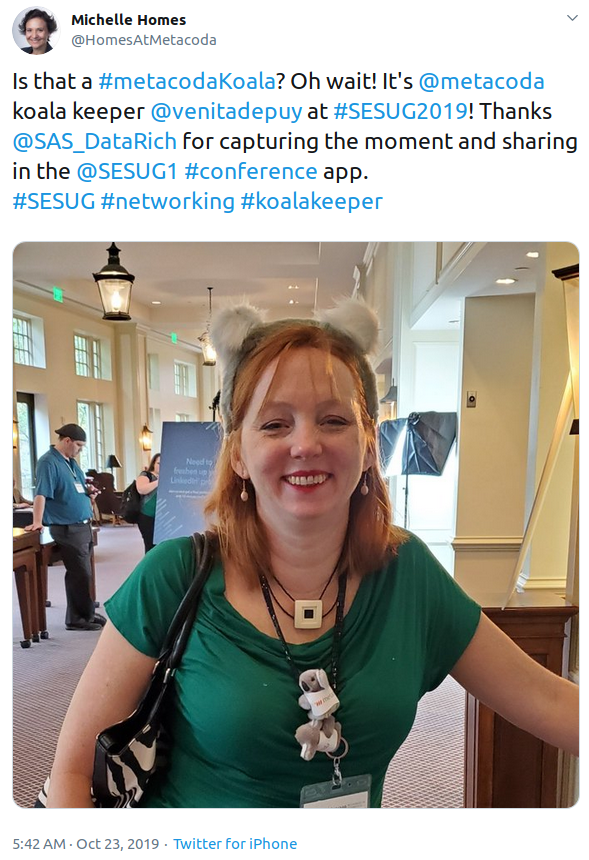 However, a real life Koala Quest in the wild wouldn't be quite so simple and lighthearted.
Back in Australia, these adorable creatures are suffering a range of challenges: ongoing habitat destruction, domestic dog attacks, bushfires and road accidents.
So just as I love being an enthusiast for the SAS community – encouraging, supporting and connecting – I'm also passionate about speaking up for the koala community.
As it turns out, some of the ways you can help the real koala have some surprising similarities with the Metacoda Koala Quest: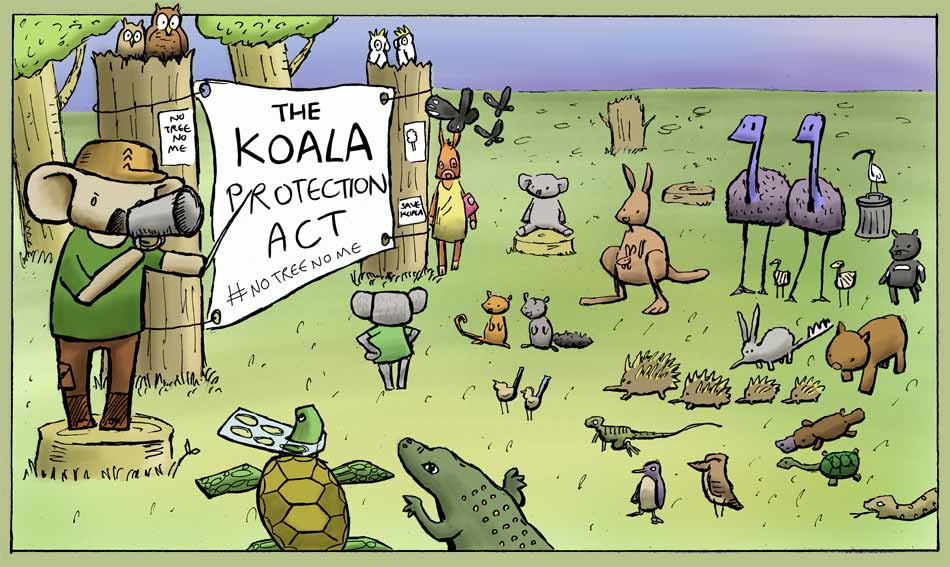 If you also take security seriously, ask us how we can help you manage, document, review, audit, validate, monitor, troubleshoot and test your SAS platform installation with confidence.
As we've said, we love connecting! So contact us any time with your comments, questions or just to say "hi" – and let's catch up IRL soon!
Cheers
From the Metacoda humans and koalas
PS. What's next on your SAS community calendar??
PPS. If you haven't seen our Metacoda products in action, make sure you register for a 30-day free Metacoda Plug-ins evaluation.