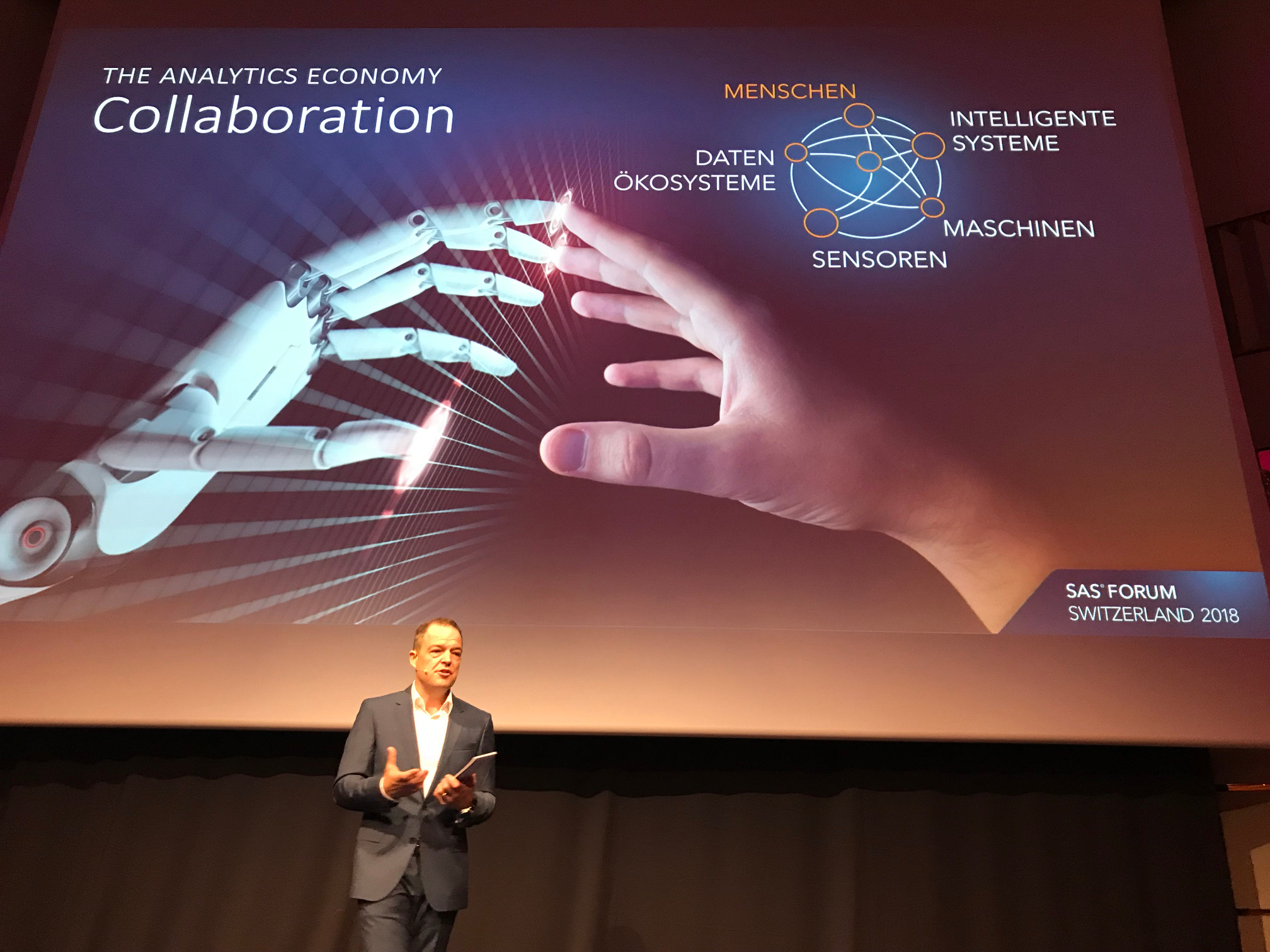 In May we wrote about how much we were looking forward to Embracing the Analytics Economy in Europe. Well, the trip sure lived up to our expectations!
Over four weeks we travelled to seven countries, sponsored six SAS Forums and user conferences, attended a SAS Business Forum, and visited the SAS office in Dublin. We enjoyed every minute of it! We loved being part of the SAS ecosystem of customers, partners and employees, and embracing all the learning, sharing and inspiration. There were a few times when we wished we had our very own real time translator; however, even when we didn't fully understand the language, the stories of analytics success were still loud and clear.
Inspiration and creativity
Our journey gave us the opportunity to hear many inspirational speakers share their thought leadership and experiences using SAS software to solve business challenges.
A particularly thought-provoking presentation for us was by Martha Rehnberg from Dare Disrupt at the SAS Business Forum Oslo. She talked about empowerment and technological intuition as the must-have skill of the digital era. Her wisdoms included 'Define business by problems solved. Not products sold' and she closed with the question, 'What problem can you now solve if your product was free?'.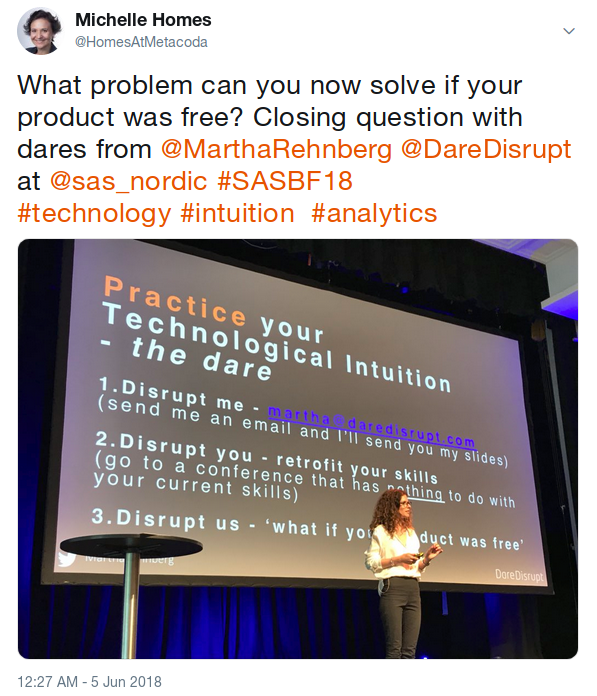 The events included technical streams where end-users shared applications of analytical intelligence, technical tips, and deep dives. The information sharing and collaboration helped to instil a real sense of community and creativity. It was impressive and a lot of fun to join SAS FANS Espoo attendees at the end of the day with a 'Beat The Box' team puzzle activity… especially challenging for us given that the instructions were in Finnish! 😊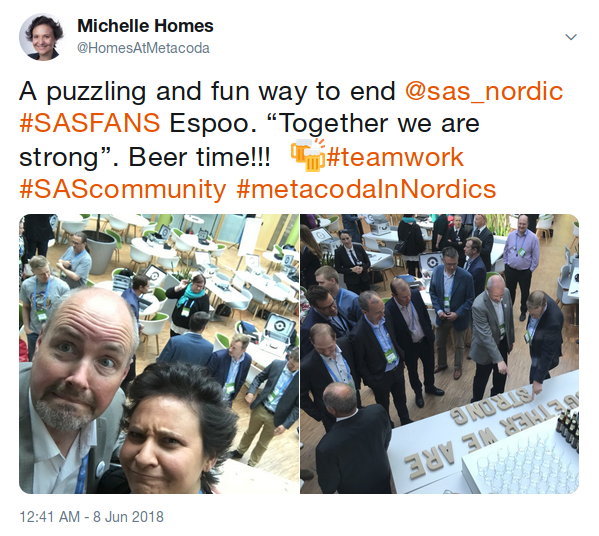 Analytics Platform Success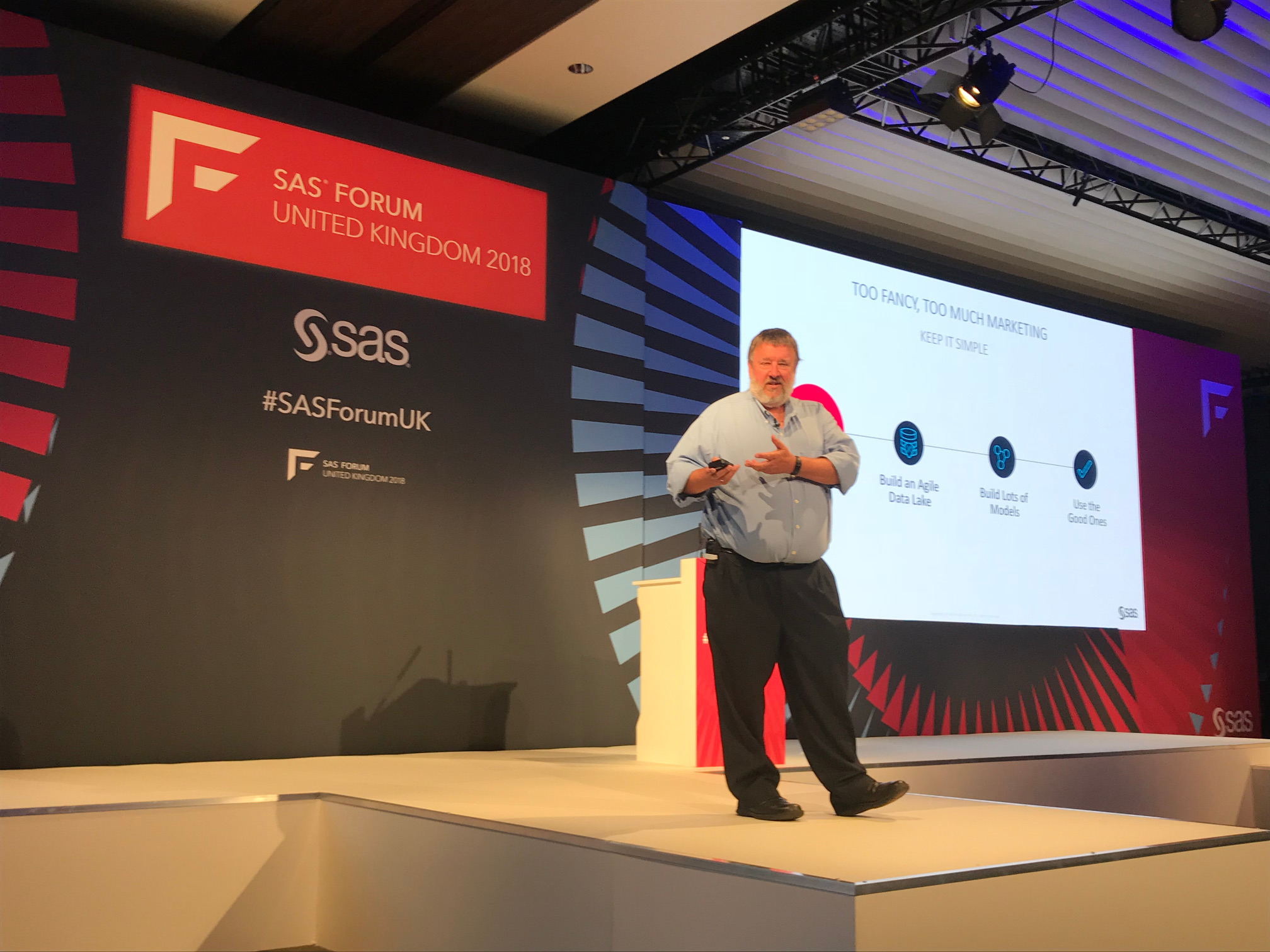 The theme for SAS Forum UK was 'IN THE KNOW – Analytical Intelligence in Reality'. Paul Kent's keynote on 'Three Things: what you need to do well to use SAS in the BEST possible way', set the scene and direction for delegates to learn, inquire and aspire over the two days. Paul – like others at the forums – referred to the Analytics Lifecycle and the Data, Discovery, Deploy process. His three takeaways were to:
Prepare the data
Build the models
Use the good ones
He spoke about the necessary personas and roles in achieving the Analytics Lifecycle, and highlighted that a system of analytics is needed, not just tools for success! You need to nurture the platform.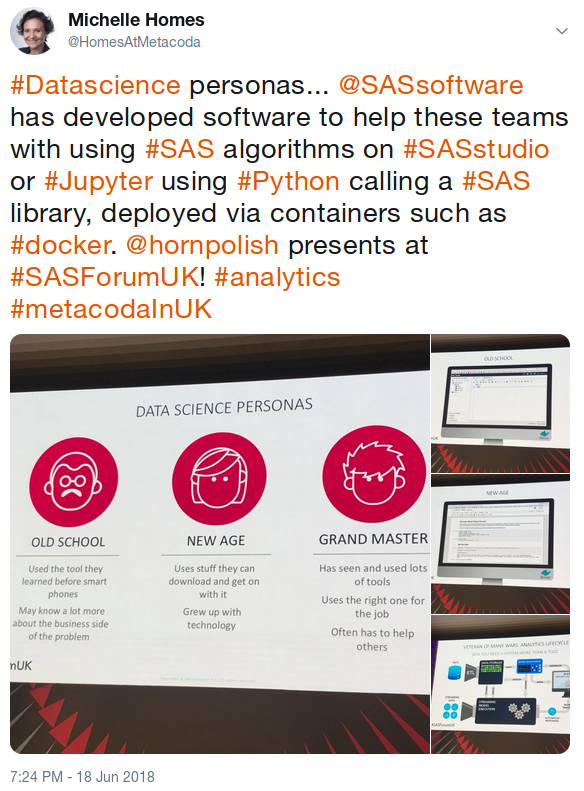 How do you know it's secure if you don't test it?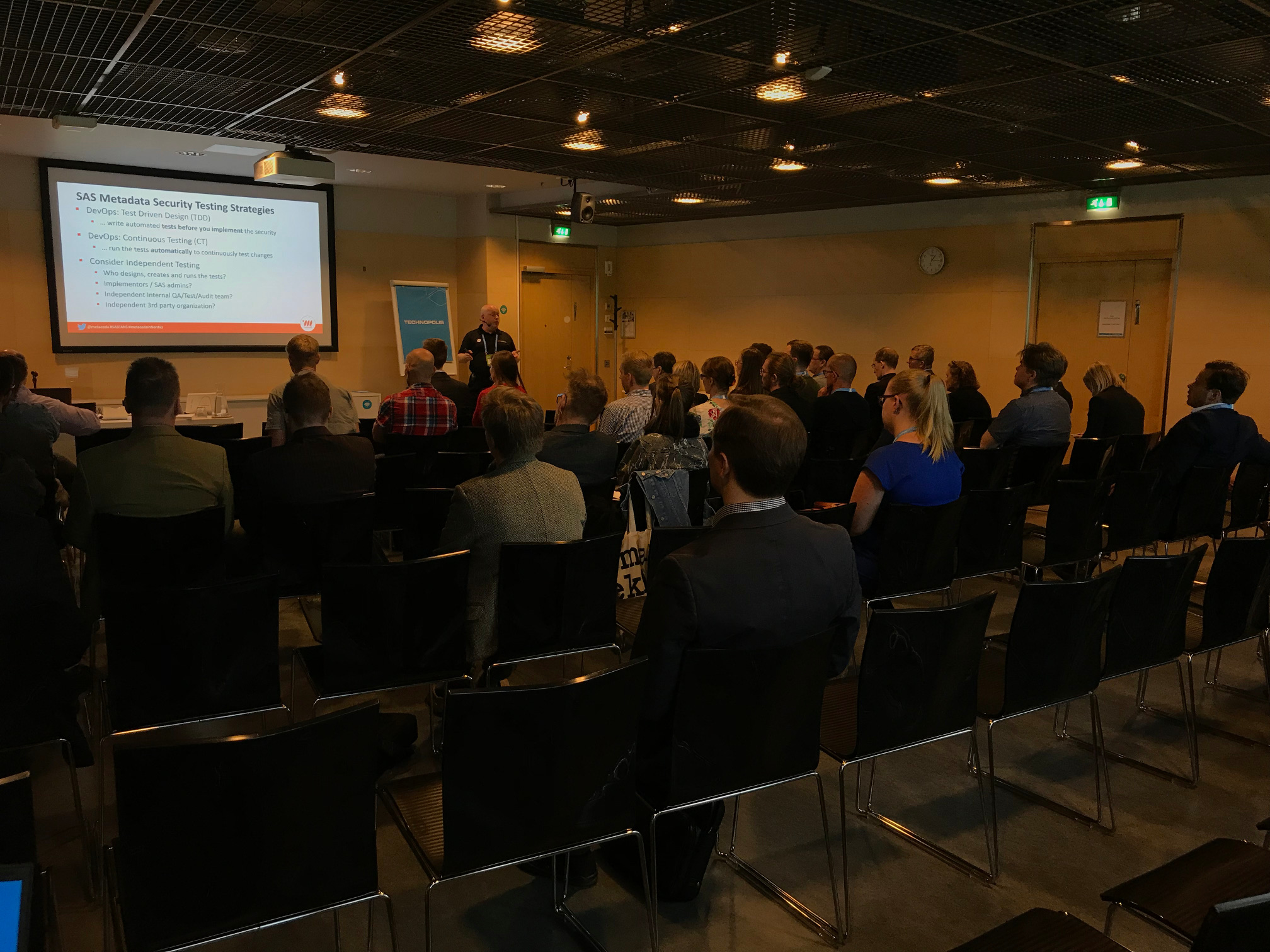 One of the ways that Metacoda helps nurture the analytics platform is in security.
At the SAS Nordic FANS user conferences in Oslo, Copenhagen and Espoo, Metacoda's Paul Homes demonstrated methods for testing SAS metadata security. His presentation, 'How do you know it's secure if you don't test it?' included three aspects of testing:
Implementation testing – how has it been secured?
Outcome testing – what is the effective result of the implementation?
Best practice testing – how well does the implementation align with best practices such as the well-known Golden Rules?
With GDPR now in place, there was quite a bit of interest in how Metacoda software can be used to keep SAS platforms secure. Our presentation slides (which reference the GDPR articles we can help with) are available on the SAS Nordic Events & Presentations page.
As we often say to people who visit our stand: you'll always know when you make a change to your security model that restricts people's access (they'll soon tell you!)… but will you know if you grant people more access? And what is the risk if people have access to more SAS data assets than they should? If you'd like to learn more about how Metacoda software helps with your SAS platform success, please contact us or register for a free 30-day trial.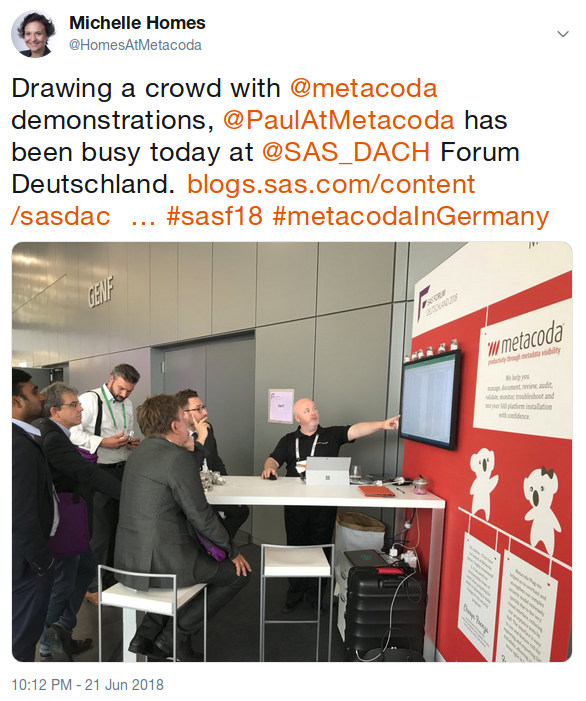 Being Social on Social and In Person
For Metacoda, one of the highlights of attending SAS Forum events is the networking opportunities, especially meeting people who we've connected with online and on social.
It's certainly no secret that Metacoda's Michelle Homes loves the social side of SAS, so she was absolutely thrilled to receive the SAS Forum UK 2018 SAS Social Award in recognition of her contributions.
Many thanks to Rachel Lockwood and the SAS UK team for your support and acknowledgement, and to the wider SAS community for your comments/likes/shares in Twitter and LinkedIn.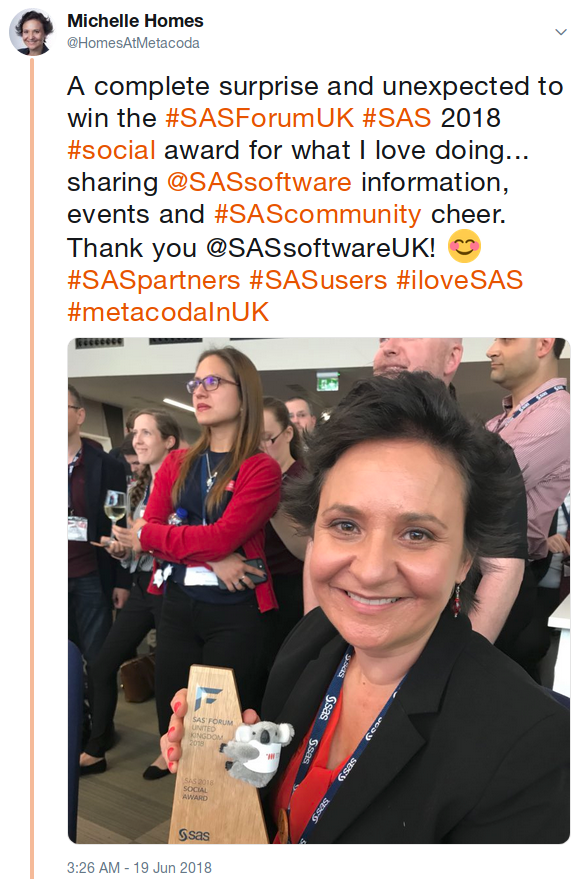 It's been said that if you didn't get a selfie with Michelle you weren't there! She certainly enjoys catching up with people, taking photos, and sharing with the community. It was rather apt that #NationalSelfieDay coincided with SAS Forum Deutschland – even the Metacoda koalas joined in the fun with their first ever selfie!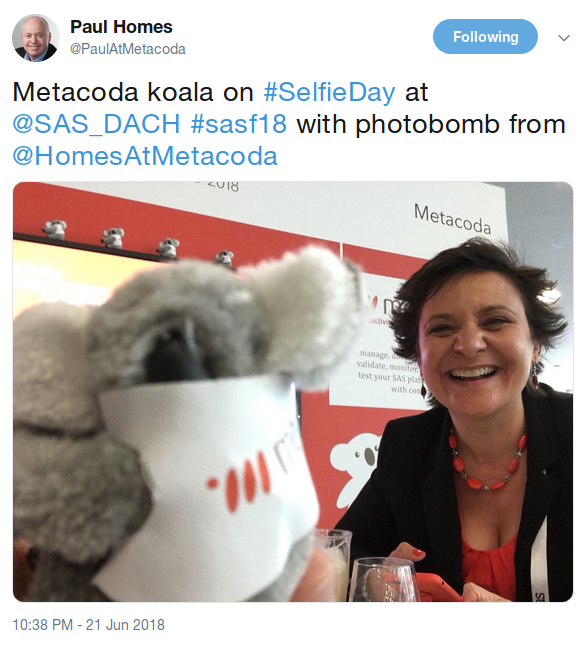 Thank you to those who came by our stand at the events. We hope your Metacoda koala is a happy reminder of your visit and we look forward to keeping in contact.
For more photos and insights of our travels check out our Metacoda in Europe 2018 Facebook album (make sure you tag yourself!), as well as the following hashtags:
We thought we would summarise the selfies in polaroid picture style collages:

Metacoda in Oslo collage for SAS FANS user conference
Click on thumbnail to see high resolution photo

Metacoda in Copenhagen collage for SAS FANS user conference
Click on thumbnail to see high resolution photo

Metacoda in Espoo collage for SAS FANS user conference
Click on thumbnail to see high resolution photo

Metacoda in Ireland collage
Click on thumbnail to see high resolution photo




Until next time where we will meet again in person, let's continue to be social on social! Find us on these social channels.

Thanks to everyone we met along the way for sharing your Analytical Intelligence: the more we share, the more we know, and the better we can work together to help keep your SAS platform safe and secure!