Whether you've been a SAS user for days, months, or years, there is one thing that's for sure… the SAS community is aWEsome!
My own SAS journey is into its third decade, having first used SAS during my undergraduate degree in the late 1990s. Twenty years ago I became one of the first SAS graduates in Australia, and have been a passionate advocate for the software and community ever since.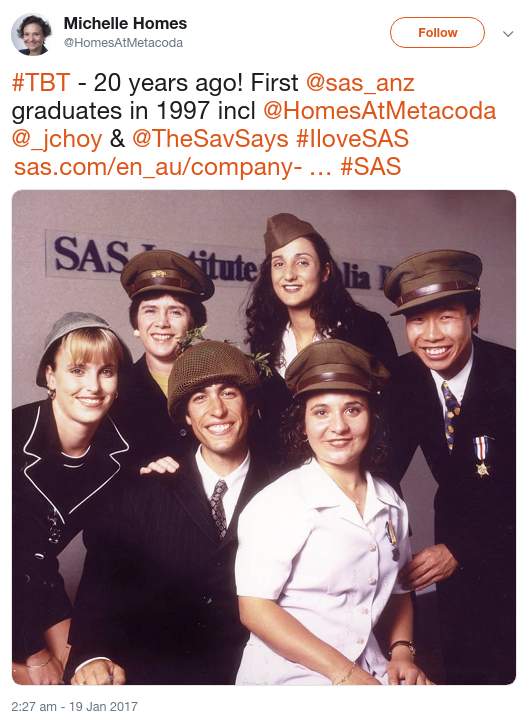 I love the innovation, energy and support SAS users share when they come together in person. I also love the collaboration and sharing within the online communities and social media.
It truly is fabulous to be part of a global community with such outstanding, engaging members, supported by an awesome community management. It's been great to see the SAS Support Communities recognition program evolve with PROC stars, and an honour to be recognized, in the past six months, as a SAS Support Communities Super User. Thanks in particular to Chris Hemedinger, Anna Brown, Shelley Sessoms and Bev Brown for your continuous support, encouragement, and community innovation.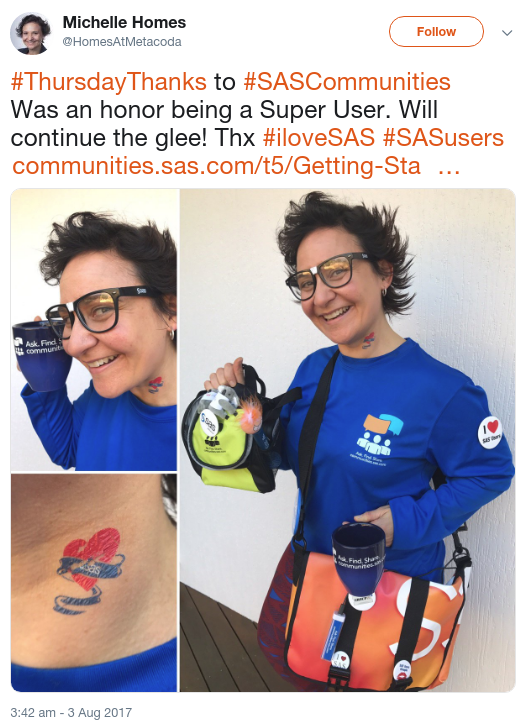 In a recent #communities #saschat Tweet chat we enjoyed a fast fun hour of sharing, where we covered a range of interesting topics including the way online communities are driving data science agility. You can review the chat, and even continue the conversation with your own tweets, with the #communities #saschat storify.
If you're a SAS user and not already a member of SAS Support Communities, check out the many communities.sas.com boards, where you can lurk, search, or ask questions to your heart's content.
I caught up with Anna Brown, at SAS Global Forum earlier this year and shared the benefits I experience in participating in SAS Communities. What about you?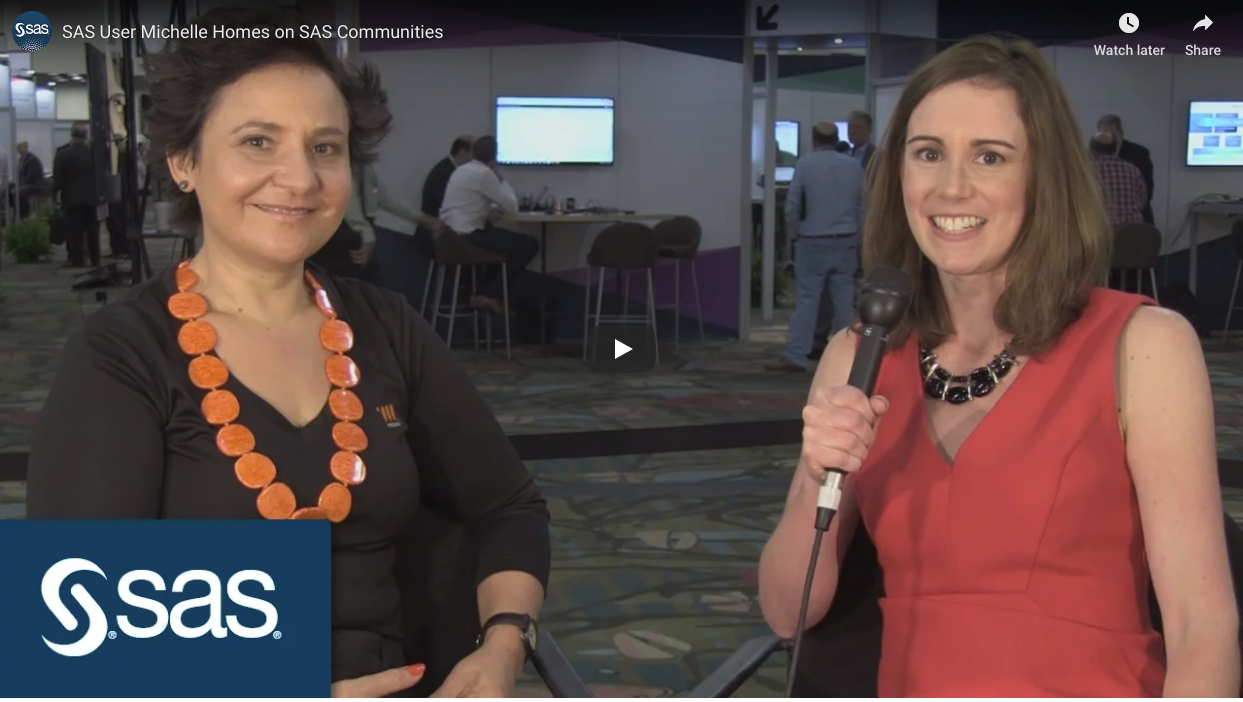 SAS Cares
As per Jan Gjestvang-Lucky's blog post, SAS Cares: help just a tweet, post, or click away, SAS is always there for its customers. SAS constantly invests resources, relationships and support to help customers thrive, providing plenty of channels and events to for us to "Connect. Learn. Support". This infographic does a great job of illustrating the many SAS services available.
Connect with SAS Users
If you're looking for a SAS users group, have a browse of the many virtual, in-house, local, regional SAS US Users Groups, SAS UK&I User Groups, Canadian User Groups, FANS Nordic User Groups, and SAS AU & NZ User Groups available. One of Metacoda's personal favourites is the virtual group, SAS Users Group for Administrators (SUGA), a 24×7 community which can be found in the Administration board at communities.sas.com.
Obviously, the beauty of being a virtual group is that committee members from all over the world can come together to collaborate, plan and share ideas. The ability to connect with similar-interested people in a few clicks has certainly brought the SAS world closer together.
Please join us at the next virtual SUGA meeting on 12th September where Angie Hedberg and I will present via webinar SAS® Security Design Best Practices, Validation, and Monitoring.
And while we are on the topic of SAS administration webinars, register to join David Stern and Paul Homes on 9th October where they will present at a SAS Customer Loyalty UK & Ireland webinar on SAS® Security Model Design, Golden Rules, Validation, and Monitoring
Of course, while we're lucky to be able to connect virtually, there's nothing quite like the special buzz of meeting in person. After all, we are human… As Nancy Wilson, from SAS Institute, says "You walk into a users group, and you have something in common with everyone in that room"… a sentiment that's true regardless of SAS experience.
We're always excited to be able to meet our customers and partners at user groups and forums, but we can't always make it to all the events. Fortunately, our Metacoda koalas are always eager to travel the world and represent us at the events we sponsor. Over the coming months they will be travelling with their chaperones to the US Regional Users Group Conferences:
Metacoda is proud to be sponsoring each of these events, and confident that many of our Metacoda koalas will find wonderful new homes with SAS users from around the world. We'll be there interacting virtually through the conference apps and on Twitter – so be sure to say g'day!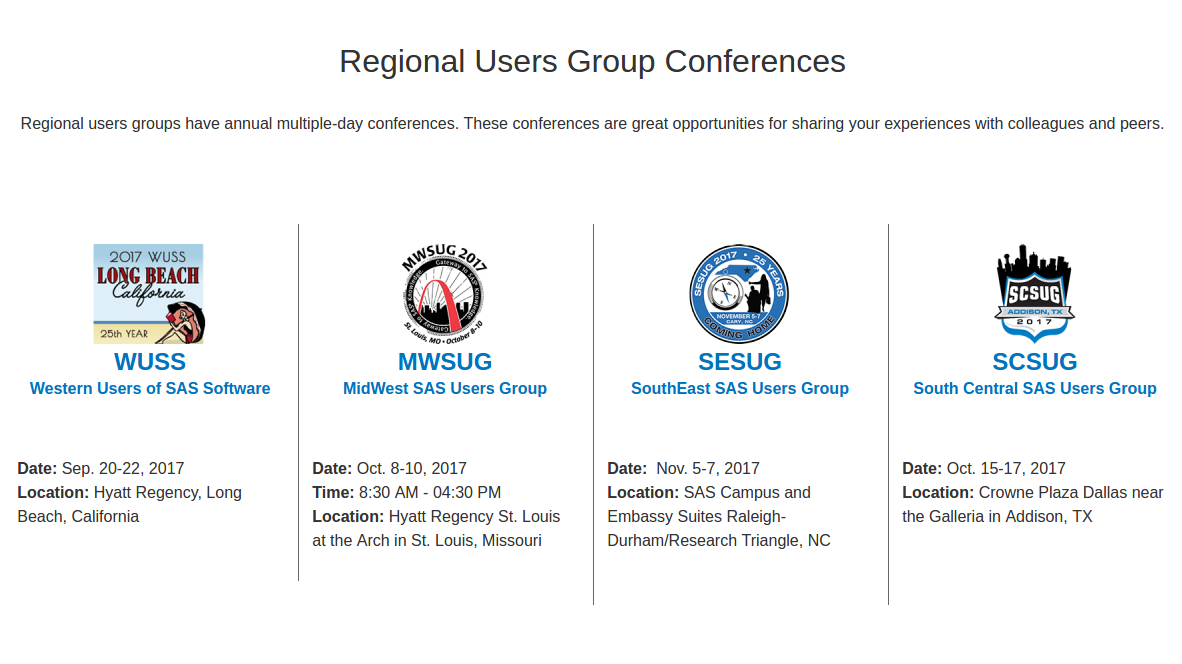 See you soon in Canada
Hey Canadians, we're excited about our first trip to your beautiful country and the opportunity to meet, collaborate and share with you in person!
You'll find us presenting at the following events:
Near or far, SAS Communities are aWEsome!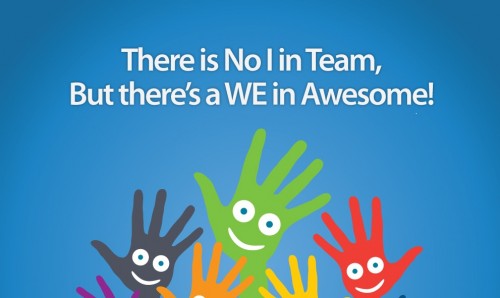 As a SAS user there are many ways to join the SAS Community. And once you're a part of it, you'll be hooked (trust me!)… it's a contagious, educational, exciting, and supportive way to engage, connect and learn.
Overall, it's an aWEsome tribe to belong to!
Fond memories…
I often like to recall my first SAS Australia Forum in 1997, incidentally also known as SUGA (SAS Users Group Australia). The conference content, calibre of presenters and the precision and organization of the event impressed me; there was even a synchronised firework display at the opening session!!! A special moment was talking to Dr Goodnight (SAS Institute CEO) with a group of SAS customers after dinner, each of us freely sharing our thoughts, ideas, and feedback. I knew at that moment I had met my people, and I was inspired to develop my skills to present at the next event.
And the rest – as they say – is history…
Your turn
Until we have the chance to meet in person, let's make the most of our wonderful SAS community and keep in touch!
To get things started, here's a question for you:
What aWEsome stand out moment have you experienced from a SAS community event?
Please share your comments below!
---