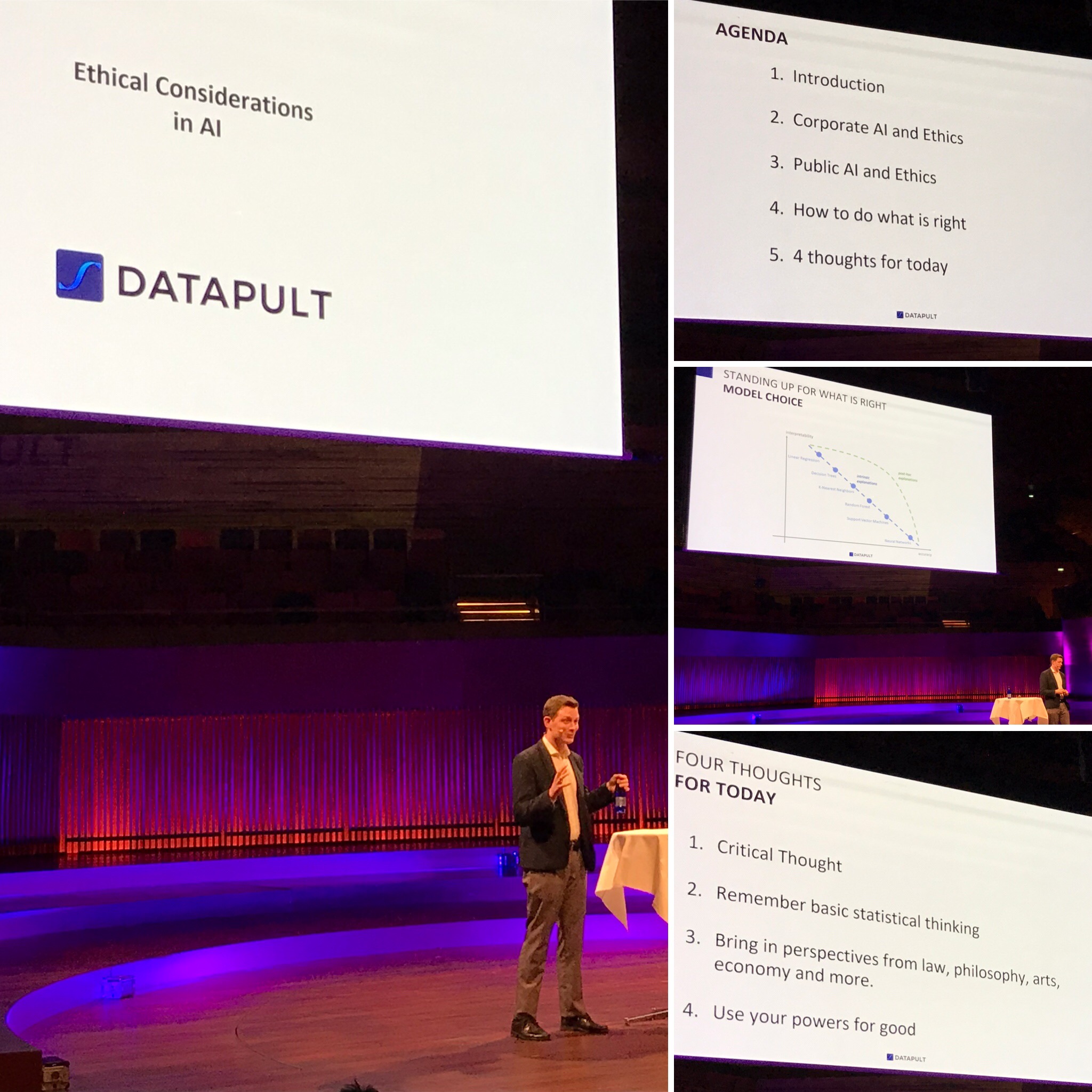 Thanks SAS Nordic Forums for sharing your inspiration, information, community and cool curiosity!
With too many highlights to mention, you certainly fulfilled the theme of 'Be Curious'.
From the Nordic Hackathon competition in February, through to the jury and attendee voting at the forums, and the wonderful Data Science Escape Room at each event, it's no surprise the SAS Nordic community is growing and thriving.
The keynote speakers, including Jacob Knobel and Stefan Hyttfors, particularly embraced curiosity in the way they shared their stories.
Beginning with an anecdote about what his son did for work during his university break, Stefan's humorous and entrepreneurial tale used past advances in technology, to prompt us to think about the future.
He then left us pondering the question of ethics and technology with the suggestion that… rather than fearing artificial intelligence, we should fear human intelligence.
As Albert Einstein famously said, "The important thing is not to stop questioning. Curiosity has its own reason for existing."
Note: The good news is that all the fabulous presentations from the SAS Nordic Forums are now available to download at the SAS Nordic Community site.
Community. Co-operation. Collaboration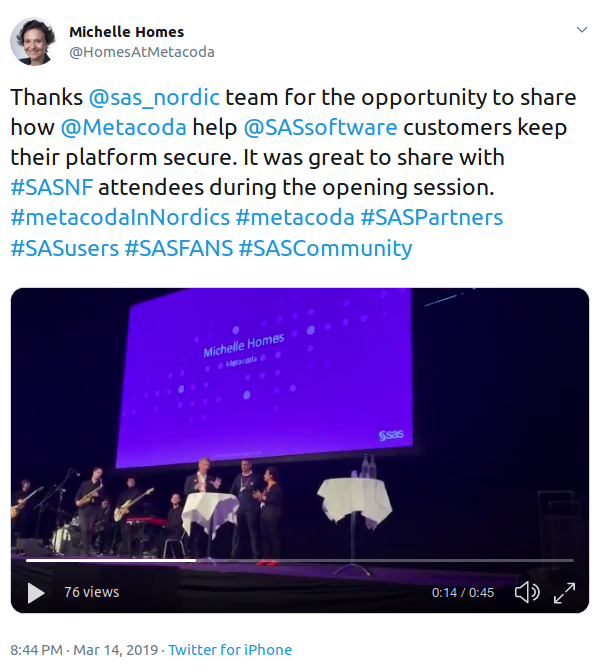 Whenever we attend a SAS event, we like to connect as much as possible to make the most of the community, cooperation and collaboration.
In addition to sponsoring the events and meeting up with new and old friends, Metacoda enjoyed a few other fun roles…

At SAS Forum Stockholm, Michelle was thrilled to be a jury member and share her thoughts on stage about #HackInSAS, partnering with SAS, and being part of the SAS community. She also pointed out that one of the reasons Metacoda enjoys being a sponsor of the four SAS Nordic Forums is because it is the coolest place to be. ? ?



At SAS Forum Copenhagen and SAS Forum Oslo, Paul hosted a presentation to show how Metacoda helps SAS customers mitigate risk with enhanced SAS Platform security. You can download a few slides from the presentation here. Or for a demonstration of Metacoda's products, please contact us and/or visit us at the Metacoda booth at SAS Global Forum in Dallas in April 2019.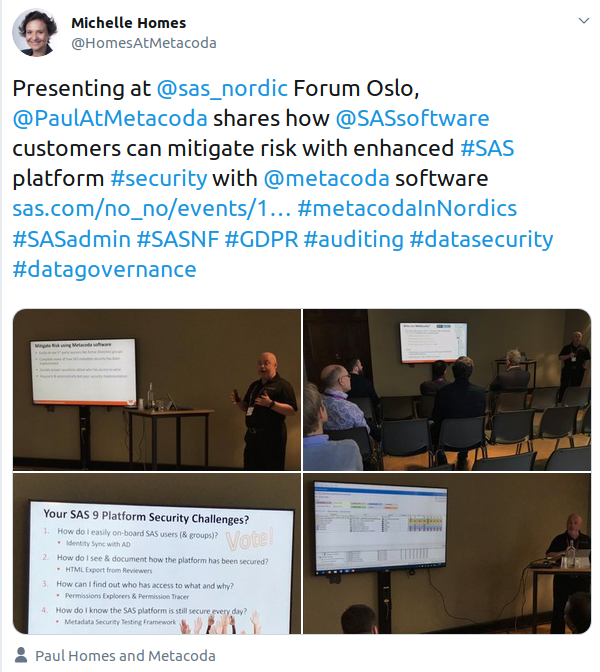 #HackInSAS winners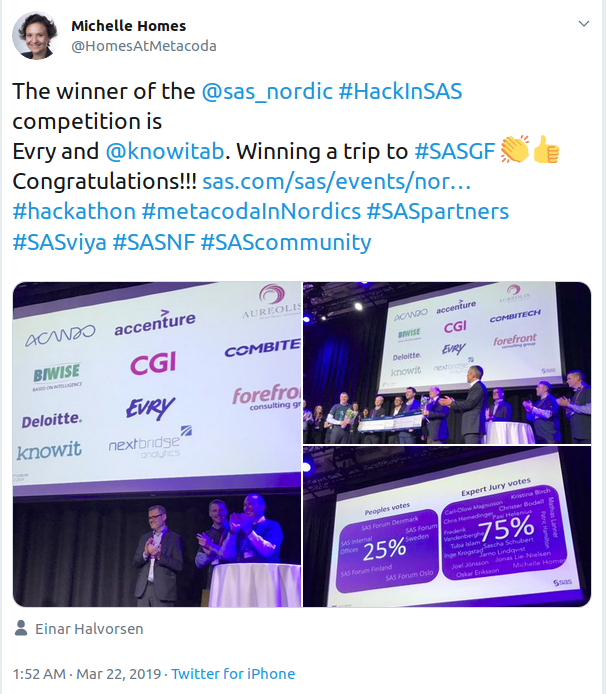 The Nordic Hackathon in SAS® Viya® 2019 (#HackInSAS) competition deserves special mention, as do its organisers Einar Halvorsen and Peter Lundqvist and their team.
The calibre, quality and innovative analytics solutions from all SAS Nordic Partners were outstanding and we send our huge congratulations to the two winners (in association with Intel, Azure and Esri Sverige):
It's well worth taking a moment to click on their clever and entertaining submissions; you'll definitely be impressed!
Wrap-up
As we said in one of our final #SASNF tweets, the SAS Nordic Forum events peaked our curiosity in the learning, sharing, collaboration with #SASFANS, #SASpartners and @SASsoftware staff, and we thoroughly enjoyed the #datascience #escaperoom, #HackInSAS activities and being so warmly welcomed!
For a visual wrap-up, check out Metacoda's SAS Nordic Forums 2019 video – you're bound to spot some familiar faces…
Thanks again and we look forward to seeing you all again soon… meanwhile, stay cool friends!