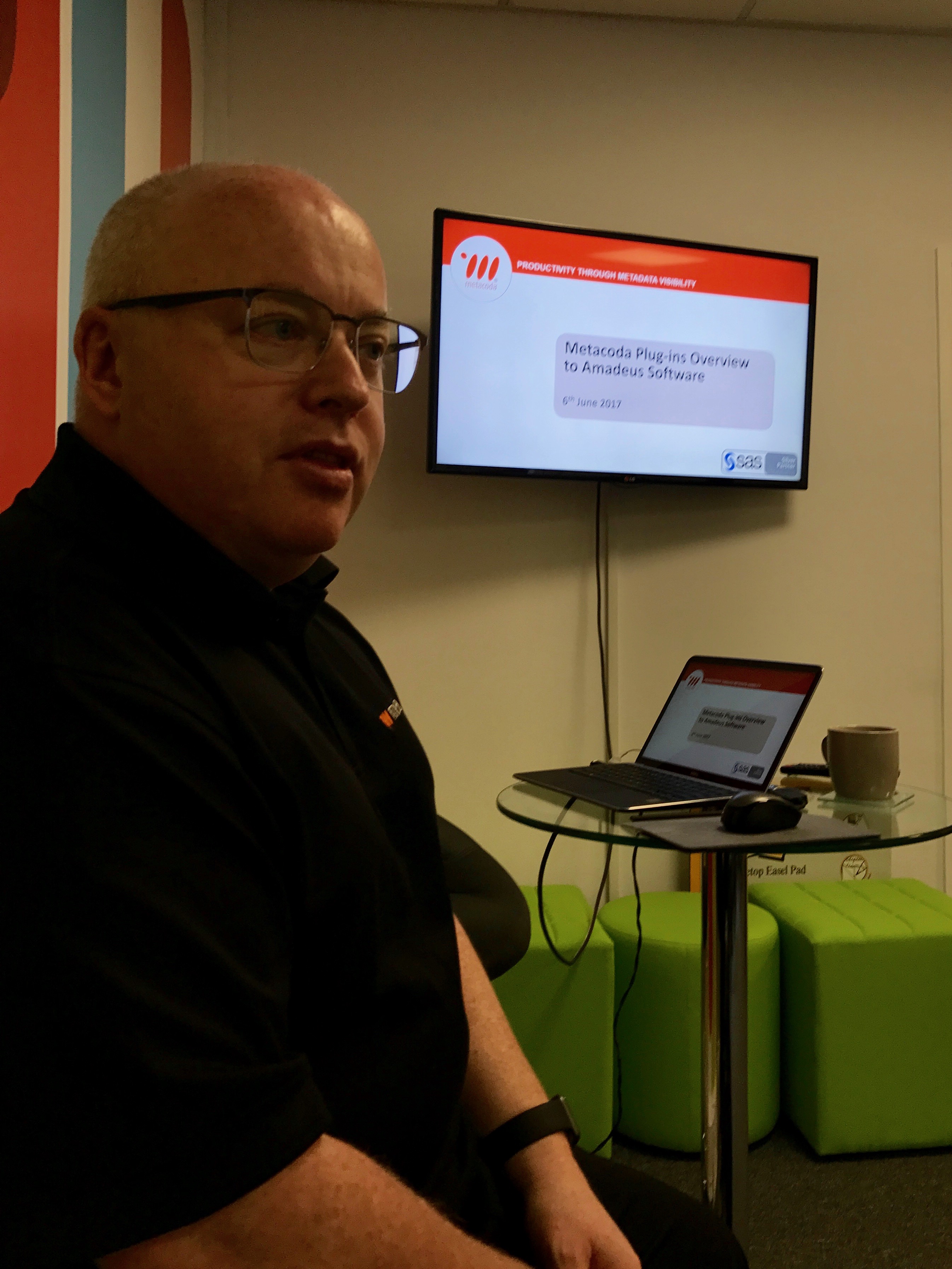 One of the ways we support our Metacoda partners is with face-to-face knowledge transfer sessions, where we provide comprehensive updates about our products.
While in the UK in June, we were fortunate to be able to schedule one of these sessions with Amadeus Software. As a Metacoda partner since 2011, Amadeus recommends our products whenever a customer can benefit from automated security integration and auditability. Amadeus say their customers are most often introduced to Metacoda as part of their SAS platform delivery service. Amadeus delivers SAS security with auditable access to data and SAS functionality, and integrated user and group security with Active Directory or LDAP.
Through our partnership we've been able to help customers with a range of complex environments – including a hybrid of three Active Directory domains – and have enhanced Metacoda software to benefit other customers in addressing these real-world challenges.
Highlights from our knowledge sharing session…
Our presentation to Amadeus covered Metacoda Security Plug-ins, including our latest, the Permissions Tracer Plug-in. Time-poor SAS administrators love the Permissions Tracer because it means they can quickly and easily answer questions like "Why does this user have (or not have) a specific permission on an object?".
Our presentation also highlighted how our Metadata Security Testing Framework can help keep SAS 9 platforms secure through standard tests, including recommended practice tests (see Paul's blog post SAS GEL Security Rules with Metacoda Security Tests), in addition to security implementation tests.
The article GEL Recommended SAS security model design papers – published by David Stern from the SAS Global Enablement and Learning (GEL) team – talks about how the Metacoda Identity Sync plug-in can help with synchronising Active Directory identities. For further discussion on the benefits of the plug-in, take a look at the SAS Support Community article, Shadow Groups for LDAP Synchronisation.
Talking with the Amadeus team was also a great opportunity to share experiences including general tips for resolving common issues. The collaboration even inspired us to create a Metacoda Identity Sync utilities repository, available on GitHub, to help Metacoda customers and partners. This repository contains extra samples and SAS macros that may be of benefit when migrating to the Metacoda Identity Sync Plug-in, including examples of some of the more advanced features.
As we tweeted on the day, the get together generated a valuable technical discussion, with plenty of tips to further assist Amadeus with their goal of helping SAS customers attain world-class documented, validated SAS platforms designed to their requirements.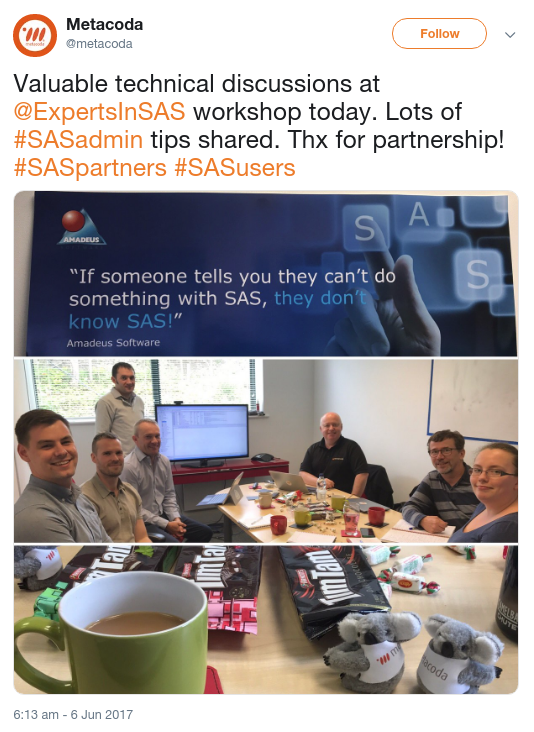 Want to know more?
If you're a SAS customer in the UK, we encourage you to contact Amadeus and see how you can benefit from their expertise with SAS platform security.
For more information on the Metacoda Identity Sync plug-in, check out these technical resources:
Try Metacoda products for free
See for yourself by registering for a 30-day free Metacoda Security Plug-ins evaluation license.