In the past, with departmental data within the perimeters of an organization, security was sometimes a secondary concern. These days, with shared enterprise environments, external workers, cloud, and BYOD, security is often paramount. You may have seen security predictions for 2015 such as:
We've noticed security becoming a higher priority for organizations using SAS® Software too.
Last year we released Metacoda Security Plug-ins 4.0 including an optional Metadata Security Testing Framework for the automated testing of SAS metadata security implementations. The plug-ins integrate with the SAS platform and SAS solutions to help customers troubleshoot, document, and test their metadata security, giving them a high degree of confidence and helping them address compliance needs.
We have found that metadata security testing, when it is done, is almost always done manually. Manual testing takes significant effort and planning, has limited coverage, and it's very easy to miss things. This often means testing is done infrequently and metadata security problems can stay undiscovered for a long time until it's brought to the attention of an administrator. Whilst people will question why they have limited access, they rarely say when they have too much access.
Imagine the confidence you'll get from frequently scheduled, high coverage metadata security testing that notifies you when non-compliant changes occur.

For further information on Metacoda Security Plug-ins 4.0 and the optional testing framework, we have a video presentation on our YouTube Channel (embedded below).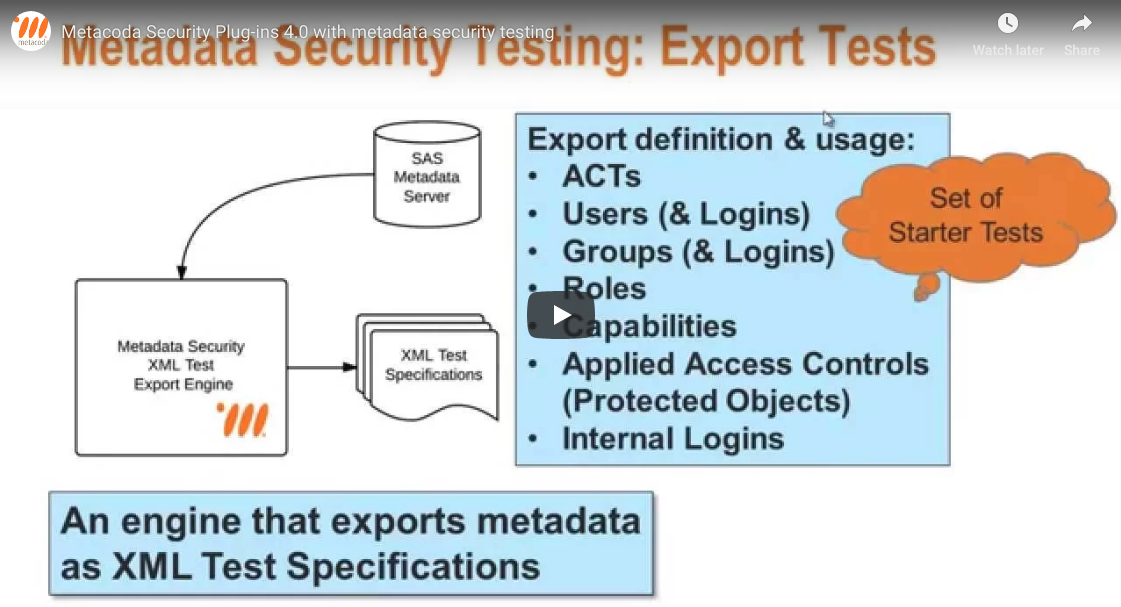 To find out more about our Metacoda Security Plug-ins software, visit our product page or contact us to discuss. You can also register to download our plug-ins and get a free one-month evaluation license to try out the Metadata Security Testing Framework and the rest of the plug-ins with your own SAS metadata.