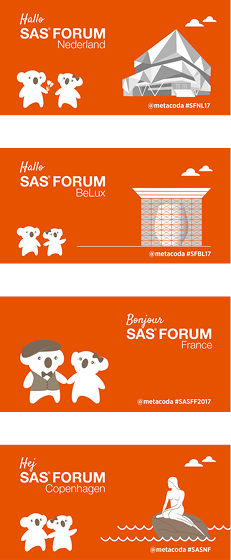 We've recently returned from the beautiful cities of Nieuwegein, Brussels, Paris and Copenhagen where we were sponsors at four European SAS Forums.
As always we had a fantastic time being part of the SAS community, and we definitely embraced the theme "Experience Your New Possible"!
As with SAS Global Forum 2017, the events boasted thousands of attendees, analytics storytelling, data visualization, data management, technology, leadership and socialness.
Many thanks to SAS forum organisers for the sponsorship opportunities, and to our customers, partners and community for your support and friendship.
Helping to keep your SAS platform secure
Amidst the many Tweets and selfies, the events were full of great opportunities to talk to SAS customers about platform security. In particular, at SAS Forum France, Michelle Homes (Metacoda) and Gregory Becquembois (Decision Network) were excited to be interviewed by Elisabeth Ziegler on our partnership and how Metacoda products can help to keep SAS platforms secure. You can see the recording on YouTube.
Four events in seven days!
With four jam-packed SAS Forums, it sure was a busy and rewarding week! Use the table below to take your own quick journey via Tweets, videos and presentations/summaries.