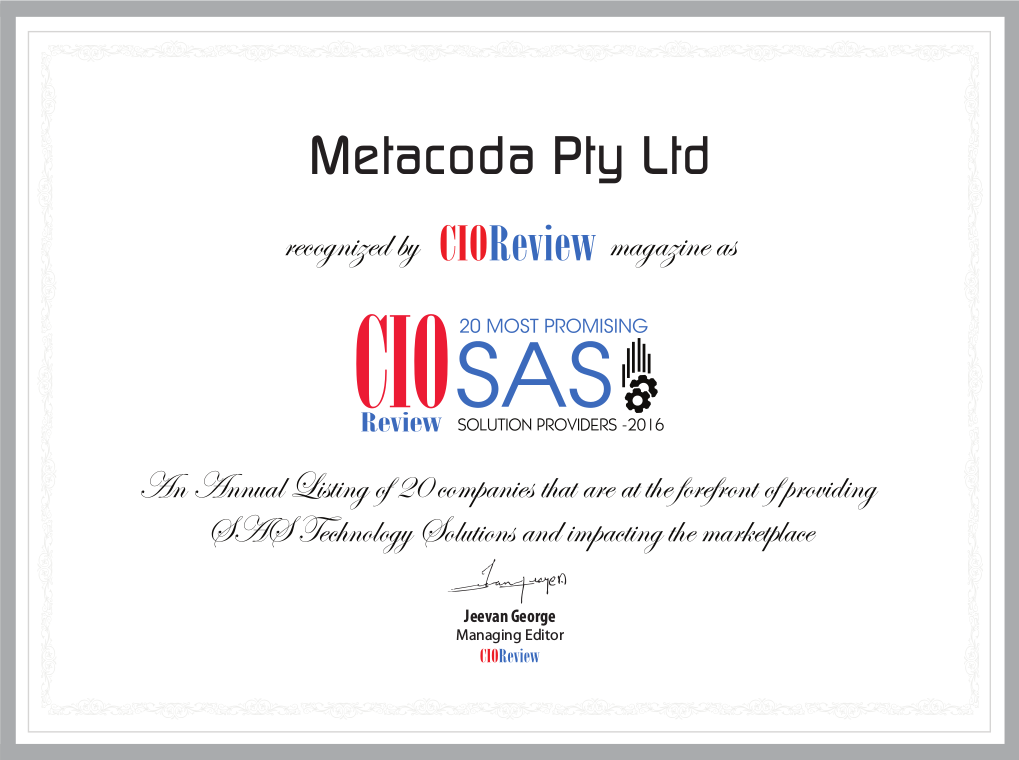 If you check out CIO Review's magazine list of the 20 Most Promising SAS® Solution Providers 2016, we're pleased to say that you will again find Metacoda – among an impressive list of well-known organizations who all add value to SAS customers.
In the CIO Review article, Metacoda co-founder, Michelle Homes, talks about the motivations that drive our business and the many ways we are helping SAS users around the world, including how:
a long-term hands-on involvement with SAS products helps us to understand customer needs
our products help support the SAS philosophy that a stronger offense is the best defense when it comes to information security
Metacoda Plug-ins save time and money for organisations by making SAS metadata more visible, and eliminating the need for complex code to manage, review, troubleshoot, document, test and audit your SAS platform installation with confidence
the new Metacoda Identity Sync Plug-in can easily import, check and synchronize identity-related SAS metadata with enterprise directories.
Importantly, we'd like to thank our staff, customers, partners and friends for your terrific support.
As the CIO Review article sums up, [quote author="Michelle Homes, Founder, Metacoda" bar="false" align="left"][image_icon name="5258″] we value networks and know that ongoing open communication with customers is the lifeblood of our business. Being a part of the SAS community is very important to us, both professionally and personally, and we love being active on social media and in the SAS forums and blogs. Hope to see you online soon! [/quote]
If you'd like to find out more about how we can help you, please contact us or one of our partners and/or visit our stand in The Quad at SAS Global Forum 2016 in April. We look forward to hearing from you!
PS If you're coming to SAS Global Forum 2016, make sure you come along to the #SASGF #TweetUp event, which we're co-hosting on the Monday evening.