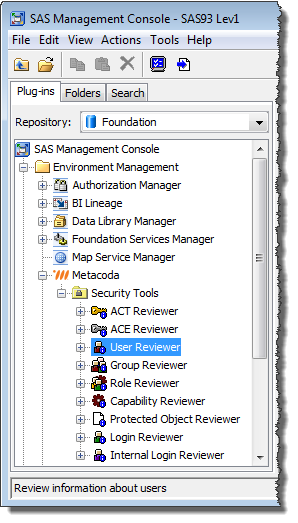 Version 2.0 of our Metacoda Security Plug-ins software is now available for use with SAS® software versions 9.2 and 9.3. Metacoda Security Plug-ins version 1.0 is still available for those still using SAS software version 9.1.3.
| Metacoda Security Plug-ins | SAS 9.3 | SAS 9.2 | SAS 9.1.3 SP4 |
| --- | --- | --- | --- |
| V2.0 | | | |
| V1.0 | | | |
Some of the most significant improvements in this latest version of Metacoda Security Plug-ins include:
Support for use with SAS software version 9.3
Enhanced support for use with SAS software version 9.2
New Role Reviewer providing extended information about role membership and the application capabilities they provide.
New Capability Reviewer providing specific details about who has access to application capabilities and how they have acquired them.
New Internal Login Reviewer to help you track down the use of SAS internal accounts.
New filter bar to help you quickly locate the users, groups, roles, logins, capabilities and objects you are looking for.
Existing Metacoda customers and evaluators will have been sent new V2 licenses and can login to download the latest V2 installation packages.
If you're not yet a Metacoda customer and would like to find out more about Metacoda Security Plug-ins please contact us. You can also request a free one month evaluation license to try the software out with your own SAS metadata.