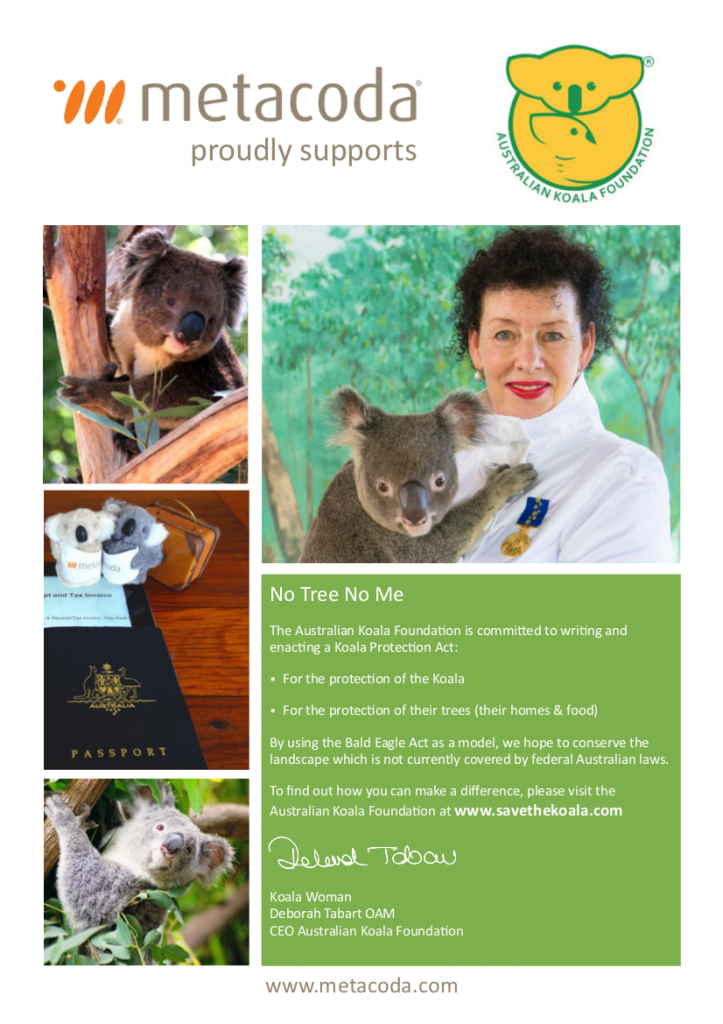 If you are familiar with Metacoda you've probably seen our clip-on Metacoda Koalas who enjoy traveling the world and finding new homes. What you may not know is that in 2012 the wild Koala was sadly listed as vulnerable to extinction under Australian Law (the Environment Protection and Biodiversity Conservation Act).
The Australian Koala Foundation (AKF) is the principal non-profit, non-government organisation dedicated to the conservation and effective management of the wild koala and its habitat. The organisation was formed in 1986 and has been led by Deborah Tabart OAM since 1988. Deborah told us she is committed to ensuring a Koala Protection Act is enacted into Australian law, similar to the Bald Eagle Protection Act in the USA. As a completely self-funded organisation the AKF needs support.
Metacoda is proud to donate to support the AKF in their work. We also want to help spread their "No Tree No Me" message. If you are going to the SAS Global Forum (SASGF14) in Washington, DC in March 23-26, 2014, please stop by our stand to have a chat. If you get a clip-on Metacoda koala, please take a leaflet about the Australian Koala Foundation too.
You can help save the koala and their homes by enlisting in the Koala Army, adopting a koala, making a donation and/or purchasing a gift online at www.savethekoala.com.