It's almost time for SAS® Global Forum 2012 and we're really excited about showing you what we've been working on!
You might already know how our Metacoda Security Plug-ins software can help SAS administrators with their SAS platform security requirements and that we have versions compatible with SAS 9.3, SAS 9.2 and SAS 9.1.3. Our current releases provide quick whole-of-server views for the applied security from a number of different perspectives (ACTs, ACEs, users, groups, protected objects, roles, capabilities, logins, internal logins). The reason why we're so excited this year is that we'll be showing extra facilities for getting a broad view of effective permissions and access levels. Would you like to see an overview of who has the ability to view and update the contents of all of your SAS folders? Perhaps you want to see access levels for all of your libraries, or even search for related stored processes, reports, tables, cubes and see all the effective permissions? If so, then come and see us at our stand in the Alliance Cafe area of the SAS Support and Demo Area, where we'll be showcasing 2 new tools, the Identity and Object Permissions Explorers. These are a preview of our next V3 release. If you can't see us in person at the SAS Global Forum, Paul Homes from Metacoda has recently posted a sneak peek on his blog at platformadmin.com.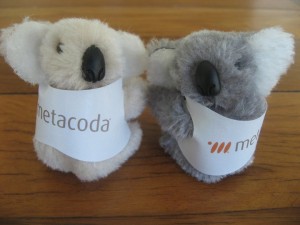 If you're going to the Forum and are responsible for the implementation, management and ongoing maintenance for your SAS platform metadata security, then make sure you stop by and visit us to get a demo of how our software can help. At the same time you can enter our draw to win a new iPad. Those willing to say g'day in an Aussie accent will also get a Metacoda koala, so start practicing…
Look forward to seeing you soon!